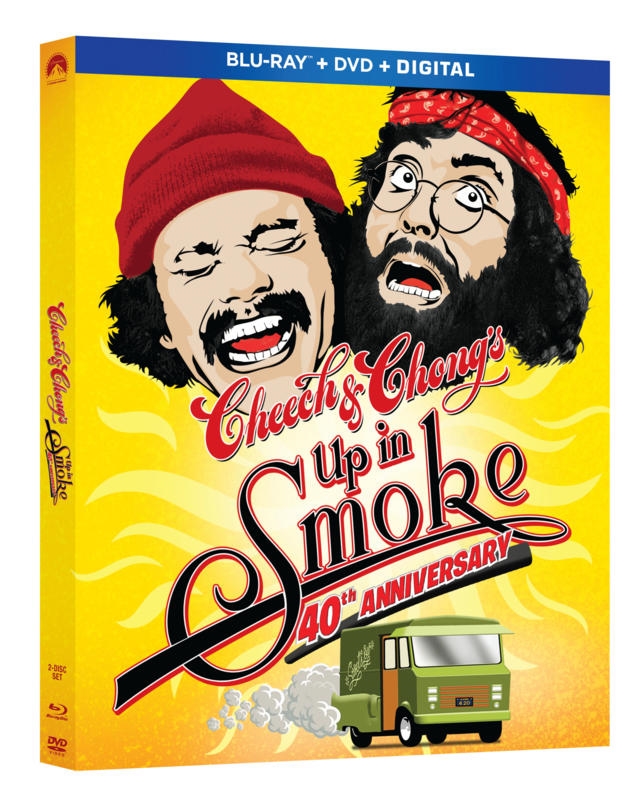 Fire up the home entertainment system and call your buds because the ultimate stoner comedy is celebrating its 40th anniversary. The high-larious cannabis cultural epic breakthrough UP IN SMOKE will "… grab you by the poo poo" all over again on Blu-ray Combo Pack and DVD.
This past February, Cheech Marin of Cheech and Chong presented the Product of the Year award to Beth Stavola for CBD for Life at the 2018 Hollywood Beauty Awards.
Just this week, the comedy legends were awarded the key to the city of West Hollywood.
A special Deluxe Collector's Edition, pairing the Blu-ray with the original soundtrack on CD and VINYL LP in deluxe packaging, will arrive the following week on 4/20 from Rhino, featuring a newly recorded "2018 version" of the title song "Up In Smoke."
In 1978, Cheech Marin and Tommy Chong made their feature film debut in UP IN SMOKE, the outrageously funny classic inspired by their now legendary comedy routines of the early '70s. Following massive success with over 10 million comedy albums sold, four Grammy nominations and a win for Best Comedy Recording for "Los Cochinos," Cheech and Chong took Hollywood by storm when UP IN SMOKE became a smash hit.
Check out the UP IN SMOKE 40th Anniversary DVD features:
Feature film in standard definition
Commentary by Cheech Marin and director Lou Adler
How Pedro Met the Man: Up In Smoke at 40—NEW!
Roach Clips with Optional Commentary (deleted scenes)
Lighting It Up: A Look Back at Up In Smoke
"Earache My Eye" featuring Alice Bowie: Animated Music Video
Cheech & Chong's "The Man Song"
Vintage Radio Spots
Theatrical Trailer
Beth Stavola of CBD for Life and Cheech Marin at the 4th Hollywood Beauty Awards