After years of anticipation, one of Marvel Comics' most beloved superheroes finally gets his own film in the form of "Black Panther," a supremely entertaining and surprisingly substantive origin story about a newly crowned African king whose kingdom is threatened by a formidable enemy.
Featuring a superhuman cast that includes Chadwick Boseman ("Get on Up"), Michael B. Jordan ("Creed"), Lupita Nyong'o ("12 Years a Slave"), Forest Whitaker, Danai Gurira ("The Walking Dead"), and Best Actor nominee Daniel Kaluuya ("Get Out"), this bar-setting superhero pic lives up to the hype and then some, consistently exceeding narrative expectations and doing so with class, confidence and boundless creativity. "Black Panther" has many virtues, perhaps too many to name, but chief among them are the pitch-perfect direction by Ryan Coogler ("Creed"), the utterly compelling and thematically rich script by Coogler and Joe Robert Cole, the thrilling and effortlessly executed action and special effects, the mind blowing visuals by cinematographer Rachel Morrison ("Mudbound"), and of course the exceptional performances by the elite ensemble cast. Expect big box office returns and even bigger cheers from satisfied moviegoers.
Mostly set in the mythical East African country of Wakanda, an "isolated but technologically advanced nation," "Black Panther" follows young T'Challa (Chadwick Boseman) as he assumes the throne after his father's passing. What makes T'Challa's kingdom so technologically advanced is the presence of Vibranium, a powerful natural resource with many uses that is said to be the key to the nation's prosperity.
Despite the country's stability, dissent still exists over how to utilize Vibranium, with some, like T'Challa, believing it should remain their own, while others believing its power should be spread to better the world as a whole. T'Challa's fear of the vibranium beholder's abuse of power is confirmed when an Ivy League educated mercenary with unspecified ties to Wakanda named Erik Killmonger (Michael B. Jordan) and his equally ruthless henchman Ulysses Klaue (Andy Serkis) sets their sights on obtaining the substance and dethroning the Black Panther in the process.
With the help of his family and fellow Wakandan warriors, T'Challa must harness his superhuman powers to protect his nation from the formidable threat.
Working from a layered screenplay he co-wrote with "The People Vs. O.J. Simpson" scribe Joe Robert Cole, director Ryan Coogler crafts a superb superhero tale that is as entertaining as it is profound, thanks to its real world parallels concerning inequality, colonialism, and the abuse of political power on a globally disastrous scale. A superhero film that is creative enough to stand apart from the pack yet still satisfy the appetites of Marvel franchise fans, Coogler takes his character-driven approach to storytelling that worked so well with "Fruitvale Station" and "Creed" and ingeniously applies it to an otherworldly comic book tale that feels rooted in reality. In terms of action, "Black Panther" delivers at every turn, from a James Bond-esque casino showdown in Busan to the epic rhino battle at the climax. Helping capture these incredible action sequences with maximum ingenuity is Coogler's go-to cinematographer Rachel Morrison, who this year became the first woman ever to be nominated for an Oscar for her work in "Mudbound," and the seamless editing by Debbie Berman and Michael P. Shawver doesn't hurt matters either.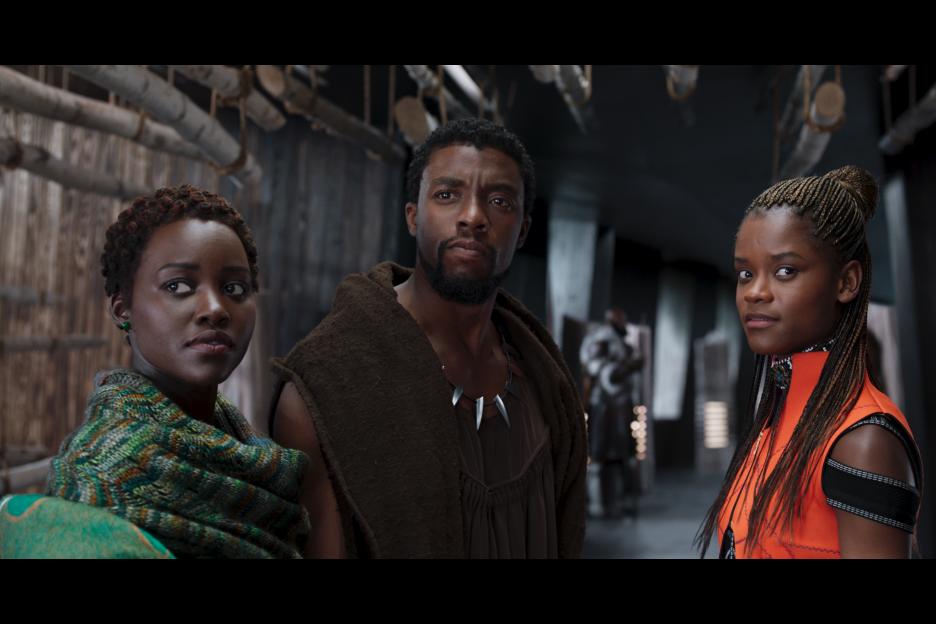 After taking on such larger-than-life roles as Jackie Robinson ("42"), James Brown ("Get on Up") and Thurgood Marshall ("Marshall"), Chadwick Boseman proves he can add equal dramatic weight to the role of an actual superhero as well. Even though the role doesn't really lend itself to a nuanced performance, Boseman brings gravitas to the proceedings and dons the superhero suit with confidence and credibility. Supporting actors are given ample room to shine, including Forest Whitaker as Wakanda's spiritual leader, Angela Bassett as T'Challa's nurturing mother, Lupita Nyong'o as a Wakandan spy who shares some history with the king, and Danai Gurira as Okoye, the fierce leader of the all-female Wakandan special forces. However, as good as these performances are, they pale in comparison to Michael B. Jordan's portrayal of Erik Killmonger. Combining his well-honed charm and dramatic chops with an underbelly of absolute evil, Jordan's performance is the one that stays with you after the credits roll, though Letitia Wright proves herself a thoroughly delightful presence as T'Challa's scientifically and comedically gifted younger sister Shuri.
After whetting audiences appetite with his first appearance in "Captain America: Civil War," "Black Panther" proves the character's place in the superhero pantheon.
By Lucas Mirabella
Running Time: 134 minutes
Rated PG-13 for prolonged sequences of action violence, and a brief rude gesture.