The famed southside of the Huntington Beach Pier will play host to the world's best surfers starting July 31 through August 6, 2017.
Recognized as the largest professional sports competition and action sports festival in the world, the Vans US Open of Surfing will be broadcast LIVE via
VansUSOpenofSurfing.com
,
WorldSurfLeague.com
, the WSL app and on Facebook LIVE via the WSL's Facebook page.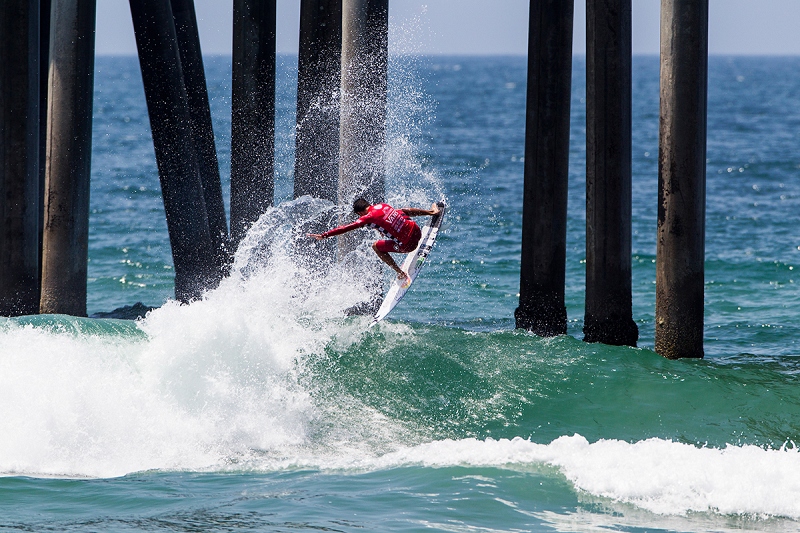 With four World Surf League (WSL) events taking place during the event window, fans will have the opportunity to witness an all-star cast compete for the esteemed Vans US Open of Surfing event titles.
The men participating in the Qualifying Series (QS) event will battle for a crucial 10,000 points toward Championship Tour (CT) qualification alongside the women competing in stop No. 6 of the elite CT season.
Jordy Smith (ZAF), No. 1 seed to the event, Filipe Toledo (BRA), recent Corona J-Bay Open winner, and local favorite Kanoa Igarashi (USA) are just a few of the talents on hand to contest the QS event.
Jesse Mendes (BRA) earned himself a spot on the 2018 CT only halfway through this year's qualification season. Mendes locked in strong results this year, including first place finishes at the Australian Open QS 6,000 and Ichinomiya Chiba Open QS 6,000, in order to rebound from his disappointing qualification miss for the 2017 season. The Brazilian is eager to further prove himself in Huntington Beach and put together a solid result against his competitors.
"I'm so stoked to actually just focus on doing my best surfing," Mendes said. "That's always been my number one goal, but once I can actually not think about points and put one-hundred percent focus on developing my surfing, it makes it exciting. I'm looking to put up a big result and keep the level that I have been on the first few events. I've had great heats here, but never really put together a whole event. I like the waves at Huntington and I always have a great time surfing there."
The Vans US Open QS 10,000 trials is set to run Sunday, July 30 to determine who will earn their way into the southside arena for a chance at upsetting some of the world's best. A 32-man format featuring some up-and-coming talents such as 2016 World Junior Championship (WJC) runner-up Timothee Bisso (GLP), San Clemente's Jake Marshall (USA), and Conner Coffin's (USA) younger brother, Parker Coffin (USA).
The North America Men's and Women's Pro Junior Tour will also hit the water and the next generation of professional surfers are set to showcase their surfing. As this event represents the vital halfway mark of the season, the competitive Pro Junior events next week will be a major factor in the World Junior Championship (WJC) qualification.
15-year-old phenom Caroline Marks (USA) has a remarkable relationship with Huntington Beach with back-to-back Vans US Open wins alongside countless amateur titles. The Floridian-turned-California transplant showed her talents to the world in 2015 with a CT wildcard into the 2015 Swatch Women's Pro, and continues to grow in a WSL jersey alongside her fellow competitors. Marks' support system helps keep her driven and focused, but also alleviates any pressure with a long career ahead.
Marks said, "It feels like I've been surfing against these girls for so long already and it's rad to know we'll be battling for years to come. I'm beyond excited to have an opportunity at the trials for the CT event, it's just one heat to give it all you have and if you make it in there's no pressure. It helps having the best support crew you can ask for with my family being so supportive and I'm just so grateful for them, they just encourage me to have fun and enjoy myself, which I can't thank them enough for."
Che Allan (BRB) leads the next generation of Barbadian surfers at the WSL level after a Quarterfinal finish at the World Junior Championships earlier this year. After his recent success at the Los Cabos Open of Surf for a second-ever WSL Pro Junior win, Allan returns to face the international contingent on hand and vie for a vital win toward his North America Regional Junior Title run.
"I'm really looking forward to getting back into this event after getting some time at home," Allan said. "It's always a big change coming from warm water pointbreaks to colder water and beachbreaks, but I'm putting the work in to prepare. This will be a big event for me since I have to miss the Newport contest, so I'll have to give it my best at this one for a shot at staying in the top four of the North America Pro Junior rankings. The Vans US Open is great to surf against all the international guys."

Also check local listings for coverage on CBS Sports Network in the U.S., Fox Sports in Australia, ESPN in Brazil, Sky NZ in New Zealand, SFR Sports in France and Portugal and as part of the EDGEsport Network.