All dressed up and ready to welcome a new Rat Pack, crooner Dean Martin's former Beverly Hills estate is now ready for the festive sounds of champagne bottles being uncorked. The home is on the market for $27.95 million or rented for $125,000 per month.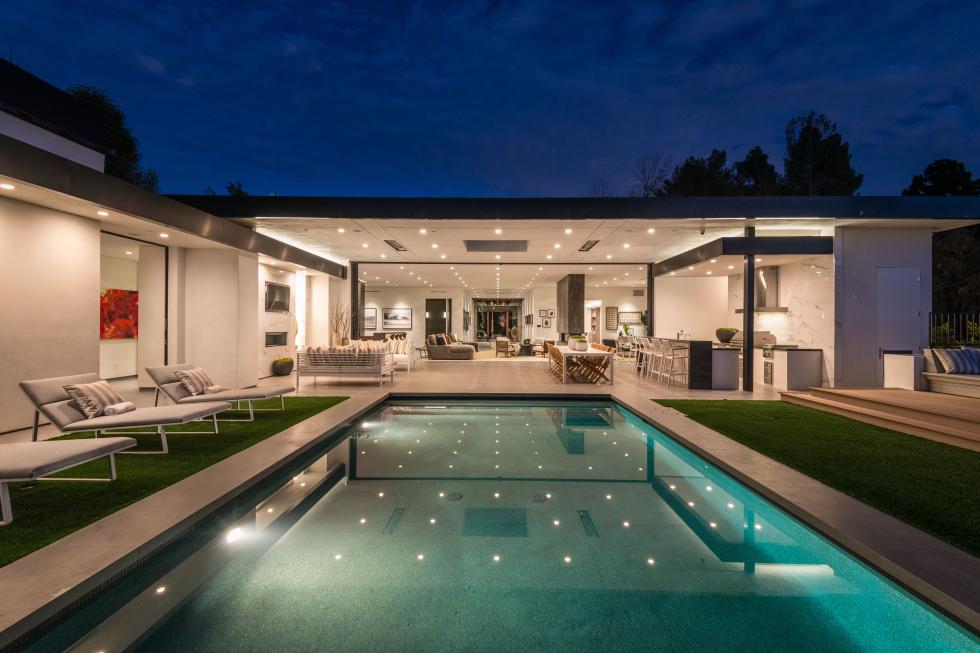 Owned and enjoyed by Dean Martin with his Hollywood buddies and a slew of other friends from 1988 until his death in 1995, it was his bachelor pad after three unsuccessful marriages. He purchased the house a year after his son Dean Paul had been killed in an airplane crash, and though he had been a teetotaler most of his life, in opposition to his drunken stage image, in depression over the loss of his son, turned to alcohol and heavy use of prescription drugs.
By now the original Rat Pack, consisting of Frank Sinatra, Sammy Davis, Jr., Martin, Peter Lawford and Joey Bishop, had grown smaller and evolved into the Summit and by the late 1980s, the Clan. Sinatra and Davis were worried about Martin and decided to get him out of the house and functioning again by designing a tour that would include the three of them, called "Together Again." Scheduled for 29 dates, Martin only managed to perform through five of the sold-out shows claiming illness. Liza Minnelli was brought in to take his place. He returned to his Trousdale home, which at the time was the epitome of 1980's glamour, where he lived the rest of his life.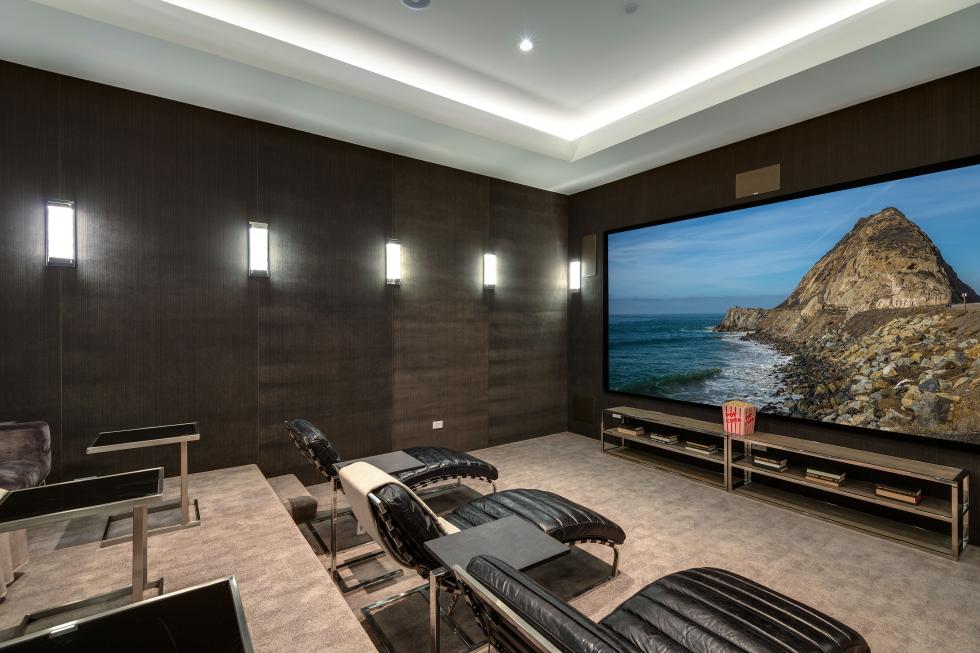 In 2014, developer Patrik Mirahmadi purchased the estate. Unlike many developers, Mirahmadi was very sensitive to the property's Dean Martin legacy and wanted his renovation to express its illustrious past, but in 21st-century style. Stripped of all its outdated materials and opened up to flow gracefully throughout, he created a grand contemporary entertainment space using the most elegant marbles, tiles and other surface materials that would stand out against the clean sharp lines of the interior that opened seamlessly to the outdoor living and entertaining area.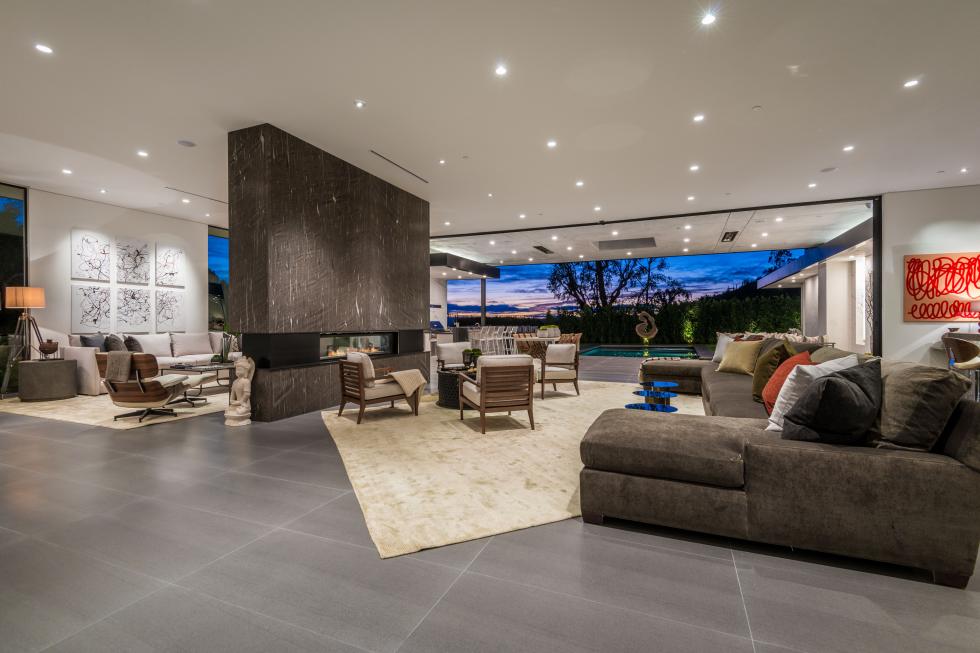 Sited on a knoll on almost an acre overlooking the canyon and Pacific sunsets, the modern mansion is accessed via a long gated drive creating both privacy and security. At 10,047 square feet, it houses five bedrooms, twelve baths and an attached see-through, three-car garage. Moats have been used to accent the entrance walkway leading to the large walnut pivoting front door and again surrounding the elegant dining room on two sides which also has a temperature-controlled wine room enclosed inside a glass wall that displays up to 450 bottles.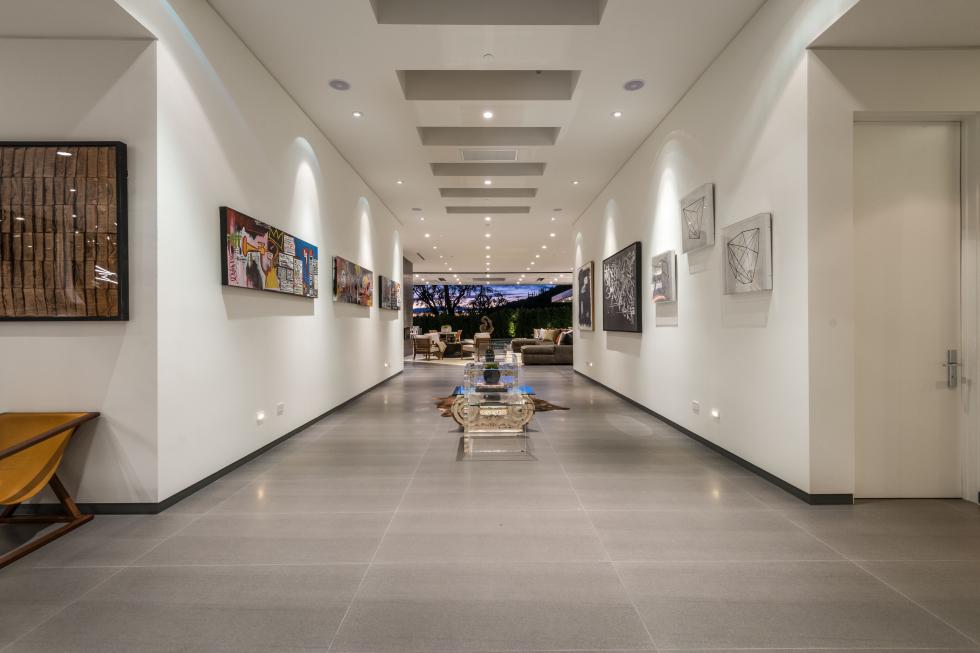 The long gallery with its skylights is a perfect space for an art collection and motorized glass walls at the end of the open living space recede to open the entire house to the outside entertainment area with pool, dining and lounging area and a full outdoor kitchen. With both indoor and outdoor bars large enough to seat over 100 guests, along with the expansive seating areas for living and dining, while the house is ideal for large scale entertaining, its warmth also invites intimacy. The listing agent is Jade Mills of Jade Mills Estates through Coldwell Banker.
Visit TopTenRealEstateDeals.com for more historic, celebrity and spectacular homes and real estate news.