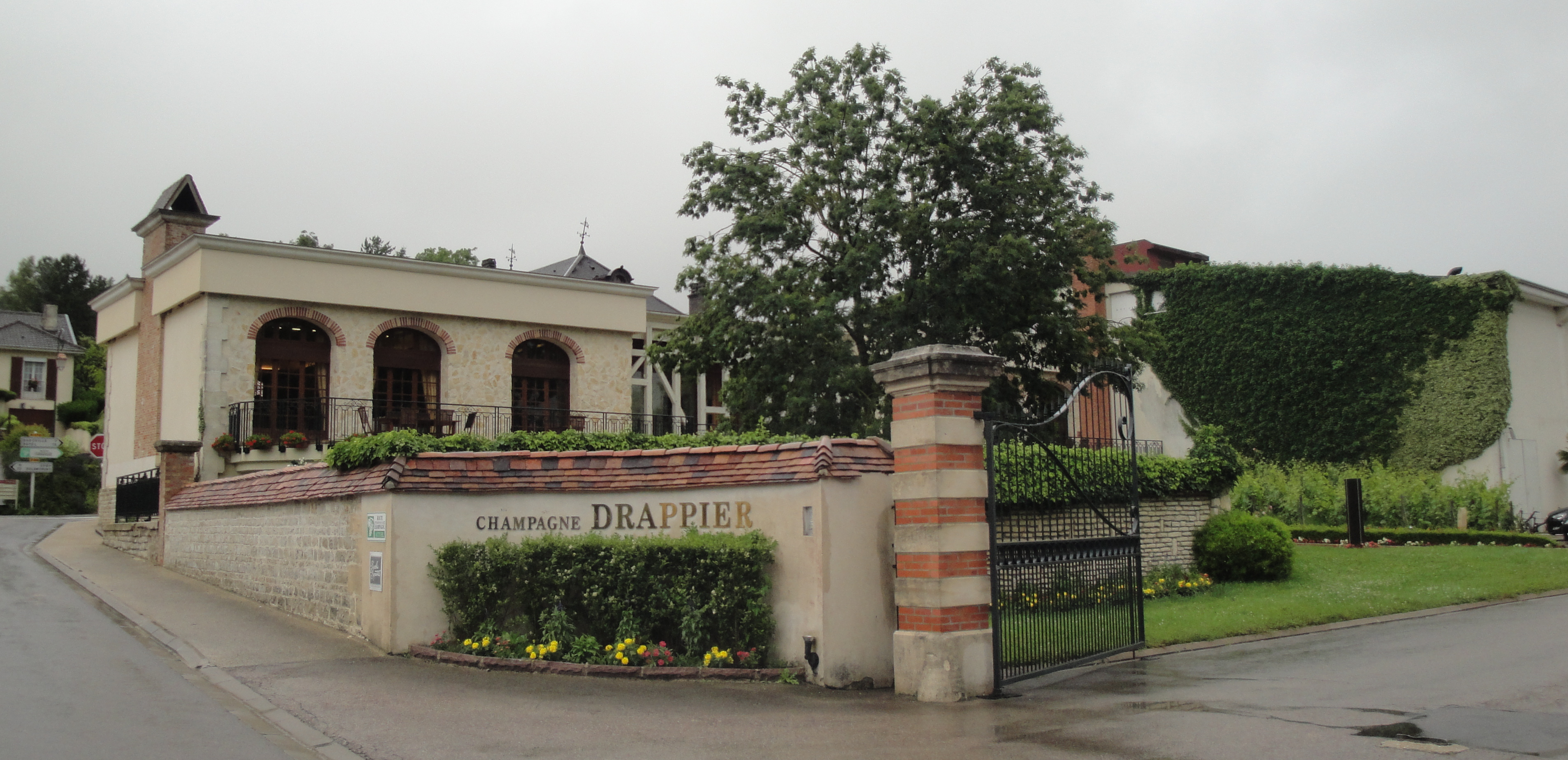 Although the vines in Urville were originally planted by the Romans 2000 years ago, it was Saint Bernard, founder of Clairvaux Abbey, who had the cellars built in 1152. Once occupied by Cistercian monks from Clairvaux Abbey, the Drappier Family has its roots in the 17th century, with the birth in 1604 of Rémy Drappier. Since 1808, their family had selected parcels of land which are particularly well exposed and extremely rich in limestone. Today, the Drappier vineyard is headed by Michel Drappier and covers 100 hectares. For the most part they are located around Urville, where Pinot Noir is their predominant grape variety. Georges Collot, the maternal grandfather of Michel, was the first to decide to plant Pinot Noir in the region. However, they also cultivate forgotten, but unforgettable grape varieties including Arbane, Petit Meslier and Blanc Vrai.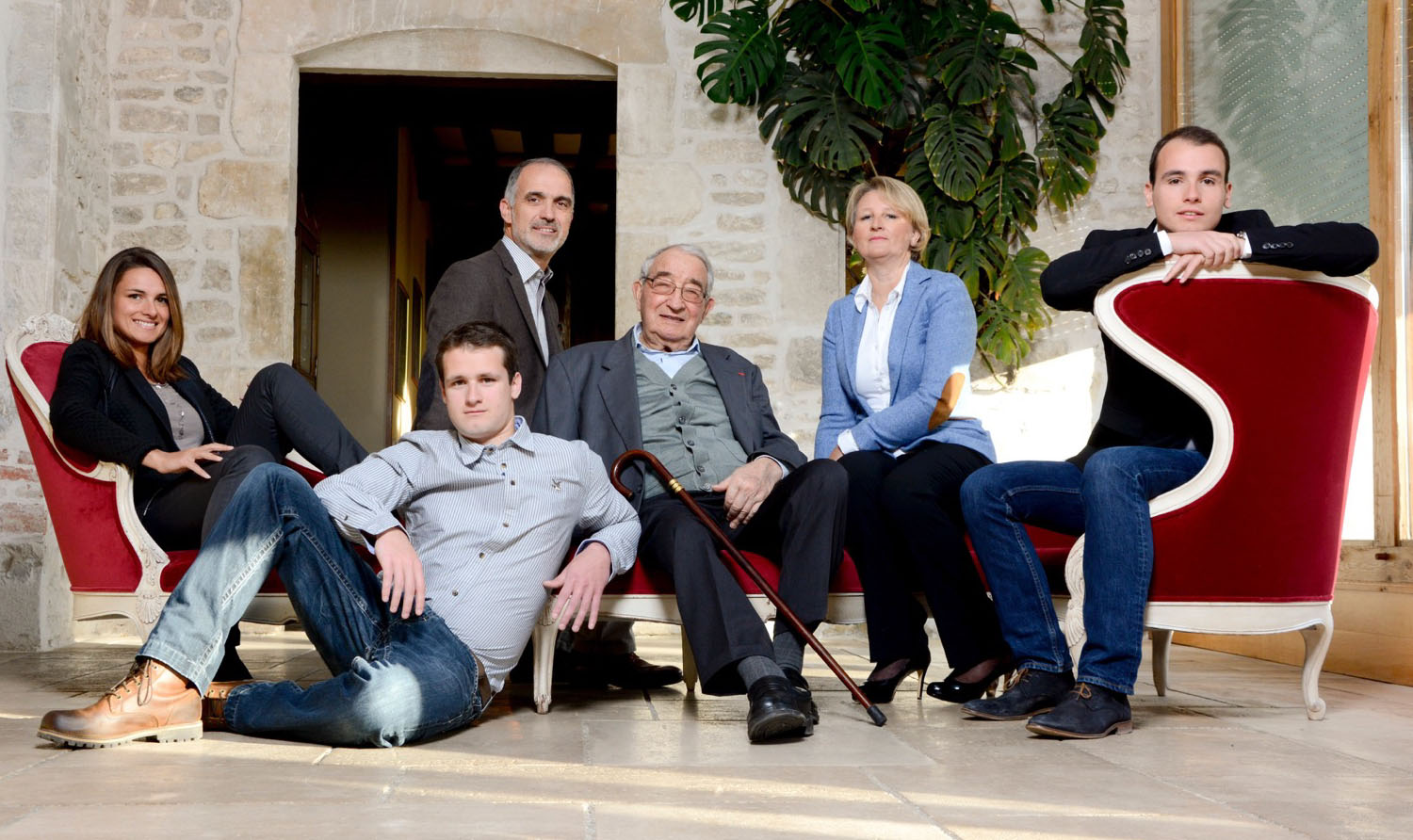 The Drappier Family
In 1952,
André
and
Micheline Drappier
launched the
Carte d'Or
cuvée
with its distinctive yellow label. This reminds one of quince jelly, a yellow fruit of which several aromatic notes are found in every bottle. After the historic frost of 1957 (95% of the potential yield destroyed), André introduces Pinot Meunier, more resistant to icy spring weather. Even so, it is a 100% Pinot Noir Drappier
cuvée
which captivated
General de Gaulle
's attention at Colombey-les-deux-Églises. In 1968 Micheline has the idea of introducing a rosé Champagne. It too will be 100% Pinot Noir and in a clear glass bottle, a feminine touch, which is still very rare at this time. Forty years later the
Drappier Rosé
has enjoyed true success, taking it to the Elysée Palace.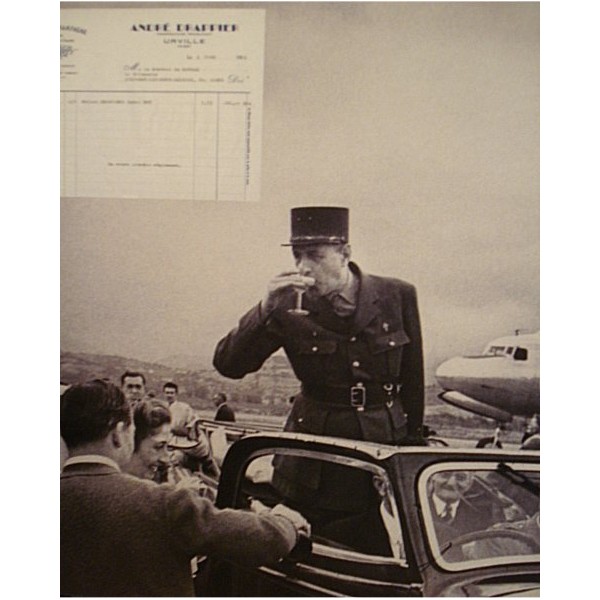 General de Gaulle – Champagne Drappier Carte d'Or
Charline, Hugo and Antoine are Michel and Sylvie's children who represent the eighth generation in the domaine and will take over the reins when time comes as they move towards the tricentenary. Two hundred years of climatic and economic hardships have not diminished their passion.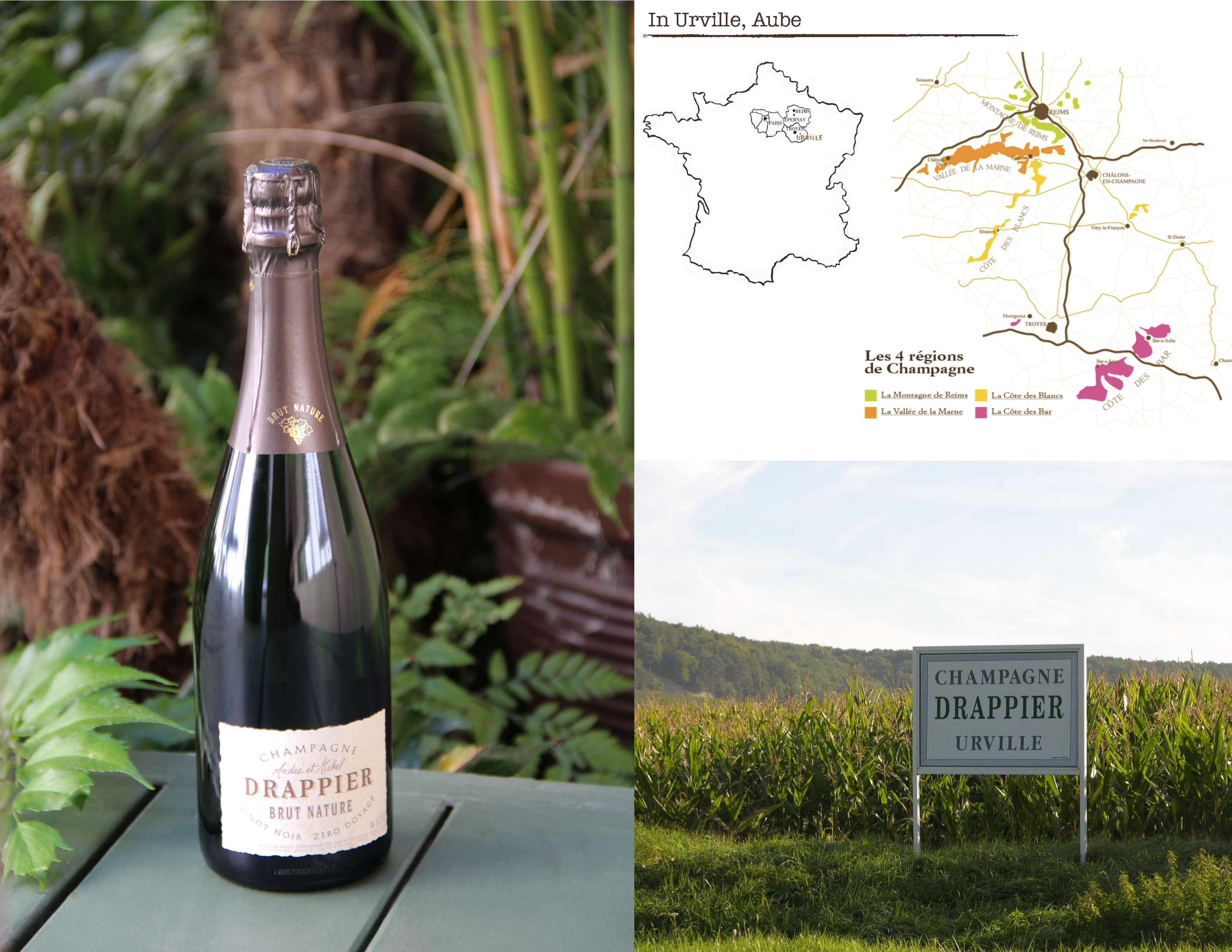 I have to admit that I was not acquainted with the Drappier family, but am very happy to have discovered their Brut Nature 100% pinot Noir, very low in Sulphur and non-filtered. I recently tried a bottle. In researching the wine, I learned that the Vinification of the Brut Nature cuvee uses only the juices from first pressing – the cuvées. Its use of gravity is to avoid pumping, thus avoiding oxidization. The Alcoholic fermentation is done for roughly 2 weeks at low temperature and then goes through a total and natural malolactic fermentation without filtering. After bottling, the cuvée is aged at least 30 months sur lattes (on laths).
It has a beautiful gold color, and has a definite taste of black and red grapes. You can discern notes of citrus fruits in the finish. A fine Champagne of great purity, ideal with any meal.