Patrick Dempsey ("Bridget Jones' Baby," "Grey's Anatomy") joins Laura Linney ("Nocturnal Animals," "Sully") in a scene filmed exclusively for NBC's live "Red Nose Day Special" to air on Thursday, May 25 at 10 p.m. ET/PT.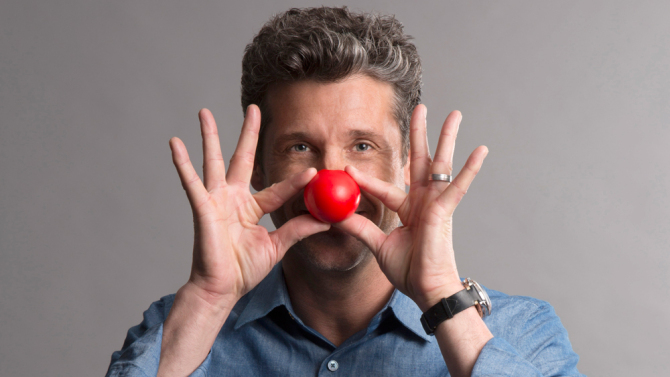 Red Nose Day is an annual campaign that uses the power of entertainment to raise money and awareness to help children living in poverty.
Original "Love Actually" cast reprising their roles include Rowan Atkinson, Chiwetel Ejiofor, Colin Firth, Hugh Grant, Keira Knightley, Andrew Lincoln, Laura Linney, Liam Neeson and Bill Nighy.
Red Nose Day is all about coming together to have fun and make a difference for children in need — here at home and around the world. In the below behind-the-scenes video from the Red Nose Day Actually set, Patrick Dempsey gets in on the fun and demonstrates his juggling skills on set with the campaign's iconic Red Noses.
Hosted by comedian, actor and TV host Chris Hardwick, "The Red Nose Day Special" is the final hour (10 p.m.) of NBC's special three-hour Red Nose Day program block, which will both entertain viewers and give them an opportunity to make a difference in the lives of kids in need. It also includes "Celebrity Ninja Warrior for Red Nose Day" (8 p.m.) and "Running Wild with Bear Grylls for Red Nose Day" (9 p.m. ET), featuring Julia Roberts in Kenya.
"The Red Nose Day Special" will feature great comedy and music performances and compelling films shedding light on kids in need, including a short film of Roberts' trip to a hospital in one of Africa's largest slums where most of the serious cases treated are entirely preventable with vaccines that cost as little as $5.
Richard Curtis is an executive producer for the live NBC telecast (a Universal Television production), along with John Irwin of Irwin Entertainment, and Lily Sobhani.
Red Nose Day has raised more than $1 billion globally since its launch in the U.K. in 1988. With the support of millions of generous Americans, major partners and hundreds of celebrities, Red Nose Day has raised more than $60 million since launching in the U.S. in 2015, including more than $36 million in 2016. Money raised supports programs in all 50 states in America and some of the poorest communities in Africa, Latin America and Asia through programs dedicated to keeping kids in need safe, healthy and educated.
For more information, visit the Red Nose Day website at rednoseday.org.