This year, LATF USA live streamed the 3rd Annual Hollywood Beauty Awards with Absolute Live Productions. In case you missed it, you can watch the show here!
For the third year, LATF USA presented the annual Hollywood Beauty Awards (HBAs) on Sunday, February 19, 2017 at the iconic Avalon Hollywood.
The black tie dinner gala benefitted the M*A*C AIDS Fund. The HBAs recognizes the architects of beauty in hair, makeup, photography and styling for Film, TV and Music, as well as for the red carpet and editorial.
Radio personality, Lisa Stanley (K-EARTH 101) and comedienne/actress, Kym Whitley ("Fist Fight") co-hosted the show.
Lexus returned as the 2017 HBAs title sponsor. Supporting sponsors included NuMe, Moët & Chandon, and The Hollywood Reporter as media partner. Award design by Christopher Guy
The show was broadcast LIVE STREAM at LATFusa.com and on Youtube. Direct link: https://youtu.be/qW-7wAyEHRo
SHOW HIGHLIGHTS:
Commander Spock himself, Zachary Quinto presented to Joel Harlow for Outstanding Achievement in SFX Makeup. The two have worked together on the incredible "Star Trek" reboot franchise.
Academy Award winner and 2017 nominee, Octavia Spencer presented to honoree Melissa Forney, who created Octavia's hairstyles on "Hidden Figures."
Trai Byers from FOX's "Empire," presented to Beverly Jo Pryor for Outstanding Achievement In Makeup.
Billy Bob Thornton presented to longtime friend Timothy White for Outstanding Achievement in Photography.
Melissa Rivers gave a touching and hilarious honoring the legendary Bob Mackie for
Outstanding Achievement In Costume Design & Styling.
Melissa McCarthy gave a surprise video speech from NYC for Linda Flowers' Outstanding Achievement In Hairstyling award.
Paris Hilton shined bright receiving the Fragrance of the Year for GOLD RUSH Paris Hilton from Perfumania Holdings CEO Stephen Nussdorf.
Lea Michele presented her best friend, Sarah Potempa with the Product of the Year award for BEACHWAVER.
Garcelle Beauvais presented to Sabrina Maren for the Brand of the Year award for NuMe.
Dr. Andrew Ordon of CBS' "The Doctors" presented to the Timeless Beauty Award recipient, "Dallas" star Linda Gray. Record producer Adrian Gurvitz and Lisa Stanley presented to the New Beauty Award recipients, GRAMMY nominee, Andra Day and CBS' "Blue Bloods" star Sami Gayle.
Award designer, Christopher Guy presented to Etienne Taenaka (Director of Sassoon Salons) and Stan Newton (Director of Sassoon Academies) for the Special Tribute Award to SASSOON.
Dr. Jason B. Diamond presented the Beauty Enhancement Award to Dr. Harold Lancer.
Other celebrity presenters include: Taylor Nolan (ABC's The Bachelor), Danielle Lombard (ABC's The Bachelor), Chaley Rose (Nashville, 2016 New Beauty), Actress Nikki Leigh as the HBAs awards model, Sterfon Demings (2016 hair honoree), Kathryn Blondell (2016 hair honoree) and more…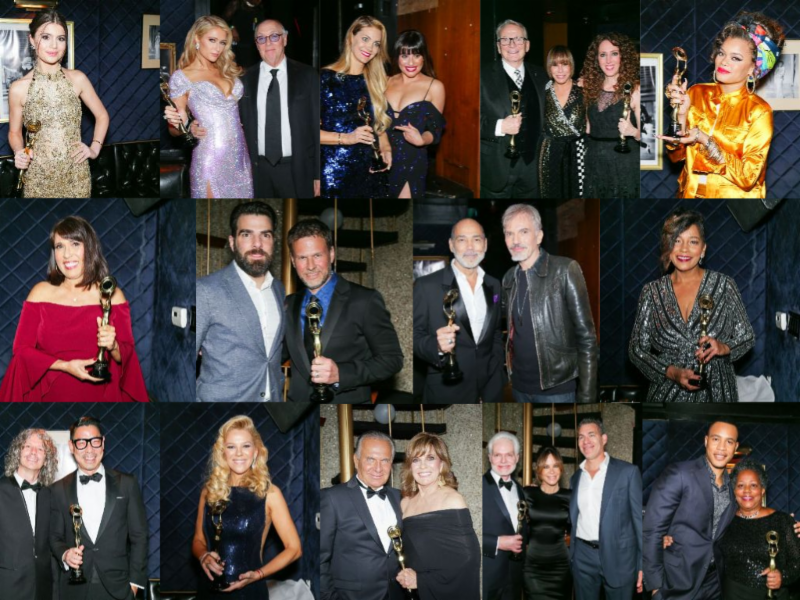 WINNERS:
Every year, the nominee categories are named after the current honorees. These established nominees, spe- cializing in creating celebrity looks for the red carpet and editorial compete in each honoree category. (*Includes past and current clients)
Joel Harlow Award for Makeup:
Angela Levin – WINNER
Claudia Betancur
Michelle Clark
Beverly Jo Pryor Award for Makeup:
Saisha Beecham
Sam Fine
Steven Aturo – WINNER
Linda Flowers Award for Hairstyling:
David Gardner
Giannandrea – WINNER
Jenny Cho
Melissa Forney Award for Hairstyling:
Larry Sims – WINNER
Neal Farinah
Nikki Nelms
Timothy White Award for Photography:
Christopher Polk
Eric Charbonneau
Jennifer Graylock – WINNER
Bob Mackie Award for Styling:
Jason Bolden
Jen Rade – WINNER
Derek Roche