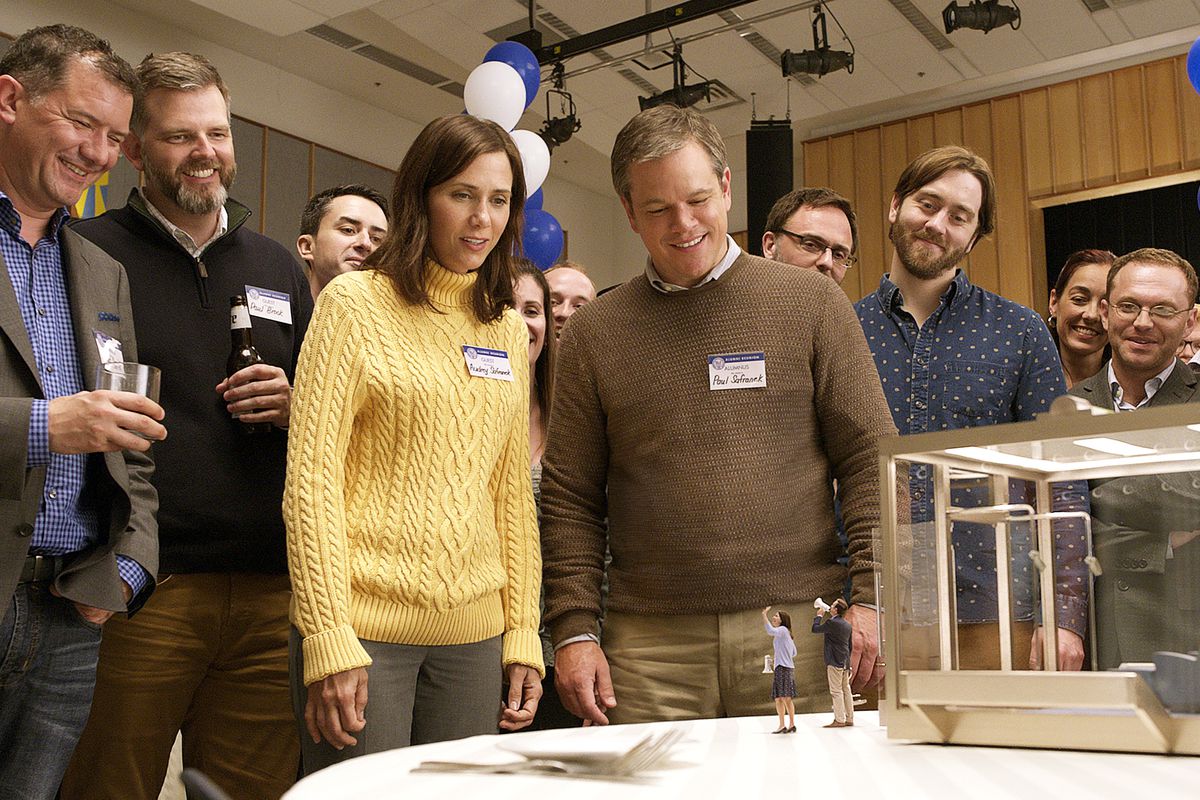 A cash-strapped Omaha couple decide to undergo a procedure, intended to solve overpopulation, that shrinks them to five inches tall in "Downsizing," an imaginatively conceived and modestly satisfying satire starring Matt Damon, Kristen Wiig, Christoph Waltz and Hong Chau ("Inherent Vice").
Helmed by acclaimed filmmaker Alexander Payne ("Sideways," "The Descendants") from an original script by Payne and frequent writing partner Jim Taylor, "Downsizing" is ambitious on a scale far larger the size of its miniaturized setting, even if it falls short of its aims. But even though audiences will be wowed by the thoroughness with which the concept is realized, the underlying eccentricity of the storyline prevents the proceedings from reaching the high marks of Payne's previous films. A sci-fi satire with unexpected romantic elements, although most will prefer their previous collaborations, Payne and Taylor's script still navigates this story's tricky terrain with impressive ease, creating a credible world for their inventive idea to thrive in, and populating it with quirky but believable characters. Although commercial prospects may be limited given the crowded holiday movie season, adventurous audiences will be rewarded by this appealingly strange crowd-pleaser.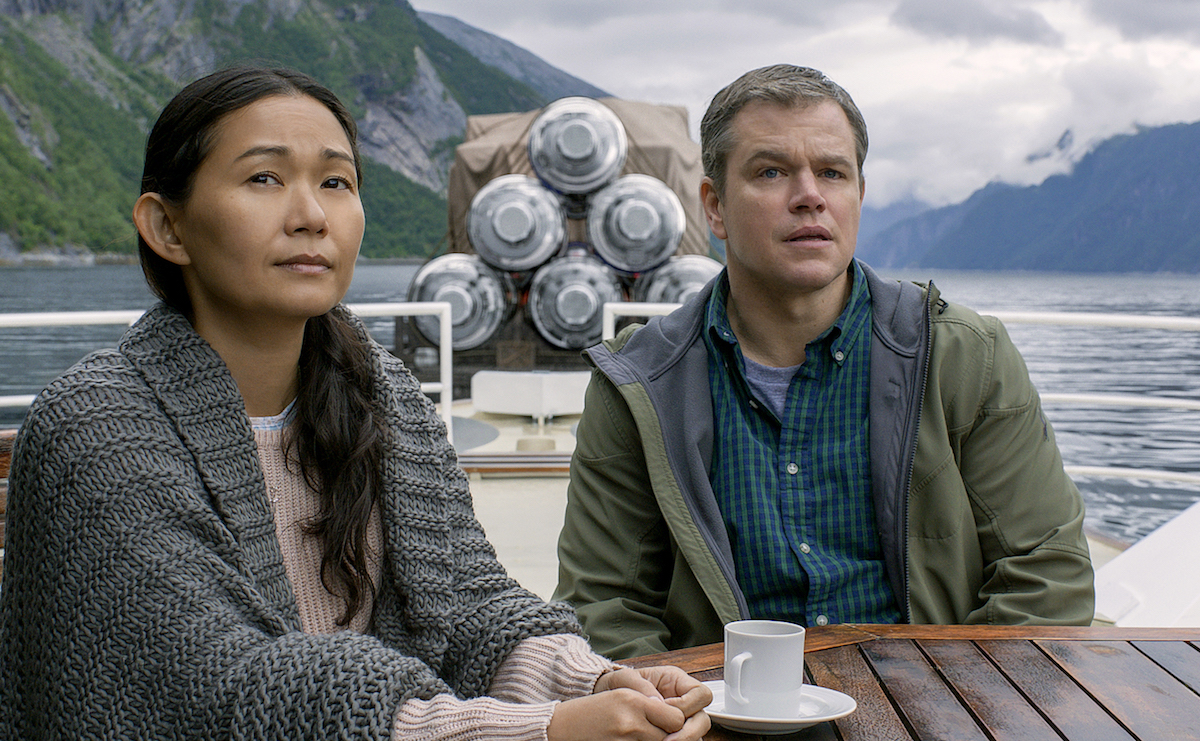 After a nifty opening sequence introducing the radical procedure and the hazardous environmental conditions that necessitate it, "Downsizing" shifts to ten years later, where Paul and Aubrey Safranek (Matt Damon and Kristen Wiig) lead a modest but cost-conscious life in Omaha, Nebraska. When Paul, an occupational therapist at Omaha Steaks, attends a work party, he runs into a recently downsized coworker (Jason Sudeikis) who couldn't be happier with the operation. After discussing the upsides of downsizing with his coworker, especially the monetary ones – the Safranek's $100,000 savings would translate to north of $12 million dollars in the miniaturized world – Paul and Aubrey make the life-altering decision to downsize.
As one might expect, the procedure doesn't go as smoothly as Paul had hoped. When he emerges in his new shrunken setting, he discovers that he's now a single, five-inch version of his former self, with all the material things at his disposal but nobody to share them with. Deciding to downsize even further from a gaudy mansion to a modest condo, and taking a customer service job answering calls at Lands' End, Paul tries to find happiness in his new environment, but with little success. But when Paul befriends an impoverished, one-legged Vietnamese dissident (Hong Chau), she helps him find purpose – and love – in his downsized domain.
Throughout his award-winning career, Alexander Payne has managed to pull off the impressive feat of making distinctive, personal films that also have broad appeal, and doing so within the studio system. With a catchy, albeit peculiar, premise, "Downsizing" definitely fits squarely into his repertoire; but whereas his previous films tended to travel down a more unpredictable path, his latest feels fairly formulaic by comparison. Still, Payne's direction is expectedly on point, exuding a confidence in his far-out concept that goes a long way in selling the small setting, and once again steers his accomplished cast to noteworthy performances. Additionally, the tech credits are all top-notch, with special recognition deserved for the seamless special effects that merge the real world with the miniaturized one, while Payne's frequent cinematographer Phedon Papamichael's understated imagery is effective without being showy.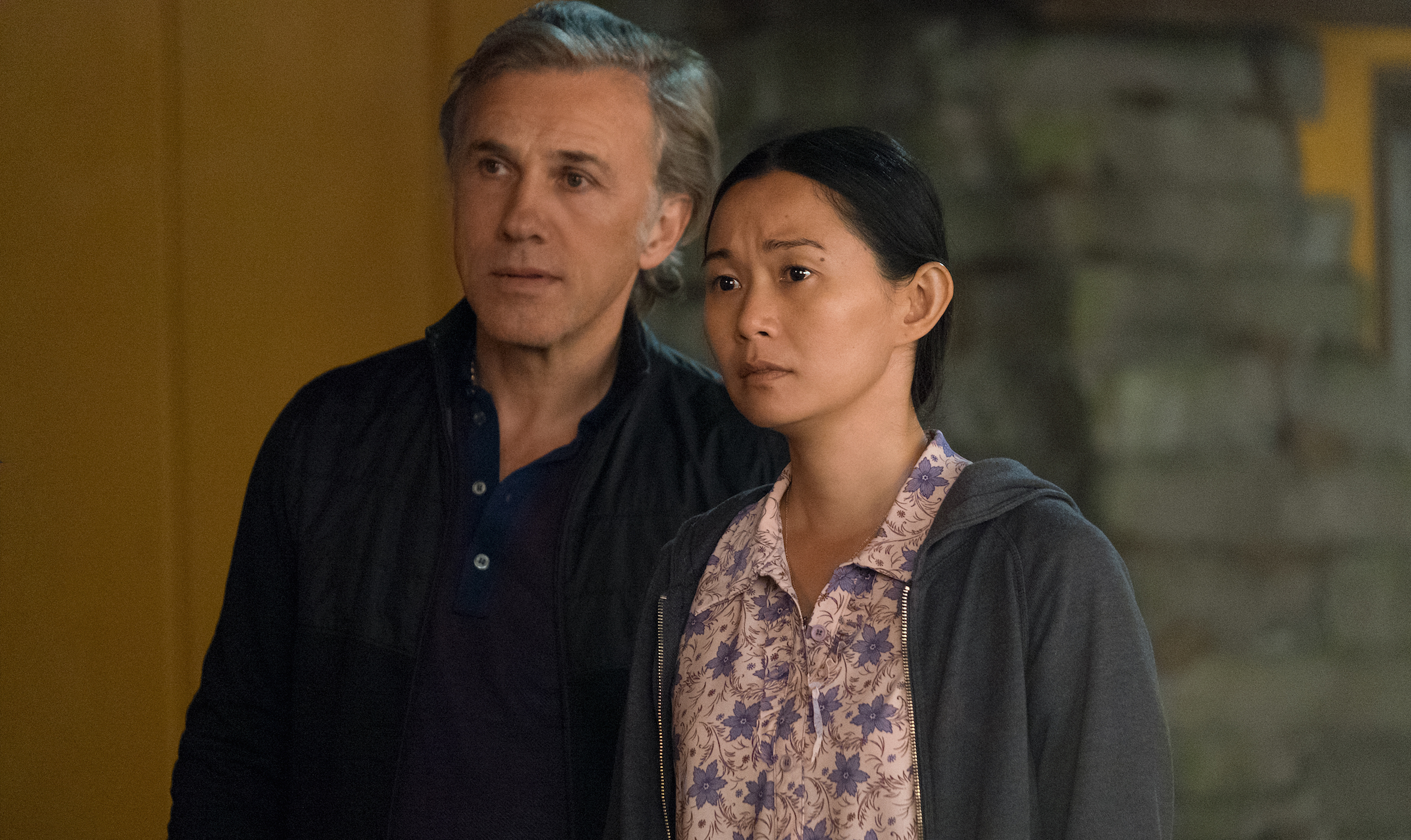 As the beleaguered protagonist who uses financial reasons to pursue the eco-minded procedure, Matt Damon is nicely suited for the everyman role in which he was cast, and comfortably hits the comedic and dramatic beats that the character requires. As Paul's ambivalent wife, Kristen Wiig makes the most of her limited screen time, and the same can be said of Jason Sudeikis as Paul's persuasive coworker. In more substantial supporting roles, Christoph Waltz is criminally charming as Paul's hard-partying neighbor, a shady Serbian businessman named Dusan, and Hong Chau makes her mark as the feisty Vietnamese dissident to whom Paul takes a liking.
Although it may mostly appeal to a high-brow audience, "Downsizing" is a smart and wholly original sci-fi satire whose miniaturized milieu plays well on the big screen.
Running Time: 135 minutes
Rated R for language including sexual references, some graphic nudity and drug use.
By Lucas Mirabella