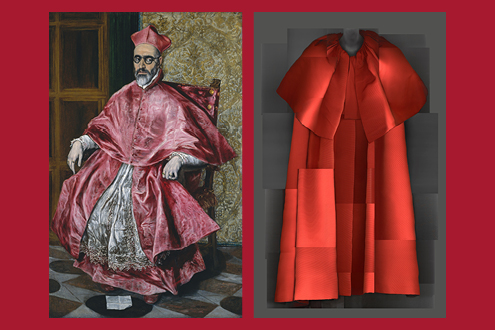 The Metropolitan Museum of Art announced today that The Costume Institute's spring 2018 exhibition will be Heavenly Bodies: Fashion and the Catholic Imagination, on view from May 10 through October 8, 2018 (preceded on May 7 by The Costume Institute Benefit). Presented at The Met Fifth Avenue in both the medieval galleries and the Anna Wintour Costume Center, the show will also occupy The Met Cloisters, creating a trio of distinct gallery locations. How many Mother Mary's and JC's will we see on the red carpet?
The thematic exhibition will feature a dialogue between fashion and masterworks of religious art in The Met collection to examine fashion's ongoing engagement with the devotional practices and traditions of Catholicism. A group of papal robes and accessories from the Vatican will travel to the United States to serve as the cornerstone of the exhibition, highlighting the enduring influence of liturgical vestments on designers.
The exhibition is made possible by Christine and Stephen A. Schwarzman, and Versace. Additional support is provided by Condé Nast.
"The Catholic imagination is rooted in and sustained by artistic practice, and fashion's embrace of sacred images, objects, and customs continues the ever-evolving relationship between art and religion," said Daniel H. Weiss, President and CEO of The Met. "The Museum's collection of religious art, in combination with the architecture of the medieval galleries and The Cloisters, provides the perfect context for these remarkable fashions."
In celebration of the opening, the Museum's Costume Institute Benefit, also known as The Met Gala, will take place on Monday, May 7, 2018. The evening's co-chairs will be Amal Clooney, Rihanna, Donatella Versace, and Anna Wintour. Christine and Stephen A. Schwarzman will serve as Honorary Chairs. The event is The Costume Institute's main source of annual funding for exhibitions, publications, acquisitions, and capital improvements.
"Fashion and religion have long been intertwined, mutually inspiring and informing one another," said Andrew Bolton, Curator in Charge of The Costume Institute. "Although this relationship has been complex and sometimes contested, it has produced some of the most inventive and innovative creations in the history of fashion."