Forevermark diamonds lit up the red carpet at the 69th Annual Emmy Awards on actresses Elisabeth Moss, who took home the Emmy for Best Actress in a Drama, Jessica Biel, Alexis Bledel, Anna Chlumsky, and Julianne Hough.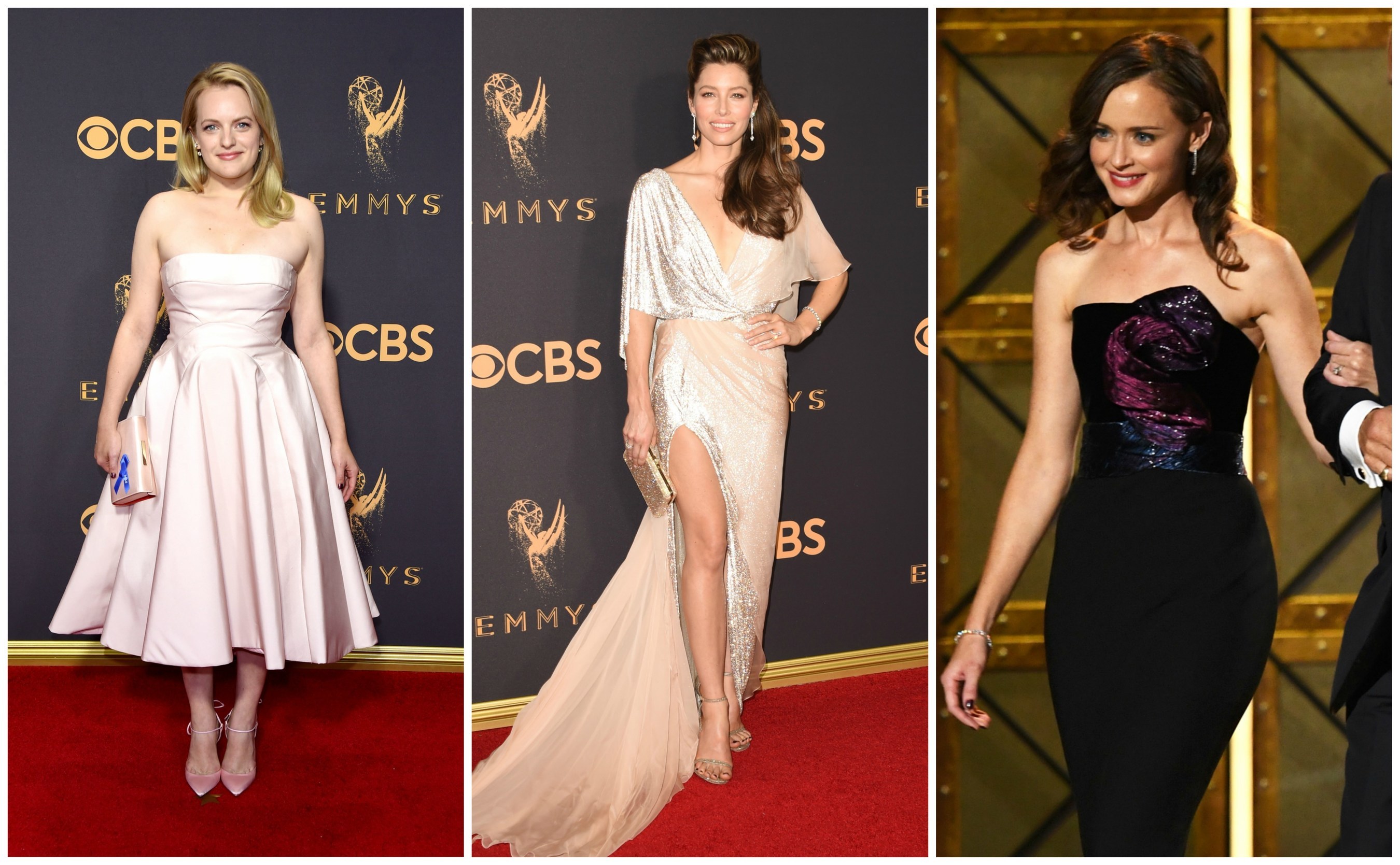 The stars arrived on the red carpet at the Microsoft Theater dazzling onlookers in this season's latest diamond jewelry trends, particularly fashion-forward pieces with multiple substantial diamonds, as well as timeless diamond classics. Elisabeth Moss of The Handmaid's Tale dazzled as she accepted her Emmy wearing custom Forevermark earrings designed by her stylist Karla Welch. The earrings were inspired by the new Forevermark Tribute™ Collection, which celebrates the unique qualities of a woman, and Karla's design emphasized the beauty of the diamonds with a modern, minimalist approach.
Alexis Bledel, also of The Handmaid's Tale, won the Emmy for Outstanding Guest Actress in a Drama last week and proved the classics are always in style wearing timeless diamond drop earrings and a diamond tennis bracelet while presenting on the Emmys stage.
Jessica Biel stunned in classic diamond drop earrings and two stone diamond rings while presenting the Emmy for Best Lead Actor in a Series or Movie.
E! Live from the Red Carpet host Giuliana Rancic expressed her individual red carpet style in a handful of stackable rings from the Forevermark Tribute™ Collection and classic stud earrings.
Forevermark diamond looks at the 69th Emmy Awards include:
Who: Best Actress in a Drama Emmy Award Nominee Elisabeth Moss, The Handmaid's Tale
The Look:
Forevermark Custom by

Karla Welch

Two Stone Bar Earrings set in Rose Toned Platinum 8.92 ctw
Forevermark Exceptional

Diamond Cushion Ring

set in Platinum, 11.03 ctw
Who: Emmy Award Presenter, Actress Jessica Biel
The Look:
Forevermark Long Drop Earrings set in 18k White Gold, 18.61 ctw
Forevermark by Rahaminov Cushion Diamond Bracelet set in 18k White Gold 13.78 ctw
Forevermark by Rahaminov Two Stone Round Bypass Ring in 18k White Gold 2.30 ctw
Forevermark "You & Me" Two Stone Deco Curve Ring set in 18k White Gold
Forevermark Two

Stone Ring

set in 18k White Gold, 8.52 ctw
Who: Outstanding Guest Actress in a Drama Emmy Award Winner, and Emmy Presenter Alexis Bledel, The Handmaid's Tale
The Look:
Forevermark by Natalie K Line Earrings set in 18k White Gold 5.20 ctw
Forevermark by Natalie K Classic Diamond Tennis Bracelet set in 18k White Gold 14.60 ctw
Who: Best Supporting Actress in a Comedy, Anna Chlumsky, Veep
The Look:
Forevermark Black Label Square Solitaire Stud Earrings set in 18k White Gold 4.45 ctw
Forevermark Cluster Shield Ring set in 18k White Gold, 3.40 ctw
Forevermark Cornerstones Eternity Ring set in 18k White Gold, 3.22 ctw
Forevermark Eternity Ring set in 18k White Gold, 2.97 ctw
Who: Actress Julianne Hough
The Look:
Forevermark Solitaire Drop Earrings set in Platinum 20.89 ctw
Forevermark by Rahaminov Offset Eternity Band set in 18k White Gold 6.2 ctw
Forevermark By Rahaminov Round Halo Band set in 18k White Gold 1.90 ctw
Forevermark by Mémoire

Odessa Nine Stone Diamond Band

set in Platinum, 1.5 ctw
Forevermark by Imagine Bridal Five

Stone Diamond Halo Band

set in White Gold 1.25 ctw
Forevermark by

Jade Trau

Diamond White Gold Kismet Band
Forevermark BY

H.J. Namdar

Five

Stone Diamond Band

set in 18k White Gold
Forevermark by Rahaminov Hexagon Bezel Stud set in 18k Yellow Gold .49 ctw
Who: E! Host Giuliana Rancic
The Look:
Forevermark Tribute Collection Seven Stackable Diamond Rings set in 18k White Gold
Forevermark by A. Link Two Stone "You & Me" Deco Spiral Ring set in 18k White Gold
Forevermark Cluster Stud Diamond Earrings set in 18k White Gold, 5.25 ctw