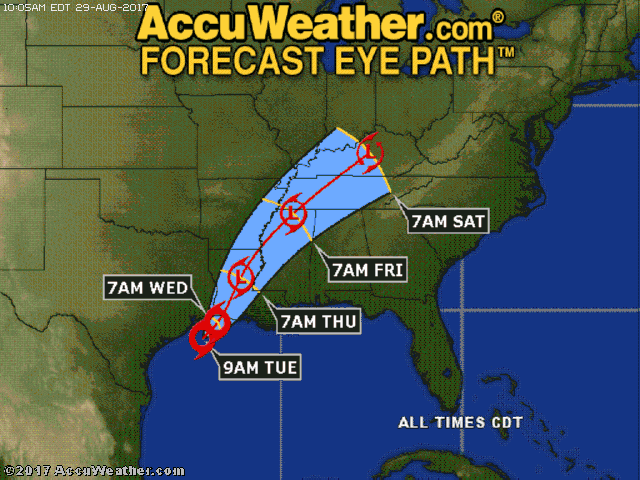 A
Photo courtesy of AccuWeather
As Hurricane Harvey made landfall, thousands of Texas citizens were forced to leave their homes. The storm traveled with 100 mph winds and up to 35 inches of rain, which lead to devastating and life-threatening flooding.
The Coast Guard continues to receive as many as 1,000 calls per hour and 3,000 people rescued, according to
reports
. As of Sunday, more than 2,300 calls came into Houston's Fire Department.
Tragically, four people have lost their lives due to the catastrophic storm. The storm is expected to hit landfall once more on Wednesday near Louisiana.
The Red Cross is dedicated to aiding those during natural disasters. They depend on financial donations to be able to provide disaster relief immediately. Help people affected by Hurricane Harvey by visiting redcross.org, calling 1- 800-RED CROSS or texting the word HARVEY to 90999 to make a $10 donation. Donations enable the Red Cross to prepare for, respond to and help people recover from this disaster.
People can find a shelter by visiting redcross.org or by downloading the free Red Cross Emergency App. The Emergency App also puts real time information about the storm and hurricane safety tips at your fingertips. The app is available in app stores by searching for the American Red Cross or going to redcross.org/apps. People should also follow these safety steps:
Continue listening to local area radio, NOAA radio or TV stations for the latest information and updates.
If your neighborhood is prone to flooding, be prepared to evacuate quickly if necessary.
Follow evacuation orders and do not attempt to return until officials say it is safe to do so.
Head for higher ground and stay there.
Stay away from floodwaters. If you come upon a flowing stream where water is above your ankles, stop, turn around and go another way.
Turn around, don't drown. If driving, turn around and go another way. If you are caught on a flooded road and waters are rising rapidly around you, get out of the car quickly and move to higher ground. Most cars can be swept away by less than two feet of moving water.
Keep children out of the water.
Be especially cautious at night when it's harder to see flood danger.
During the storm:
Stay indoors.
Don't walk on beaches, riverbanks or in flood waters.
Use flashlights in the dark if the power goes out. Do NOT use candles.
Turn off the power and water mains if instructed to do so by local authorities.
Don't forget your pets. Bring them indoors and maintain direct control of them. Prepare an emergency kit for your pets, including sturdy leashes or pet carriers, food and water, bowls, cat litter and pan, and photos of you with your pet in case they get lost.
To donate to the victims of Hurricane Harvey CLICK HERE.