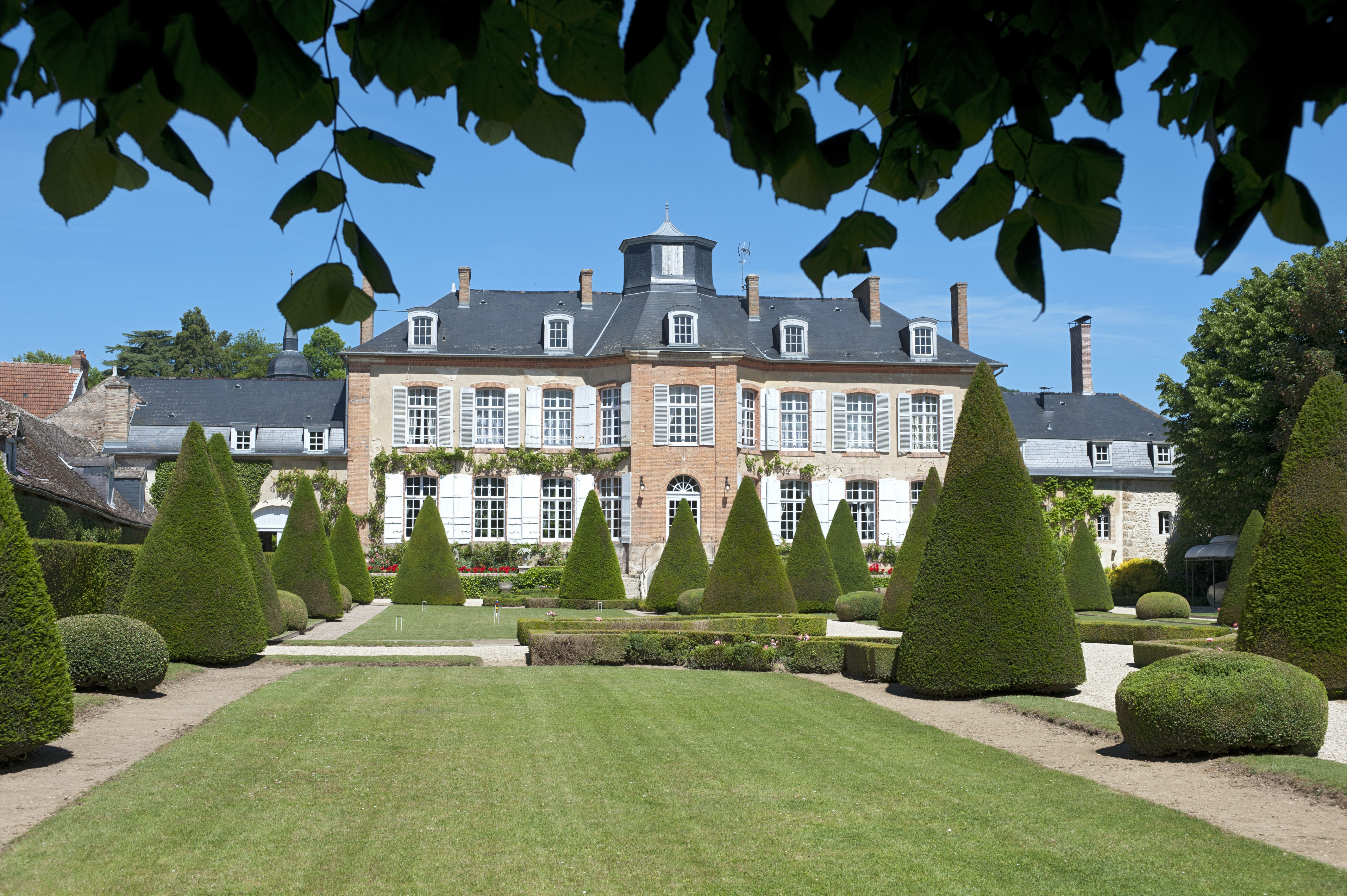 Les Aulnois, Henriot's estate
Native from Lorraine, the Henriot family relocated in Reims in Champagne in 1640. At the time the Henriot's were doing business in textile and wine. It was in 1791 that Nicolas Henriot purchased the "Hotel des Douanes," as well as the "Royal Farms" which had been built by the architect Legendre for King Louis XV. It is in 1794, after marrying Apolline Godinot, that both decided to get involved in viniculture.
It was in 1808, under Apolline Henriot, that Champagne Henriot was officially founded. She was the niece of the very famous Abbé Godinot, an erudite man who contributed to improvements in viticulture and the making of the Champagne wine. The Champagne wines became a huge success with royalty and it was only natural that Champagne Henriot became the favorite. At First at the Dutch court, then in Austria and Hungary with the Hapsburgs. It was Apolline, an enterprising woman of great character, which sold her wines both in France and abroad. Faithful to a tradition established for more than eight generations, the family works relentlessly to achieve one sole ambition – to maintain the Maison's prestigious name.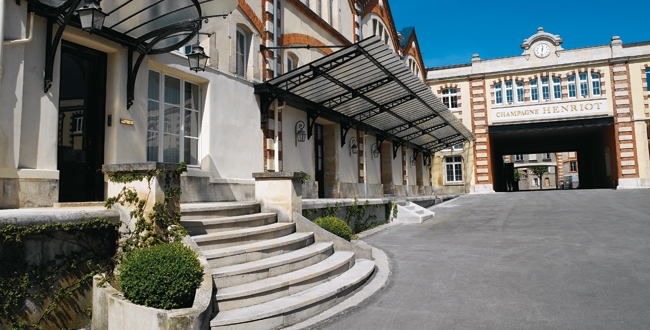 The Henriot Family has retained direct cultivation of roughly 35 hectares (87 acres). Their parcels are scattered among the Vallée de la Marne (Mareuil and Ay, a Grand Cru); la Montagne de Reims (Avenay, a Premier Cru); and the Côte des Blancs (Epernay, notably le Clos l'Abbé, and Chouilly, a Premier Cru). These vineyards supply fifteen to twenty percent of its needs. To supply the rest, the house depends primarily on growers who share its standards of quality. The house is fortunate to have access to Grands and Premier Crus, particularly in the Côte des Blancs, stronghold of the chardonnay variety which dominates in its blends: Avize, Oger, Cramant, Vertus and others. Pinot noir is selected principally from crus on the northern slope of the Montagne de Reims, such as Verzy, Verzenay and Val d'Or.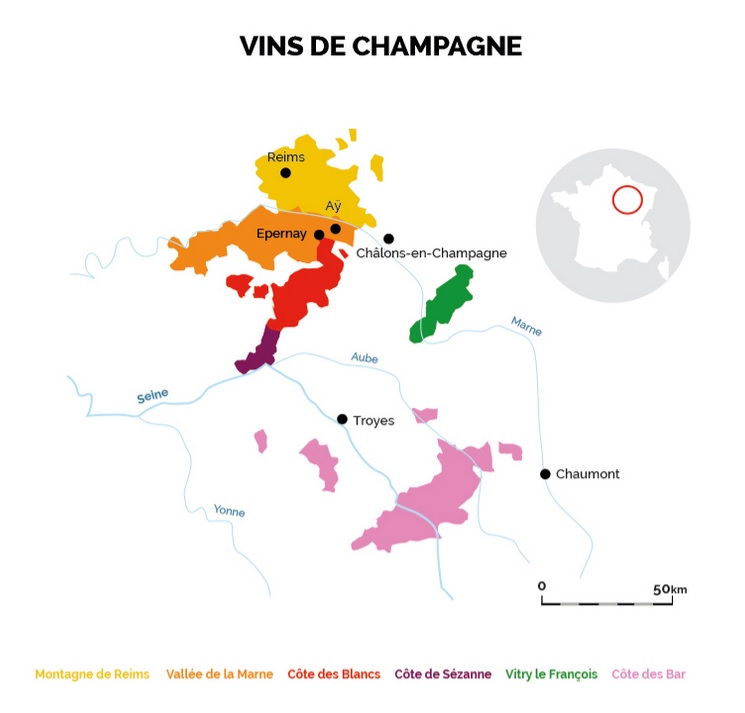 Here are two Champagne Henriot's that I recently tasted and that were very good.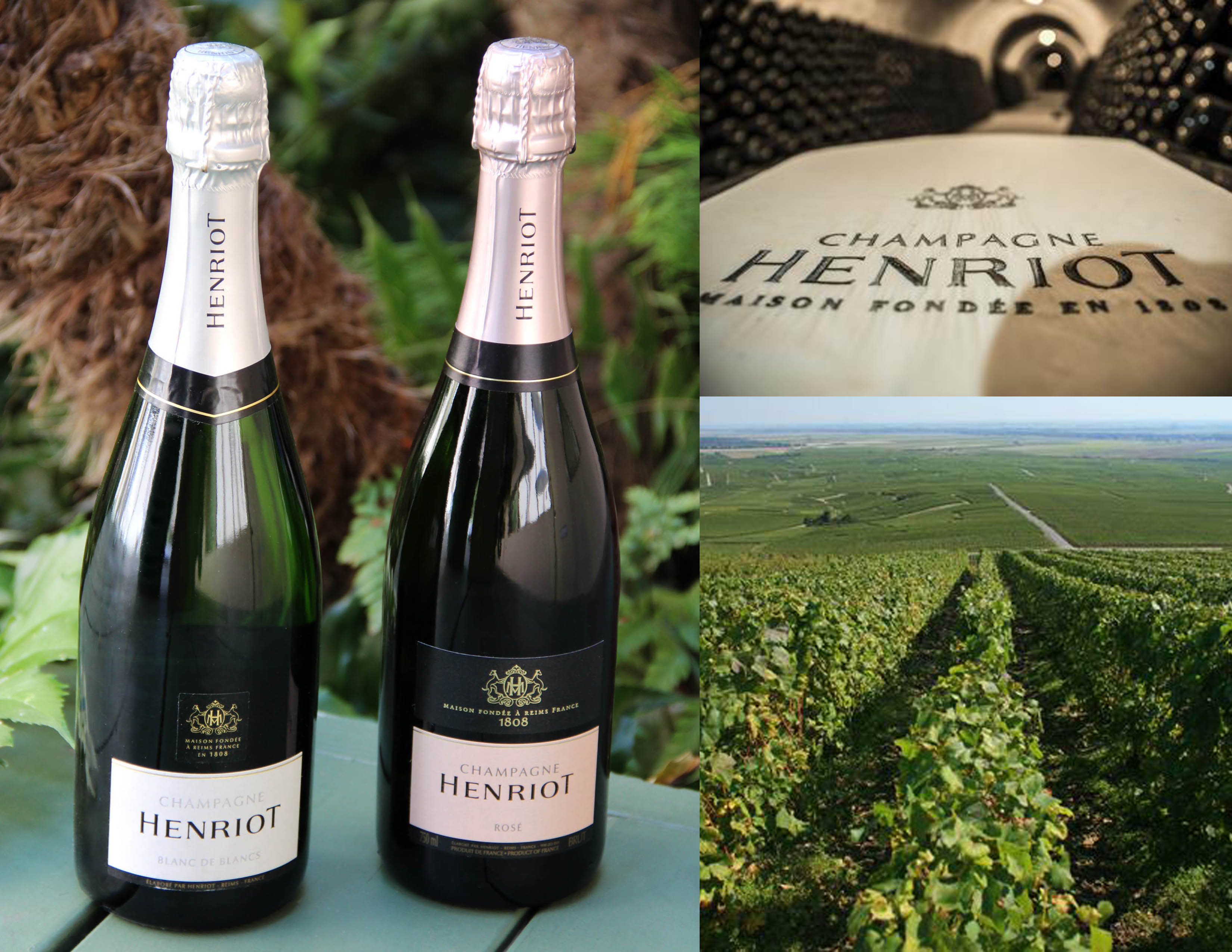 Henriot BLANC DE BLANC
Blanc de Blancs is an assemblage of Chardonnay grapes mainly from the Côte des Blancs and village crus: Mesnil sur Oger, Avize, Chouilly, Vertus, Montgueux, Trépail, Epernay and the Vitry region. The assemblage is made up of 30% reserve wines from a number of different vintages. The percentage may vary following the year. A pale gold color with slight green highlights, it has fine abundant bubbles. Pure, concentrated and expressive, it has floral notes of honeysuckle, orange flower, as well as fruity notes of lemon, dried apricot, almond, followed by a hint of spicy notes. A powerful champagne with aromas of lightly toasted brioche with a clean finish.
Henriot BRUT ROSE
A light pink color with copper highlights, Henriot Brut Rosé has delicate red fruit notes. The Brut Rosé is obtained by adding Pinot Noir vinified as a red wine to the assemblage. It is made up of Pinot Noir from the Montagne de Reims, Chardonnay from the Côte des Blancs mixed with Pinot Meunier. The nose reveals aromas of red berry fruit (raspberry, strawberry) and freshly squeezed citrus fruit (pink grapefruit, mandarin), then light vegetal fragrances (blackcurrant buds) and floral scents (gillyflower, iris), finishing on delicious notes (candied fruit in particular) and mineral tones. Rosé Brut contains 25% reserve wines*.
* The percentage of reserve wines may vary from one year to another.