TEEN CHOICE 2017TM aired live on FOX from the University of Southern California's Galen Center in Los Angeles this past weekend. This year, teens logged on to Twitter and FOX.com and cast more than 63 million votes in support of their favorite teen icons in film, television, music, sports, fashion, comedy and the web.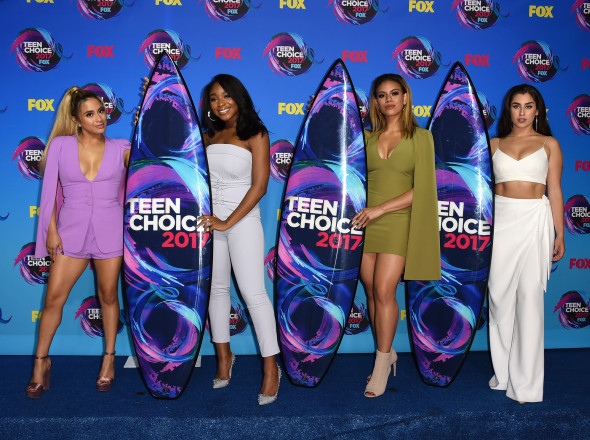 Multi-Grammy Award-winning band Maroon 5 received the Decade Award, multi-Grammy Award-winning superstar Bruno Mars was honored with the Visionary Award and actress/singer Vanessa Hudgens was presented with the first-ever #SeeHer Award. Special presenters Anthony Anderson, Fifth Harmony, and Logan Paul announced the most anticipated performances and honorees.
The star-studded event featured performances by Louis Tomlinson with Bebe Rexha, Rita Ora and KYLE, alongside Lil Yachty, Clean Bandit with Zara Larsson, French Montana and Swae Lee with Triplets Ghetto Kids, Rae Sremmurd, and the cast of FOX's STAR – Jude Demorest, Ryan Destiny and Brittany O'Grady.
MOVIES
Choice Action Movie (#ChoiceActionMovie)
"Wonder Woman"
Choice Action Movie Actor (#ChoiceActionMovieActor)
Chris Pine – "Wonder Woman"
Choice Action Movie Actress (#ChoiceActionMovieActress)
Gal Gadot – "Wonder Woman"
Choice Sci-Fi Movie (#ChoiceSciFiMovie)
"Guardians of the Galaxy Vol. 2"
Choice Sci-Fi Movie Actor (#ChoiceSciFiMovieActor)
Chris Pratt – "Guardians of the Galaxy Vol. 2"
Choice Sci-Fi Movie Actress (#ChoiceSciFiMovieActress)
Zoe Saldana – "Guardians of the Galaxy Vol. 2"
Choice Fantasy Movie (#ChoiceFantasyMovie)
"Beauty and the Beast"
Choice Fantasy Movie Actor (#ChoiceFantasyMovieActor)
Dwayne Johnson – "Moana"
Choice Fantasy Movie Actress (#ChoiceFantasyMovieActress)
Emma Watson – "Beauty and the Beast"
Choice Drama Movie (#ChoiceDramaMovie)
"Everything, Everything"
Choice Drama Movie Actor (#ChoiceDramaMovieActor)
Kian Lawley – "Before I Fall"
Choice Drama Movie Actress (#ChoiceDramaMovieActress)
Emma Watson – "The Circle"
Choice Comedy Movie (#ChoiceComedyMovie)
"Finding Dory"
Choice Comedy Movie Actor (#ChoiceComedyMovieActor)
Zac Efron – "Baywatch"
Choice Comedy Movie Actress (#ChoiceComedyMovieActress)
Ellen DeGeneres – "Finding Dory"
Choice Summer Movie (#ChoiceSummerMovie)
"Spider-Man: Homecoming"
Choice Summer Movie Actor (#ChoiceSummerMovieActor)
Tom Holland – "Spider-Man: Homecoming"
Choice Summer Movie Actress (#ChoiceSummerMovieActress)
Zendaya – "Spider-Man: Homecoming"
Choice Movie Villain (#ChoiceMovieVillain)
Luke Evans – "Beauty and the Beast"
Choice Breakout Movie Star (#ChoiceBreakoutMovieStar)
Auli'i Cravalho – "Moana"
Choice MovieShip (#ChoiceMovieShip)
Emma Watson & Dan Stevens – "Beauty and the Beast"
TELEVISION
Choice Drama TV Show (#ChoiceDramaTVShow)
"Riverdale"
Choice Drama TV Actor (#ChoiceDramaTVActor)
Cole Sprouse – "Riverdale"
Choice Drama TV Actress (#ChoiceDramaTVActress)
Lucy Hale – "Pretty Little Liars"
Choice Sci-Fi/Fantasy TV Show (#ChoiceSciFiTVShow)
"The Vampire Diaries"
Choice Sci-Fi/Fantasy TV Actor (#ChoiceSciFiTVActor)
Dylan O'Brien – "Teen Wolf"
Choice Sci-Fi/Fantasy TV Actress (#ChoiceSciFiTVActress)
Kat Graham – "The Vampire Diaries"
Choice Action TV Show (#ChoiceActionTVShow)
"The Flash"
Choice Action TV Actor (#ChoiceActionTVActor)
Grant Gustin – "The Flash"
Choice Action TV Actress (#ChoiceActionTVActress)
Melissa Benoist – "Supergirl"
Choice Comedy TV Show (#ChoiceComedyTVShow)
"Fuller House"
Choice Comedy TV Actor (#ChoiceComedyTVActor)
Jean-Luc Bilodeau – "Baby Daddy"
Choice Comedy TV Actress (#ChoiceComedyTVActress)
Candace Cameron Bure – "Fuller House"
Choice Animated TV Show (#ChoiceAnimatedTVShow)
"Family Guy"
Choice Reality TV Show (#ChoiceRealityTVShow)
"The Voice"
Choice Throwback TV Show (#ChoiceThrowbackTVShow)
"One Tree Hill"
Choice TV Personality (#ChoiceTVPersonality)
Ellen DeGeneres – "The Ellen DeGeneres Show"
Choice Summer TV Show (#ChoiceSummerTVShow)
"Teen Wolf"
Choice Summer TV Actor (#ChoiceSummerTVActor)
Tyler Posey – "Teen Wolf"
Choice Summer TV Actress (#ChoiceSummerTVActress)
Holland Roden – "Teen Wolf"
Choice TV Villain (#ChoiceTVVillain)
Janel Parrish – "Pretty Little Liars"
Choice Breakout TV Show (#ChoiceBreakoutTVShow)
"Riverdale"
Choice Breakout TV Star (#ChoiceBreakoutTVStar)
Lili Reinhart – "Riverdale"
Choice TVShip (#ChoiceTVShip)
#BUGHEAD (Lili Reinhart & Cole Sprouse) – "Riverdale"
MUSIC
Choice Male Artist (#ChoiceMaleArtist)
Harry Styles
Choice Female Artist (#ChoiceFemaleArtist)
Ariana Grande
Choice Music Group (#ChoiceMusicGroup)
Fifth Harmony
Choice Country Artist (#ChoiceCountryArtist)
Carrie Underwood
Choice Electronic/Dance Artist (#ChoiceElectronicDanceArtist)
Calvin Harris
Choice Latin Artist (#ChoiceLatinArtist)
CNCO
Choice R&B/Hip-Hop Artist (#ChoiceRBHipHopArtist)
Beyoncé
Choice Rock Artist (#ChoiceRockArtist)
Harry Styles
Choice Song: Female Artist (#ChoiceSongFemaleArtist)
Camila Cabello – "Crying in the Club"
Choice Song: Male Artist (#ChoiceSongMaleArtist)
Niall Horan – "Slow Hands"
Choice Song: Group (#ChoiceSongGroup)
Fifth Harmony (feat. Gucci Mane) – "Down"
Choice Collaboration (#ChoiceCollaboration)
Steve Aoki & Louis Tomlinson – "Just Hold On"
Choice Summer Song (#ChoiceSummerSong)
"Despacito" – Luis Fonsi & Daddy Yankee (feat. Justin Bieber)
Choice Summer Female Artist (#ChoiceSummerFemaleArtist)
Camila Cabello
Choice Summer Male Artist (#ChoiceSummerMaleArtist)
Shawn Mendes
Choice Summer Group (#ChoiceSummerGroup)
Fifth Harmony
Choice Summer Tour (#ChoiceSummerTour)
Ariana Grande – Dangerous Woman Tour
DIGITAL
Choice Female Web Star (#ChoiceFemaleWebStar)
Liza Koshy
Choice Male Web Star (#ChoiceMaleWebStar)
Logan Paul
Choice Comedy Web Star (#ChoiceComedyWebStar)
Logan Paul
Choice Music Web Star (#ChoiceMusicWebStar)
Jake Paul
Choice Fashion/Beauty Web Star (#ChoiceBeautyWebStar)
NikkieTutorials
Choice Gamer (#ChoiceGamer)
Ryan Ohmwrecker – ohmwrecker
Choice Twit (#ChoiceTwit)
Ellen DeGeneres
Choice Instagrammer (#ChoiceInstagrammer)
Selena Gomez
Choice Snapchatter (#ChoiceSnapchatter)
Ariana Grande
Choice YouTuber (#ChoiceYouTuber)
Jake Paul
Choice Muser (#ChoiceMuser)
Baby Ariel
MUSIC
Choice Pop Song (#ChoicePopSong)
"Shape of You" – Ed Sheeran
Choice Country Song (#ChoiceCountrySong)
"Body Like a Back Road" – Sam Hunt
Choice Electronic/Dance Song (#ChoiceElectronicDanceSong)
"Know No Better" – Major Lazer (feat. Travis Scott, Camila Cabello & Quavo)
Choice Latin Song (#ChoiceLatinSong)
"Despacito" – Luis Fonsi & Daddy Yankee (feat. Justin Bieber)
Choice R&B/Hip-Hop Song (#ChoiceRBHipHopSong)
"I'm The One" – DJ Khaled (feat. Justin Bieber, Quavo, Chance the Rapper & Lil
Wayne)
Choice Rock/Alternative Song (#ChoiceRockSong)
"Believer" – Imagine Dragons
Choice Breakout Artist (#ChoiceBreakoutArtist)
Chance the Rapper
Choice Next Big Thing (#ChoiceNextBigThing)
Grace VanderWaal
OTHER
Choice Comedian (#ChoiceComedian)
The Dolan Twins
Choice Male Athlete (#ChoiceMaleAthlete)
Stephen Curry
Choice Female Athlete (#ChoiceFemaleAthlete)
Simone Biles
Choice Liplock (#ChoiceLipLock)
Dan Stevens & Emma Watson – "Beauty and the Beast"
Choice Hissy Fit (#ChoiceHissyFit)
Madelaine Petsch – "Riverdale"
Choice Scene Stealer (#ChoiceSceneStealer)
Camila Mendes – "Riverdale"
Choice Style Icon (#ChoiceStyleIcon)
Harry Styles
Choice Female Hottie (#ChoiceFemaleHottie)
Camila Cabello
Choice Male Hottie (#ChoiceMaleHottie)
Shawn Mendes
Choice Changemaker (#ChoiceChangemaker)
Ariana Grande
Choice Videogame (#ChoiceVideoGame)
Overwatch
Choice Dancer (#ChoiceDancer)
Maddie Ziegler
Choice Model (#ChoiceModel)
Kendall Jenner
Choice Fandom
Fifth Harmony
Choice International Artist
BTS