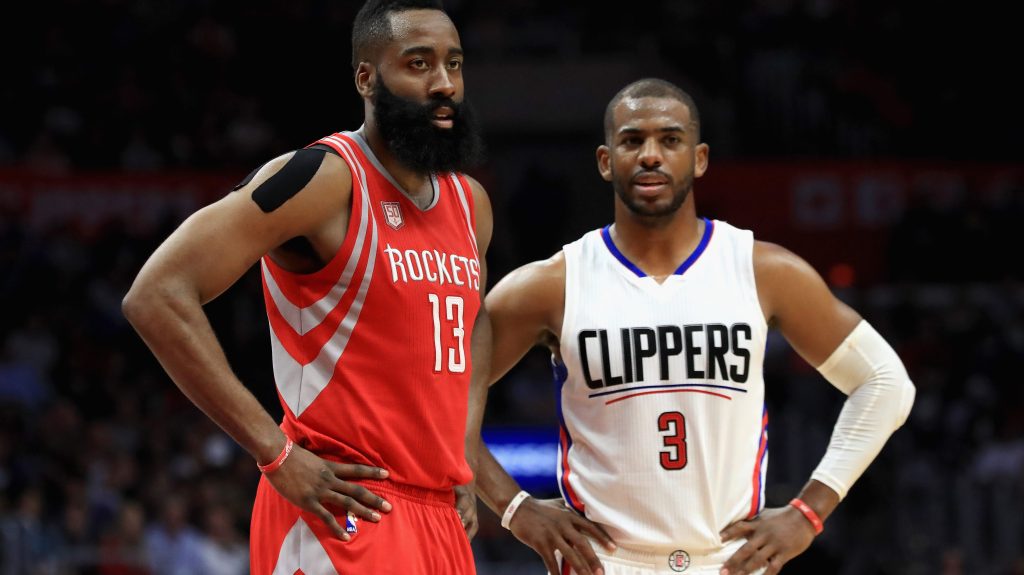 Chris Paul is heading to Houston to join James Harden, and the Rockets will have two All-Stars in the backcourt to lead their chase for a championship after a blockbuster trade with the LA Clippers on Wednesday.
"Any day you can acquire a Hall of Fame-level player is a good day for the franchise," Rockets general manager Daryl Morey said. "… It's a weapons race in the NBA, and you're either in the weapons race or on the sidelines. We felt with Harden in his prime, Chris Paul in his prime, this gives us a real shot to chase the juggernaut teams that are out there and puts us right there with them."
The Rockets will send Sam Dekker, Patrick Beverley, Lou Williams, DeAndre Liggins, Darrun Hilliard, Montrezl Harrell, Kyle Wiltjer, a top-three protected 2018 first-round pick and $661,000 to the Clippers in exchange for Paul, who said on Twitter that he was going through an "unbelievable amount of emotions right now."
The Clippers had not yet committed to give Paul the full five-year max contract of $201 million, league sources told ESPN's Ramona Shelburne. There was still strong internal debate on whether the team should pay $45 million in the final year of a deal, in which Paul would have been age 37. Sources also told Shelburne that with Paul in the fold, Houston now will try to acquire All-Star Paul George from the Indiana Pacers.
"Since winning back-to-back championships, the pursuit of a third title has remained the ultimate goal for our franchise," Rockets owner Leslie Alexander said in a statement. "We feel that combining two of the league's greatest players in James Harden and Chris Paul, operating in Coach [Mike] D'Antoni's system, gives us a championship caliber team that will compete at the highest level for years to come."
The Clippers were determined to get something for Paul, rather than lose him for nothing, sources told ESPN, so the point guard, who wanted to play with Harden, instead agreed to opt in for the final year of his contract (worth $24.2 million) to facilitate the trade.
"Without Harden, none of this happens," Morey said. "He's the reason everyone wants to be in Houston. … We have the two best playmakers in the league."