For the third year in a row, the Mammoth Lakes Film Festival took place over five days, from May 24-28, 2017.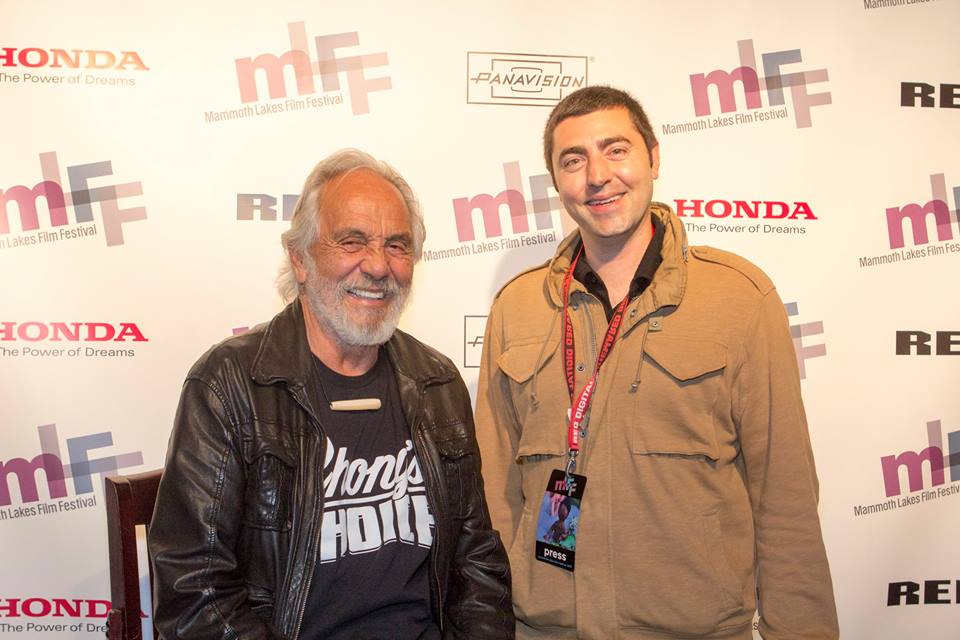 Tommy Chong with LATF's writer Lucas Mirabella
They opened the festival with a special screening of Cheech and Chong's much-loved first feature "Up In Smoke." Tommy Chong, one of its stars as well as its uncredited co-director was present for the screening and post Q&A. Click here to read LATF USA's interview with Tommy. On Saturday evening, Independent filmmaker John Sayles was honored with the Sierra Spirit Award for his iconic and visionary filmmaking.
They announced their 2017 winners on Sunday evening…
Short Film Winners
Documentary Winner
52 Trolley, directed by David Auerbach.
Narrative Winner
Flowereyes, directed by Chris Brady.
Animated Winner
Little Red Giant, The Monster That I Was, directed by Laura Harrison.
Feature Length Winners
Documentary Audience Award & Documentary Jury Award: Strad Style, directed by Stefan Avalos.
A backwoods dreamer from rural Ohio with a passion for Stradivarius violins challenges himself to create an exact copy of the most famous violin in the world, and has to race against time when he happens to meet an up-and-coming star violinist who wants to play the violin at a high-profile concert in Amsterdam.
Bravery Award: Abducted In Plain Sight,directed by Skye Borgman.
The twisting, turning, stranger-than-fiction true story of the Brobergs, a naïve, church-going Idaho family that fell under the spell of a sociopathic neighbor with designs on their twelve-year-old daughter.
Narrative Audience Award: Withdrawn, directed by Adrian Murray.
An overconfident, confirmed slacker with a gift for dubious monologizing spends his time and energy in a series of hilariously small-scale and unlikely grifts as he strives to unlock the secret of his Rubik's cube.
Narrative Foreign Language Jury award: Cold Breath, directed by Abbas Raziji.
A gritty, sensitive, beautifully-observed drama about a transsexual single parent who guards her secret as she grinds out a living and fights to keep good boundaries with the man who loves her, but gradually opens up to her employers when her daughter's illness forces her into asking for help.
Narrative Jury Award: Space Detective, directed by Antonio Llapur and writer/producer/lead actor Matt Sjafiroeddin.
With a unique esthetic that puts raw, processed, punk-rock-esque live-action imagery into a richly detailed futuristic fantasy environment, this film noir parody follows an exiled space detective who returns to help an old flame but finds himself tangled in a web of interstellar intrigue, galactic gangsters, and a sinister scheme that threatens the very fate of the entire galaxy!
For prize information and more visit: www.MammothLakesFilmFestival.com