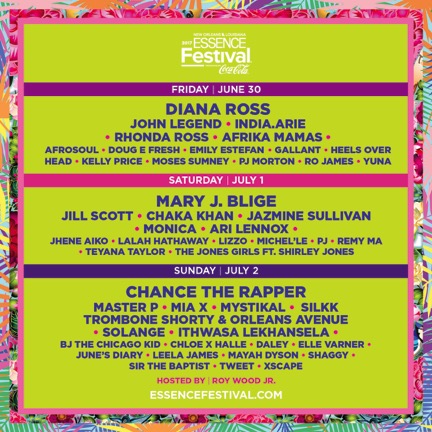 Time Inc.'s 2017 ESSENCE Festival® presented by Coca-Cola®, now among the largest consumer live events in the nation, announces the all-star, night-by-night schedule for its concert series, from June 30 to July 2 at the Superdome in New Orleans, LA.
Single-night tickets go on sale today and are priced starting at $50 per person per night.
The A-list nighttime concerts will feature more than 40 acts across five stages in the Superdome throughout the weekend on the festival's renowned Mainstage and in the intimate Superlounges. Festival first-timers Diana Ross and Chance the Rapper will open and close the weekend concert series with unforgettable headlining performances on Friday and Sunday night respectively – along with a special all-female Saturday night lineup, inspired by headliner Mary J. Blige's forthcoming album Strength of A Woman.
The 2017 ESSENCE Festival® presented by Coca-Cola® night-by-night musical lineup is as follows:
Roy Wood Jr. from Comedy Central's "The Daily Show" will serve as the Mainstage host for the weekend, with more surprise guest performances to be announced.
For more information about ticket sales and accommodations and for the latest news about the ESSENCE Festival®, visit www.essencefestival.com, join the festival community by following us on Twitter @essencefest #EssenceFest and become a fan of 2017 ESSENCE Festival® on Facebook.