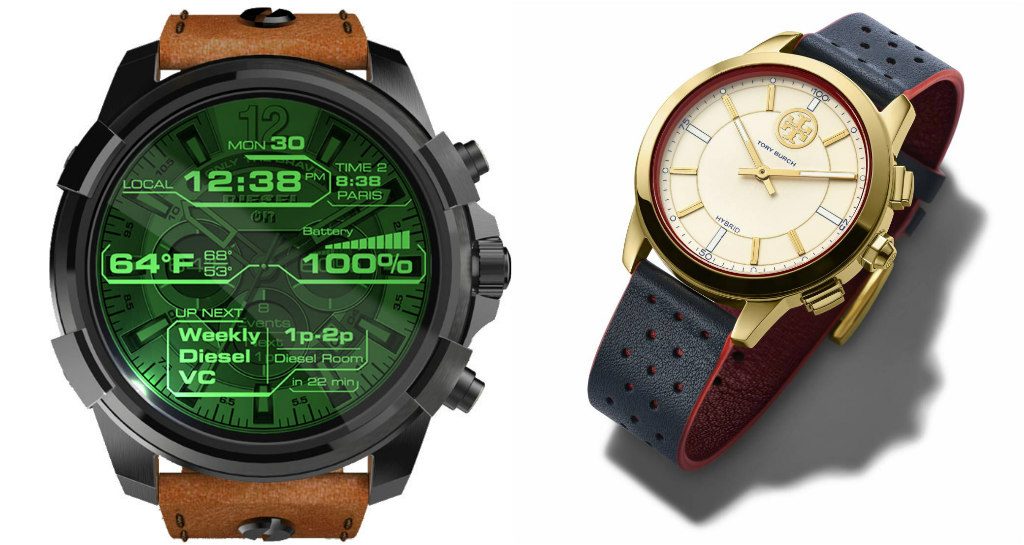 Diesel and Tory Burch smartwatches
Companies are releasing smartwatch lines here there and everywhere. Take a look at some of the new styles hitting the market…
Tory Burch is launching their first line of smartwatches for Holiday 2017. The new line is based on THE COLLINS —a clean-lined, menswear-inspired design that is one of the brand's bestselling watches. It will be available in four distinct styles including a navy perforated leather strap with pops of red; a grosgrain fabric strap in a classic navy and ivory color combination; and gold-tone bracelets with toprings in orange or navy.
The Tory Burch Collins hybrid smartwatch has the ability to sync to a smartphone via Bluetooth® and a dedicated app, compatible with iPhone® and Android™ phones.
——
Diesel On is introducing its brand new line of touchscreen smartwatches. Diesel first introduced hybrid smartwatches and trackers in Fall 2016 and is now expanding its connected line-up to include bold, moto-inspired, full-screen smartwatches for its dedicated customer base.
Diesel On touchscreen smartwatches, compatible with both iOS® and Android™ phones, are powered by Android Wear™ 2.0, Google's smartwatch platform, and a Qualcomm® Snapdragon Wear™ 2100 processor. They connect via Bluetooth technology. Android Wear™ 2.0 expands the Diesel On smartwatch experience through customizable dials, user-friendly notifications and messaging, downloadable third-party apps, and help from your Google Assistant.
—–
Montblanc will launch its first smartwatch—the Montblanc Summit—combining fine watchmaking with Android Wear™ 2.0, Google's latest operating system for smartwatches, and the Qualcomm® Snapdragon™ Wear 2100 processor.
Montblanc presents a high-end smartwatch with a classic and vintage look, creating a digital interpretation of fine watchmaking. Providing the perfect alchemy between the design codes of traditional fine timekeeping, premium materials and state-of-the-art technology, this luxury smartwatch is a distinguished timepiece that is powered by advanced technologies. To give the feeling of a real watch on the wrist, the timepiece's display is covered by a slightly curved sapphire glass, which is a world first in smartwatches.