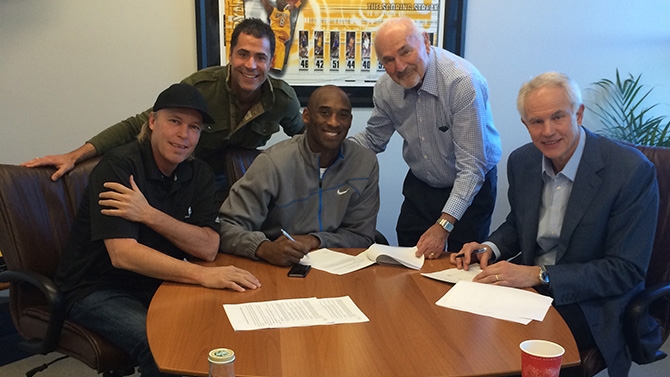 On November 25, 2013, the Los Angeles Lakers and Kobe Bryant agreed to terms on a two-year $48.5 million extension that would allow Bryant to finish his career as a Laker. New General Manager Rob Pelinka led negotiations as Bryant's then-agent.
The 35-year-old Bryant was recovering from a torn Achilles tendon, and had already begun his descent into his twilight years. The extension made him the league's highest paid player, even though he was now far from its best. Former General Manager Mitch Kupchak and team President Jim Buss rewarded Bryant for his past contributions, rather than for his projected performance level with the team.
At an average of $24.25 million per year, Bryant's deal absorbed a third of the Lakers' salary cap. Any prospective free agents understood that joining Los Angeles meant they would play with an aging Bryant, unpolished young players and a bargain bin of complimentary pieces. As a result, the Lakers weren't able to guarantee a winning product and lost their spot at the free agency table.
It was obvious the Lakers' fall from grace was imminent. From the minute the extension was signed, writers understood its negative implications.
"Making Bryant the highest-paid player in the NBA over the next two seasons is, objectively, not a smart thing," wrote Grantland's Zach Lowe the day of the team's announcement. Later, when Bryant's salary limited the Lakers in 2014 free agency, Bill Plaschke compared the deal to a tsunami. "In attempting to [say] thank you to one of their greatest players, they actually scripted his painful farewell," the Los Angeles Times columnist predicted.
Although correct, Plaschke underestimated the extent of its magnitude. As Bryant enjoys retirement, the Lakers have not recovered, evidenced by their fourth consecutive losing season.
Is Bryant to blame? Not at all. Capable front offices don't offer unrealistic compensation to players recovering from serious injuries. Kupchak and Buss shouldn't have offered the deal in the first place. Like most recent mishaps, they're at fault.
The Lakers had handsomely paid an inactive player before Bryant. As Plaschke points out, Dr. Jerry Buss gave Earving "Magic" Johnson a one-year $14 million contract after Johnson was forced into retirement due to HIV contraction. But comparing Johnson's deal to Bryant's is an apples-to-oranges proposition; Johnson was unable to go out on his own terms, and while the Lakers were able to retain cap flexibility with the one-year offer, it also allowed Buss to show compassion for a beloved Laker. Meanwhile, Bryant should have retired after his injury rather than impede the team's progress, end of story. The younger-Buss attempted to act under the same relationship principle as his late-father, but it backfired. In attempting to create his own legacy, Jim Buss cemented a reputation of incompetence.
In February, Jim Buss and Kupchak were relieved of their duties. Team Governor Jeanie Buss apologized to Laker fans for not acting sooner on her brother's dismissal.
Which brings us back to Pelinka. By dutifully serving Bryant, he unknowingly doomed the rebuilding project he currently oversees. Would he have done the deal if he knew he'd one day sit at the other end of the table? No, he would have had to recuse himself because it would been a huge conflict of interest.
However, in a twist of fate, Pelinka is tasked with fixing a problem he helped create.