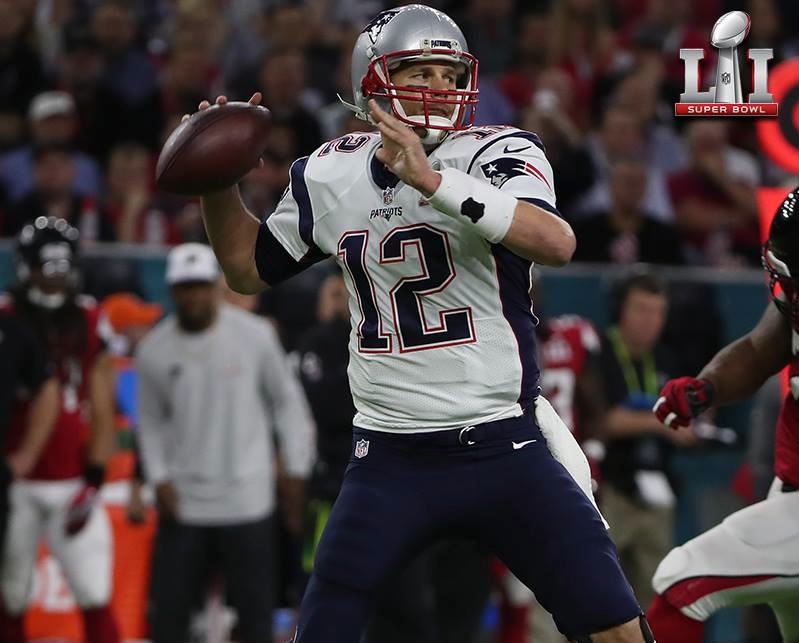 With a Matt Ryan completion to Tevin Coleman for a touchdown, the Atlanta Falcons brought the score to 28-3 in the third quarter. The New England Patriots were in complete disarray; quarterback Tom Brady was missing receivers and the coaching staff made questionable decisions in the events leading up to their 25-point hole.
Thus, a historic stage was set.
Led by Brady, the Patriots erased a four-score deficit to defeat the Falcons in overtime, 34-28. Brady takes home his fifth championship trophy and fourth Super Bowl MVP, both new all-time records for any quarterback.
Even as New England began to right their ship, victory seemed to be an impossibility. After a Brady connection with James White gave the Patriots their first touchdown with 2:06 left to play in the third period, kicker Stephen Gostowski missed his first PAT of the postseason to leave the score at 28-9. It just didn't seem like their night.
To make matters worse, the Falcons were making the same plays which built their strong start. Led by Grady Jarrett on the left edge, their blitzes swarmed Brady for most of the game. Ryan took a nice rhythm into the fourth quarter using their high-tempo style, until disaster struck. Up 16 after a Patriots' field goal Dont'a Hightower, untouched by blockers, rammed Ryan, forcing a fumble near the Atlanta 20 yard line. Alan Branch recovered the ball to give Brady prime field position with 8:24 left in the game.
Momentum seemed to have swung, but the Patriots would need two touchdowns and a pair of successful two-point conversions to tie, no easy task even for a Bill Belichick team. Brady found Danny Amendola on a goal-line out-route, then White took a direct snap to convert for two. Still, the Falcons led 28-20.
On Atlanta's next drive, Matt Ryan tossed a ball into double coverage for his top target Julio Jones, who somehow managed to stick both feet for the catch. The Falcons possessed the ball in field goal range with under five minutes to play. However, a Ryan sack and Ryan Matthews holding penalty put them out of range, and they were forced to punt from mid-field. Brady would receive the ball with his team down a score in the Super Bowl. Where have we heard this story before?
In a bit of poetic justice, it took a bobbled-catch miracle to make things happen. Julian Edelman's 27-yard catch while on the ground among three Falcons defenders brought flashbacks of David Tyree's devastating helmet catch in Super Bowl XLII. It was the same shot of hope which forecasted a New England win would be our fate. White packed two more rushing touchdowns to ice the victory.
Brady threw for a Super Bowl record 466 passing yards, and White set a receiving mark with his 14 catches. Malcolm Mitchell came alive in the second half for New England, catching six passes for 70 yards.
Ryan led Atlanta with 284 yards, but was dominated in time of possession. The Patriots held the ball for 17 more minutes than the Falcons (40:31-23:27).