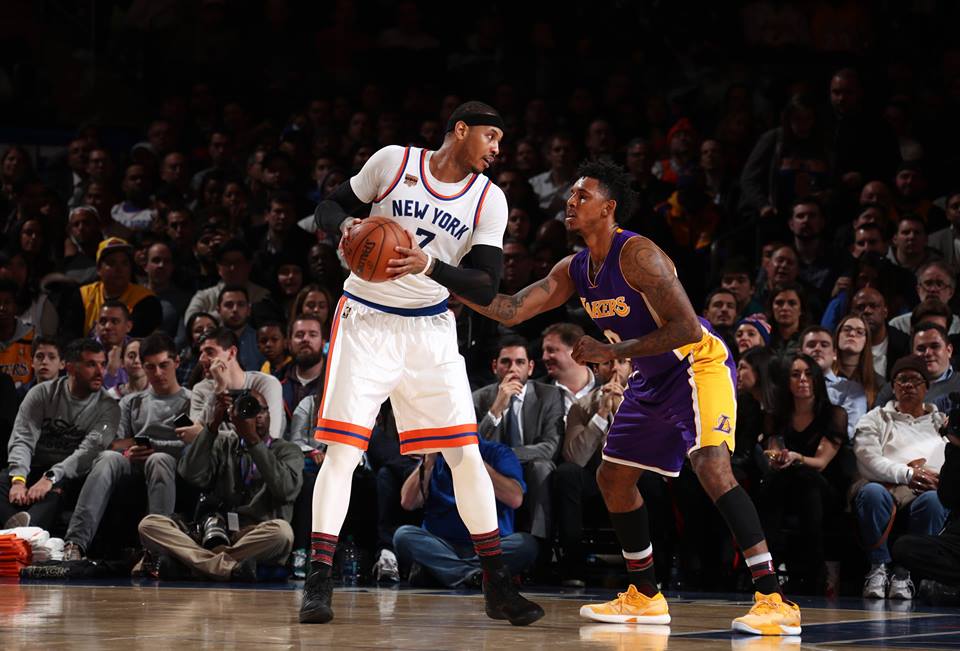 For the first time while dealing with a healthy roster this season, head coach Luke Walton elected to start his young players instead of the Lakers' over-paid, under-performing veterans. This meant Brandon Ingram and Tarik Black entered the starting lineup in place of Luol Deng and Timofey Mozgov.
Walton's gamble paid off with a 121-107 victory over the Knicks at Madison Square Garden. Lou Williams led the way with 22-points, and Black posted an insane +34 during only 20-minutes of game action.
Defensive intensity sparked the way for Los Angeles. With the exception of Carmelo Anthony, 26-points on 10-17 shooting, the Knicks shot 41.5 percent from the floor as a unit. For a team who places second-to-last in opponent's field goal percentage, and one few would call defensively adept, the Lakers' performance without a rim protector was tremendous.
Mozgov, whose starting spot has become nominal; unless the big man is solidly working on a 20-10 game, hardly plays in the fourth quarter. However, Black played well throughout, but Walton's decision to start Ingram over the struggling Deng appears to symbolize a new era.
It didn't seem random for Walton either, who likes to challenge his wing players with difficult matchups against the league's premiere stars. Ingram drew Anthony and produced mixed results, but the venue also appeared to factor in the lineup shift. What better place than the Mecca of Basketball for the ultimate test?
So how'd he do? Well, Ingram looked nervous at first. So much so, he air-balled a free throw in the opening minutes. It did not set the tone for his performance, however, and the rookie was aggressive thereafter, on his way to 14-points and seven rebounds. Still, there were the usual signs that he's still a couple years, and a dozen pounds, from his prime; some errant turnovers and poor drives were blemishes on his otherwise productive night.
Speaking of young studs, New York's Kristaps Porzingis struggled for most of the night. After one point on 0-6 shooting in the first half, "The Unicorn" found a rhythm in the third period and flashed his typical brilliance. He finished with 16-points.
Mozgov drew a "DNP-coach's decision" in the win.
The Lakers road trip continues Wednesday against the Detroit Pistons. Tip-off is at 4:30.