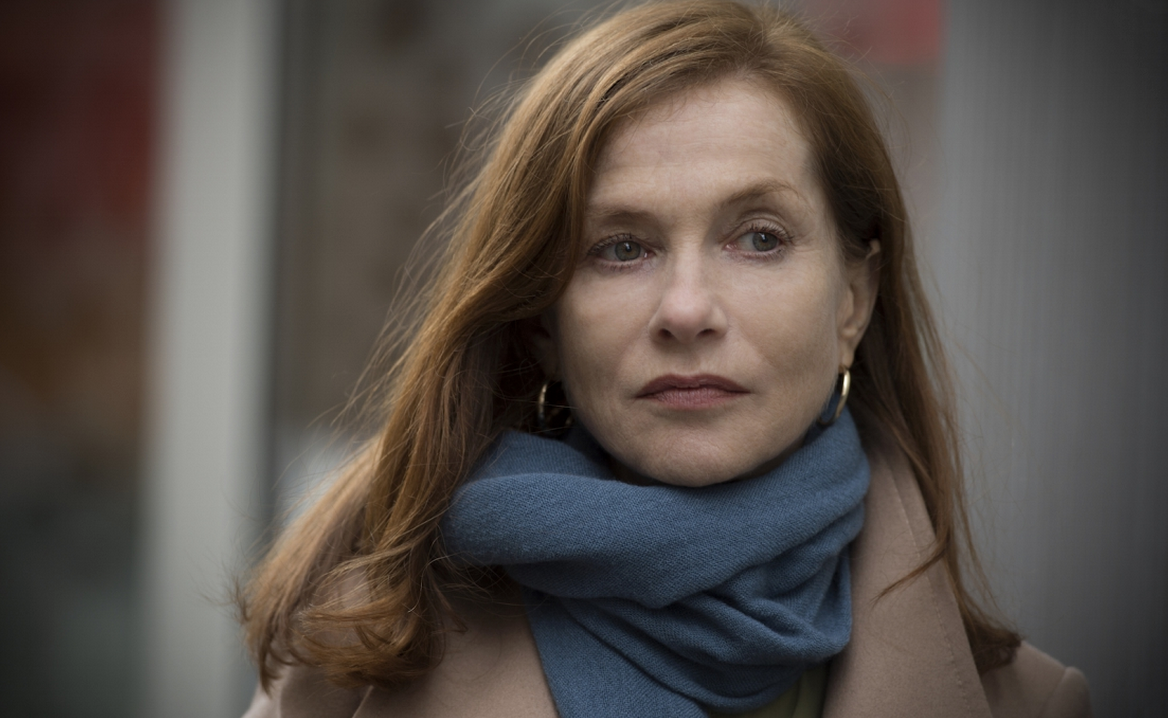 PSFF winner Isabelle Huppert in "Elle"
The 28th Annual Palm Springs International Film Festival (PSIFF) announced this year's juried award winners at a luncheon at the Hilton Palm Springs on Saturday, January 14, 2017. The Mercedes-Benz Audience Awards for Best Narrative Feature and Best Documentary Feature were announced on Sunday, January 15, 2017 during the closing night screening of "The Comedian." The Festival, held from January 2-16, 2017, screened 190 films from 72 countries.
AUDIENCE AWARDS
Mercedes-Benz Audience Award for Best Narrative Feature: When We Rise (U.S.), directed by Gus Van Sant. From Gus van Sant and Dustin Lance Black, the festival screened the first episode of this stirring seven-part docudrama that charts the progress of Gay Liberation from its early days in San Francisco in the 1960s to its 21st-century triumphs. When We Rise will air on ABC starting February 27. The screening was a North American premiere at the Festival.
Mercedes-Benz Audience Award for Best Documentary Feature: Take Me Home Huey (U.S.), directed by Alicia Brauns and Christine Steele. This moving documentary traces the evolution of Steve Maloney's eponymous mixed-media sculpture, in which he took a wrecked Huey helicopter and transformed it into a memorial to the men who served and lost their lives in Vietnam. It's a salutary reminder of the healing power of art. The film was a World Premiere at the Festival.
FIPRESCI PRIZE
A special jury of international film critics reviewed 43 of the 85 official submissions for the Academy Awards(R) Best Foreign Language Film category screened at this year's Festival. Awards are presented to the Best Foreign Language Film and Best Actor and Actress in a Foreign Language Film.
FIPRESCI Prize for Best Foreign Language Film of the Year: Toni Erdmann (Germany), directed by Maren Ade. In this unforgettable comedy, a prankster father puts on a wig and false teeth and invades the life of his rigid, ambitious corporate consultant daughter, whose life is upended in profound and often hilarious ways.The jury presented the award to the film, "for its originality, human complexity and unique tonal orchestration that seems natural and uncalculated. It is also an observant look at corporate culture carried by two wonderful performances."
FIPRESCI Prize for the Best Actor in a Foreign Language Film:Gael García Bernalin Neruda(Chile), directed by Pablo Larraín. The jury said, "Bernal's performance is the heart of the film's tonal shifts, infusing the historical drama with the very poetry of its subject matter."
FIPRESCI Prize for Best Actress in a Foreign Language Film: Isabelle HuppertinElle (France), directed by Paul Verhoeven. The jury said, "Isabelle Huppert gives depth and humanity to a complex and conflicted character in a challenging, unorthodox film. Her intelligence, self-assurance, and gift for conveying rich emotional tones have never been more strikingly displayed."
The FIPRESCI jury members were Kiva Reardon (programming associate, TIFF), Yael Shuv (chief film critic, Time Out Tel Aviv) and David Sterritt (editor-in-chief, Quarterly Review of Film and Video).
NEW VOICES/NEW VISIONS AWARD
The New Voices/New Visions competition showcases ten films from emerging international directors bringing their first or second narrative features to the Festival. The winner is selected by a jury of festival programmers and U.S. distributors.
New Voices/New VisionsAward: White Sun(Nepal/U.S./Qatar/Netherlands), directed by Deepak Rauniyar. The film is a dark comedy about two brothers from each side of the Nepalese civil war brought together after 10 years for their father's funeral. A trenchant, eye-catching parable, this is the best film to come out of Nepal in years.
The jury issued the following statement, "White Sun, for its sympathetic but unsentimental portrayals of multiple perspectives, artfully integrating landscape as a participating character in the film. Featuring stunning performances from an ensemble cast, directed with sensitivity, the film's storytelling leaves space for the audience to experience the tension between tradition and modernity. The film balances personal and political drama with a touch of absurdist humor."
New Voices/New Visions Special Mentions: Kati Kati (Kenya/Germany), directed by Mbithi Masya and Mellow Mud (Latvia), directed by Ren?rs Vimba. The jury said, "Both directors create worlds that lead the audience deeply into beautifully-realized worlds."
The films were juried byJonathan Howell (founder and director, Big World Pictures), Funa Maduka (Global Content Acquisition group, Netflix), Jane Schoettle (International Programmer, TIFF).
THE JOHN SCHLESINGER AWARD
The John Schlesinger Award, named after the director, writer, producer and festival supporter,ispresented to the director of either a first or second feature documentary from among those screened at the festival.
Schlesinger Award: No Dress Code Required (Mexico), directed by Cristina Herrera Bórquez. This memorable doc follows a same-sex couple, Víctor and Fernando, as they fight for the right to be married in their home town of Mexicali, Baja California. A rallying cry for equality and a testament to the power of ordinary people to become agents of change.
The jury issued the following statement, "For a film that does not let you look away as ordinary people rise to the challenge of fighting for their legal rights, the John Schlesinger Award goes to No Dress Code Required, a compelling documentary that puts us on the front line of the evolving story of marriage equality."
Schlesinger Special Mention: Beauties of the Night (Mexico), directed by María José Cuevas. The jury said, "For a beautifully crafted exploration of ageism with a powerful vision, and an empowering take on what it means to grow old in a culture obsessed with youth and beauty, Special Mention goes to Beauties of the Night."
The films were juried by Daniela Elena Alatorre (head of documentary programming, Morelia International Film Festival), Fenton Bailey (co-founder, World of Wonder Productions), Sudeep Sharma (senior programmer, Indian Film Festival of Los Angeles).
CINE LATINO AWARD
The Cine Latino Award is presented to the best Ibero-American film screening at the festival. The award aims to highlight the creativity seen in modern Spanish, Portuguese and Latin American films. Cine Latino is supported in part by Acción Cultural Espanola, Spain's Public Agency for Cultural Action.
Cine Latino Award:Neruda (Chile), directed by Pablo Larraín. The jury said, "Bypassing narrative tropes associated with films about important historical figures and creating a nearly fantastical story that is as visually striking as it is telling about the relationship between an artist and his creation, the Cine Latino Grand Jury Prize goes to Neruda."
Cine Latino Special Mention:Everything Else (Mexico), directed by Natalia Almada. The jury said, "Coming from a doc background gives this filmmaker a unique perspective and framing that has created a powerful film. Her story often asks more questions than there are answers for but anchored by a strong, yet understated performance this film succeeds. The film is executed with precise framing and uncanny cinematography."
The films were judged by Carlos Aguilar (film journalist), Lane Kneedler (Director of Programming, AFI Fest) and Andrea Roa (producer)
THE HP BRIDGING THE BORDERS AWARD
The HPBridging the Borders Award is presented by Cinema Without Borders and Hewlett Packard, which honors the film that is most successful in exemplifying art that promotes bringing the people of our world closer together. The prize includes an HP ZBook 17 Mobile Workstation, valued at $4,000.
HP Bridging the Borders Award: Mercenary (France), directed by Sacha Wolff. The film is a fierce, moving thriller about a massive Polynesian rugby player recruited to play in France. This stunning debut film shows us a violent, unfamiliar world through the eyes of an unforgettable outsider.
The jury said, "The winner of HP Bridging The Border Award is the story of a tattooed, colossal 19 year-old recruited from his island shack in Wallis, New Caledonia , to the brutal world of a rugby team in France. Wolff, paints the contrasting societies with authenticity and elicits from his non-professional actor, Toki Pilioki a performance of quiet dignity that scorches your memory. The winning film is Mercenary by Sasha Wolff."
The Best of the Fest screenings will take place on Monday, January 16. For a complete list of screenings visit www.psfilmfest.org.
The complete list of award winners are:
Mercedes-Benz Audience Award for Best Narrative Feature
When We Rise (U.S.), directed by Gus Van Sant
Mercedes-Benz Audience Award for Best Documentary Feature
Take Me Home Huey (U.S.), directed by Alicia Brauns and Christine Steele
FIPRESCI Prize for Best Foreign Language Film of the Year
Toni Erdmann (Germany), directed by Maren Ade
FIPRESCI Prize for the Best Actor in a Foreign Language Film
Gael García Bernal in Neruda (Chile)
FIPRESCI Prize for Best Actress in a Foreign Language Film
Isabelle Huppert in Elle(France)
New Voices/New Visions Award
Winner:White Sun (Nepal/U.S./Qatar/Netherlands), directed by Deepak Runiyar
Special Mentions: Kati Kati (Kenya/Germany), directed by Mbithi Masya and Mellow Mud (Latvia), directed by Ren?rs Vimba
The John Schlesinger Award
Winner: No Dress Code Required (Mexico), directed by Cristina Herrera Bórquez
Special Mention: Beauties of the Night (Mexico), directed by Maria José Cuevas
Cine Latino Award
Winner: Neruda (Chile), directed by Pablo Larraín
Special Mention: Everything Else (Mexico), directed by Natalia Alamda
HP Bridging the Borders Award
Winner: Mercenary (France), directed by Sacha Wolff