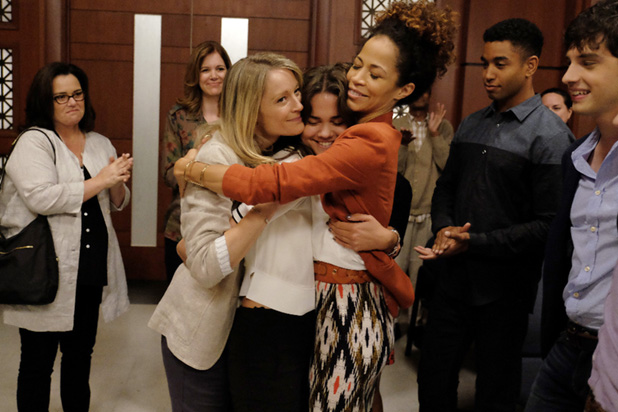 Freeform made some key announcements today at TCA for its 2017 schedule with the series pickup of "The Bold Type" (formerly "Issues"); "The Bachelor" spin-off "Happily Ever After?" franchise returns and will feature fan favorite twins Emily and Haley Ferguson, premiering March 20; and a fifth season order for "The Fosters," which will bring the show to a landmark 100 episodes. It was also announced that Freeform's original hit comedies "Young & Hungry" and "Baby Daddy" will return with all-new episodes on Monday, March 13.
Inspired by the life of Joanna Coles, chief content officer of Hearst Magazines, the pilot "The Bold Type" (formerly "Issues") has been picked up to series and is set to premiere in summer 2017. The show reveals a glimpse into the outrageous lives and loves of those responsible for the global women's magazine Scarlet. The rising generation of Scarlet women leans on one another as they find their own voices in a sea of intimidating leaders. Together they explore sexuality, identity, love and fashion.
The series stars Katie Stevens ("Faking It"), Aisha Dee ("Chasing Life"), Meghann Fahy ("Political Animals"), Sam Page ("House of Cards"), and Matt Ward ("Remedy"), and Melora Hardin ("Transparent") as Jacqueline, editor in chief of Scarlet Magazine. "The Bold Type" is executive produced by Sarah Watson ("Parenthood"), David Bernad ("Superstore"), Joanna Coles, and Ruben Fleischer ("Superstore," "Zombieland"). Holly Whidden is a co-executive producer. The series is a Universal Television and The District production.
"The Bachelor"'s spin-off "Happily Ever After?" franchise will continue with a new unscripted series, titled "The Twins: Happily Ever After?," and will follow the fan favorite twins Emily and Haley Ferguson from Season 20 of "The Bachelor" and Season 3 of "Bachelor in Paradise." After looking for love on national television, the twins will say goodbye to the comfort and luxuries of living under their mom's roof and begin the hilarious journey of figuring out life on their own while searching for independence and a new career. The series will premiere on Monday, March 20, at 9:00 p.m. EDT, on Freeform.
Freeform hit it big with the first installment of the "Happily Ever After?" series, "Ben & Lauren: Happily Ever After?," which wrapped as the network's No. 1 reality series of the past three years in Total Viewers and key target demographics, and No. 2 overall in the channel's history among Adults 25-54 and Women 25-54. Across all-inclusive Live + 35 day multiplatform ratings to date, "Ben & Lauren: Happily Ever After?" soars over its linear performance by double digits among key measures, including by +60% in Total Viewers (to 986,000), by +79% in Adults 18-49 (to 678,000) and by +125% in Women 18-34 (to 408,000). "Happily Ever After?" attracted high-income, educated viewers and generated nearly 2.0 million social engagements across key social media platforms Facebook, Instagram, Tumblr, Twitter and YouTube.
"The Twins: Happily Ever After?" will be produced by Next Entertainment in association with Warner Horizon Television. Mike Fleiss, Martin Hilton and Jason Ehrlich will serve as the executive producers. Jack Mori will serve as co-executive producer.
Freeform's critically acclaimed family drama "The Fosters" has been greenlit for a fifth season, which will bring the series to the momentous 100-episode mark. The network will premiere all-new episodes from the fourth season on Tuesday, January 31, at 8:00 p.m. EST.
During summer 2016, "The Fosters" was the No. 1 scripted cable series in its time period in Total Viewers (1.6 million) and across key Adult and Female demographics (18-34/18-49/12-34). The series reached almost 7 million Total Viewers, including nearly 4 million Adults 18-49, and generated an additional 4.4 million consumer engagements across digital platforms and VOD/STB. Overall, "The Fosters" was the No. 2 scripted basic cable series of the summer in Women 18-34 and the No. 2 basic cable drama in Viewers 12-34 and Females 12-34, behind only "Pretty Little Liars."
Winner of a Television Academy Honors Award and GLAAD Media Award for Outstanding Drama Series, "The Fosters" is executive produced by Jennifer Lopez, Bradley Bredeweg, Peter Paige, Joanna Johnson, Greg Gugliotta, Elaine Goldsmith-Thomas and Benny Medina. "The Fosters" stars Teri Polo, Sherri Saum, Hayden Byerly, Noah Centineo, David Lambert, Maia Mitchell, Danny Nucci and Cierra Ramirez. The series is produced by Nuyorican Productions, Inc. in association with Freeform.
"Young & Hungry" will premiere season five on Monday, March 13, at 8:00 p.m. EDT. In the fourth season finale, Gabi and Josh decided to be "friends with benefits," much to the group's chagrin, after their previous attempts at a relationship went awry. During the new season, Gabi and Josh try to prove to everyone that they won't let feelings get in the way of their new arrangement, Sofia continues on the path to a career in journalism, and Josh faces an unexpected reunion with his estranged father. Comedy legend Betty White guest stars this season as neighbor Ms. Wilson. "Young & Hungry" stars Emily Osment, Jonathan Sadowski, Rex Lee, Aimee Carrero, and Kym Whitley. The series is produced by David Holden, Ashley Tisdale, Jessica Rhoades, Caryn Lucas, Andy Cadiff, and Eric Tannenbaum and Kim Tannenbaum in association with CBS Television Studios. Gabi Moskowitz, of BrokeAssGourmet.com, is a San Francisco-based food blogger and contributed to the development of this project.
The season six premiere of "Baby Daddy" will air on Monday, March 13, at 8:30 p.m. EDT. The premiere picks up three months after the finale, and Ben is still enthusiastically searching for the mysterious Elle. Danny and Riley are hunting for a good doctor to help with the pregnancy, and Bonnie desperately wants to be involved. Tucker is back from Los Angeles, but refuses to tell anyone what happened while he was there. The hit comedy series will reach the coveted milestone of 100 episodes during this season. The series stars Jean-Luc Bilodeau, Derek Theler, Tahj Mowry, Melissa Peterman and Chelsea Kane. The series is created and executive produced by Dan Berendsen. Heidi Clements, Vince Cheung, Ben Montanio and Michael Lembeck also serve as executive producers.