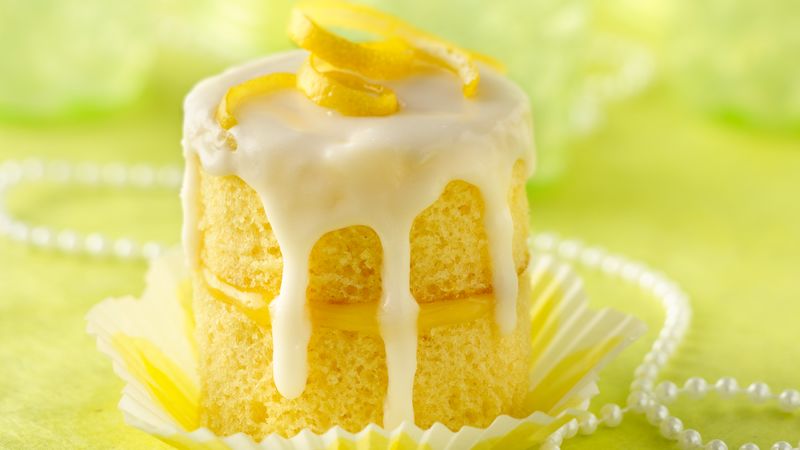 Celebrated annually on December 15th, National Lemon Cupcake Day is for those who enjoy this refreshing baked item.
The first mention of the cupcake can be traced as far back as 1796 when a recipe notation of "a cake to be baked in small cups" was written in American Cookery by Amelia Simmons. The earliest documentation of the term cupcake was in "Seventy-five Receipts for Pastry, Cakes, and Sweetmeats" in 1828 in Eliza Leslie's Receipts cookbook.
The cupcake was originally known as the 1-2-3-4 cake because the recipe called for 1 cup of butter, 2 cups of sugar, 3 cups of flour, 4 eggs and also 1 cup of milk and 1 spoonful of baking soda.
So in celebration of this tasty holiday, check out this recipe from Betty Crocker for Lemon Champagne Celebration Cupcakes!
What You Need:
1 box Betty Crocker SuperMoist yellow cake mix
1/2 cup water
1/2 cup dry champagne
1/2 cup vegetable oil
3 eggs
2 teaspoons grated lemon peel
Filling:
1/4 cup lemon curd (from 10-oz jar)
1 tablespoon sour cream
Icing:
2 cups powdered sugar
2 tablespoons butter, melted
3 tablespoons fresh lemon juice
What To Do:
1. Heat oven to 350°F (325°F for dark or nonstick pan). Line 15x10x1-inch pan with foil. Spray with cooking spray.
2. Make cake batter as directed on box, using cake mix, water, champagne, oil and eggs. Stir 2 teaspoons grated lemon peel into batter. Pour into pan.
3. Bake 17 to 23 minutes or until toothpick inserted in center comes out clean. Do not remove cake from pan. Cool completely, about 1 hour. Place pan of cake in freezer. Freeze until firm, about 1 hour.
4. In small bowl, mix lemon curd and sour cream until well blended. Set aside.
5. To assemble cupcakes, remove cake from freezer; using foil, lift cake from pan. Using 2 1/4-inch round biscuit cutter, cut 24 rounds from cake. Place 12 rounds top side down. Spread each with about 1 teaspoon lemon curd filling. Top with remaining cake rounds, top side up.
6. In medium bowl, mix powdered sugar, melted butter and lemon juice until well blended. Spoon about 1 tablespoon icing over each cake, allowing icing to run down sides of cake.
7. To serve, place each cake in decorative cupcake liner, and garnish with lemon peel curls, if desired.