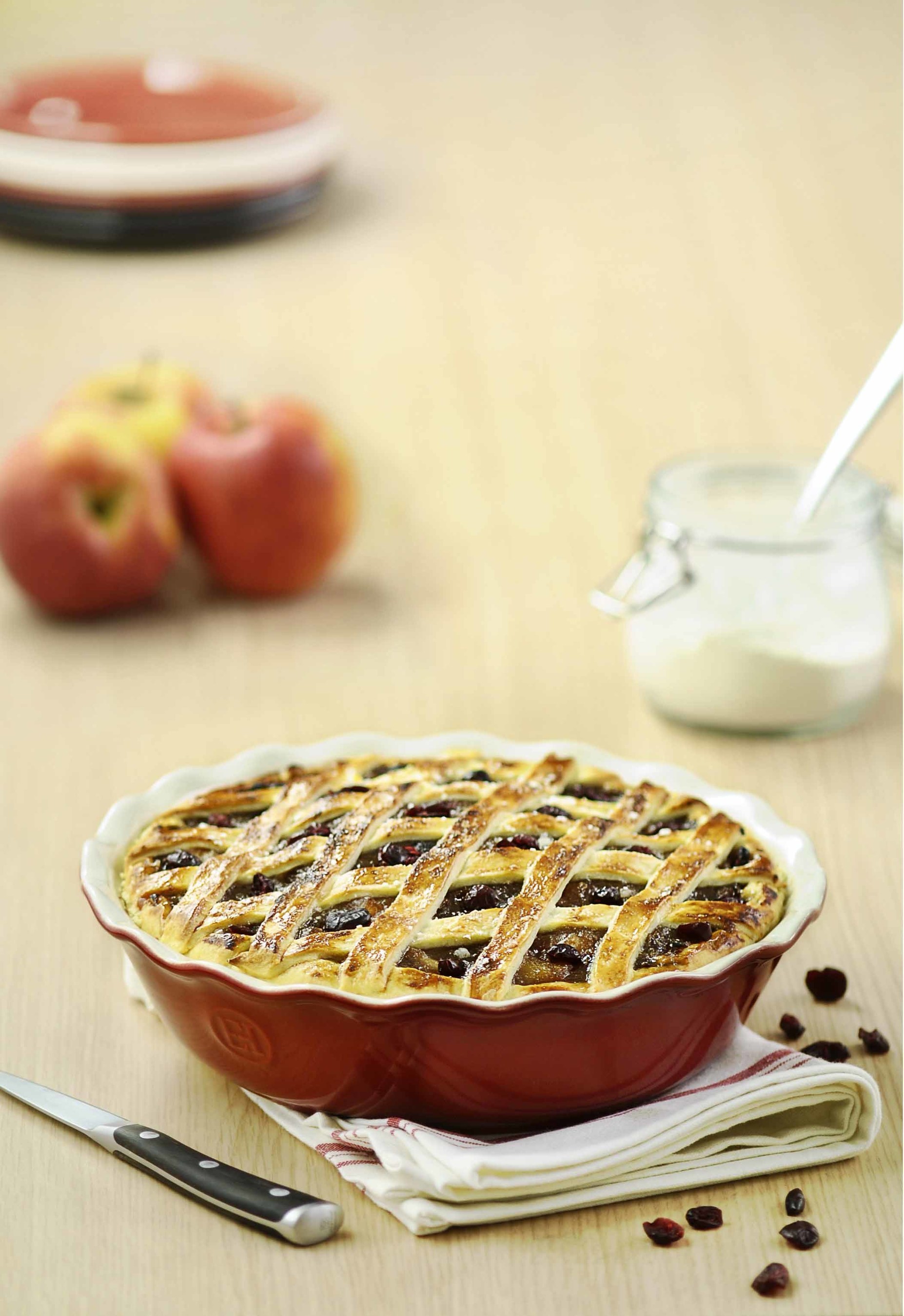 To celebrate National Pie Day, Emile Henry has created a giveaway package called AsEasyAsPie.
Pie lovers can enter to win this package of pie baking tools and ingredients which includes an Emile Henry ceramic pie dish, a $250 Emile Henry website gift card, a Duralex 6-quart glass bowl, a Lékué silicone baking mat, a Rösle egg whisk, a JK Adams French dowel rolling pin, the America's Best Pies 2016-2017 cookbook by the American Pie Council (APC) and a Duncan Hines® Comstock® & Wilderness® Pie Baking Kit. The Duncan Hines Comstock® kit includes six cans of the new Duncan Hines Comstock® Wilderness® Simply Pie Filling, a canned pie filling that is more like homemade because it has no artificial preservatives and no color added. The kit will also include six Duncan Hines cake mixes ideal for making unique piecrusts.
Bakers can enter at http://bit.ly/AsEasyAsPieGiveaway by submitting the name of their favorite pie filling or cake mix and by liking both the Duncan Hines and the Emile Henry Facebook pages. The contest will run from November 23, 2016 to January 15, 2017. A winner will be randomly selected and announced on January 23, 2017, National Pie Day.
To celebrate National Pie Day, here's some history on pie and a recipe from Duncan Hines for APPLE PIE just for you! Did you know that pie has been around since the ancient Egyptian era? These pies were sometimes made in "reeds" which were used for the sole purpose of holding the filling and not for eating with the filling.
* The Romans must have spread the word about pies around Europe as the Oxford English Dictionary notes that the word pie was a popular word in the 14th century. The first pie recipe was published by the Romans and was for a rye-crusted goat cheese and honey pie.
* The early pies were predominately meat pies. Pyes (pies) originally appeared in England as early as the twelfth century. The crust of the pie was referred to as "coffyn". There was actually more crust than filling. Often these pies were made using fowl and the legs were left to hang over the side of the dish and used as handles. Fruit pies or tarts (pasties) where probably first made in the 1500s. English tradition credits making the first cherry pie to Queen Elizabeth I.
* Pie came to America with the first English settlers. The early colonists cooked their pies in long narrow pans calling them "coffins" like the crust in England. As in the Roman times, the early American piecrusts often were not eaten, but simply designed to hold the filling during baking. It was during the American Revolution that the term crust was used instead of coffyn.
APPLE PIE RECIPE
WHAT YOU NEED:
WHAT TO DO:
Preheat oven to 350°F. Lightly grease 8-inch round baking pan and line with parchment paper.
Unroll pie crust and line pan, leaving edges up. Spoon in apple pie filling. Fold 2-inch crust edge over filling. If desired, brush with water and sprinkle with sugar. Crust should not cover all the fruit.
Bake 50 to 55 minutes or until crust is golden brown. Cool completely in pan on wire rack.