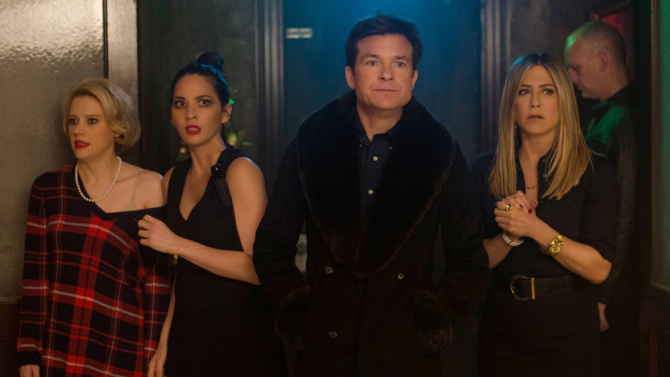 Every holiday season a handful of feel-good family comedies make their way to the box office. Well, Mom and Dad you can cross "Office Christmas Party" off of your list if you want the kids by your side. But if you're looking for a hysterical wacky and raunchy booze-filled adventure, which showcases the brilliant comedic talents of Jennifer Aniston, T.J. Miller, Vanessa Bayer and the always reliable SNL darling Kate McKinnon, get a babysitter, grab your shot glasses and head to the theater.
From the directing duo who brought you "Blades of Glory" and "The Switch," Josh Gordon and Will Speck reunite again for this somewhat mindless comedy that succeeds in having a little heart for the holidays.
Fun-loving Clay (T.J. Miller) inherited the founding branch of his father's data server company, Zenotech. His days at the office with Chief Technical Officer (Jason Bateman) appear to be all fun and games until Clay's sister and company CEO (Jennifer Aniston) storms in and threatens to shut the branch down. In an effort to save their company and impress a potential big-time client (Courtney B. Vance), they rally their co-workers to host an epic office Christmas party.
When it comes to a film of this nature, audiences shouldn't be expecting a plot with many complex layers. It's all about shock value and jokes that really punch. Luckily, the screenwriting team delivers a side-splitting story with enough action to hold us over for the 1hr 45min running time, although they could have stood to trim a few minutes in the editing room. But something tells me the hilarity is less due to the script dialogue and more thanks to the cast of natural born comedians and their improvisational skills.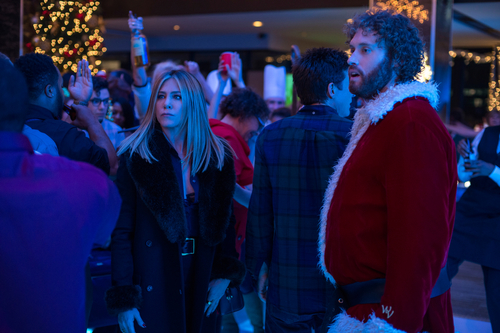 Star faces such as Jason Bateman and Olivia Munn do a fine job, but it's Kate McKinnon with her tics and physical comedy and Jennifer Aniston's comedic timing that are the life of this Christmas party. In the film, McKinnon slips into some ugly holiday sweaters portraying the paranoid head of Human Resources with a dark side. Equally as funny, Aniston gives one of the best comedic performances of her career as the harsh and fiercely mean CEO.
From T.J. Miller to Rob Corddry, Vanessa Bayer and Randall Park, it was difficult for the directing duo to fail with such an impressive ensemble of witty and hilarious actors.
Aside from the name talent, stand-up comedian Fortune Feimster and Jillian Bell of "Workaholics" are the cherry on top of this hysterical cast. It helps that many of them have worked behind-the-scenes, writing for comedy. They understand the value of a payoff punchline.
If you're looking to shut your brain off for 105 minutes and laugh this holiday season, then "Office Christmas Party" is just the event for you.
By Pamela Price
Rated R for crude sexual content and language throughout, drug use and graphic nudity.