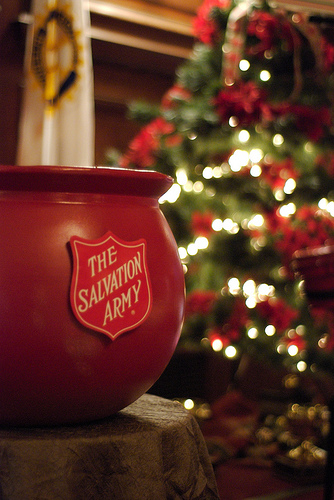 Just as area retailers try to get a jump on the Christmas shopping season by offering Black Friday deals early, The Salvation Army Red Kettles have been collecting donations at smaller retail establishments in many communities since early November. However, the official kick-off to The Western Pennsylvania Division's Annual Salvation Army Red Kettle Christmas Campaign traditionally begins with its two largest retail partner locations, Giant Eagle and Walmart.
At most Giant Eagle stores in the region, you will begin to see those shiny kettles on the day prior to Thanksgiving and on Black Friday at Walmart stores all over Western PA. By November 25th, throughout The Salvation Army of Western Pennsylvania's 40 Worship and Service Centers, 9 Service Centers and 106 Service Units, the campaign will officially be in full force. Just like retailers everywhere, The Salvation Army is hopeful that Black Friday will provide a huge boost to their budget. Through the kindness and goodness of those who provide support, The Salvation Army is hopeful that they will achieve the overall goal for the division, set this year at $2,812,732.00, which will enable meeting the ever increasing needs of the communities in which it operates. Allegheny County's portion of that goal is set at $726,000. Goals are based on each of the facility's individual budgets and anticipated needs for the current fiscal year.
"When you give to The Salvation Army, you can be assured that your donation is helping people right in your local community," said Divisional Commander of The Salvation Army's Western Pennsylvania Division, Major Deborah Sedlar. "We provide a wide range of programs and services to assist those in need, not only during the holidays, but 365 days a year. That simply could not happen without the generosity of our donors and volunteers."
Volunteer bell ringers and additional kettle sites are always needed. Please contact your local Salvation Army for more information. In Allegheny County, please call Volunteer Coordinator, Jennifer Brown at 412.446.1548. You can also donate from the comfort of your home or office by contributing to our Online Red Kettle. To help even more, it's easy to set up your own red kettle and ask your contacts to contribute online as well. Corporations can host company kettles and set up departments as teams to organize a fun internal competition. Conduct your own kettle campaign or donate yourself at wpa.salvationarmy.org. For more information or help with Online Kettles, please contact Zack D'Ulisse at 412.446.1643.