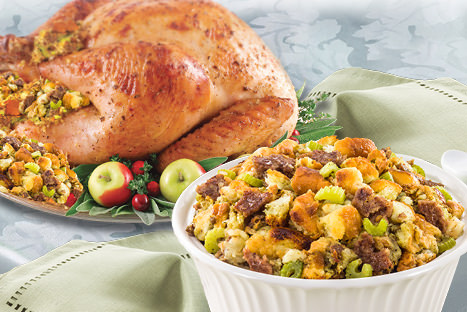 Thanksgiving and White Castle… doesn't seem like a match made in heaven right? It is! On National Stuffing Day and just 4 days away from the feasting holiday, WC shares their Turkey Stuffing, a Craver favorite made with 10 hot and tasty Original White Castle Sliders.
White Castle's Turkey Stuffing originated in 1991 when a White Castle team member enhanced her grandmother's family stuffing recipe with a sack of Sliders.
WHAT YOU NEED:
Prep Time 5-10 minutes
Cook Time 35 minutes
10 White Castle Sliders (from the restaurant with the pickles removed or picked up from your local retailer)
1 ½ cups diced celery
1 ¼ teaspoons each of thyme
1 ½ teaspoons ground sage
¾ teaspoons coarse ground black pepper
¼ cup chicken broth
WHAT TO DO:
In a large mixing bowl, tear the burgers into pieces with the celery, thyme, sage, and black pepper: toss to combine. Add chicken broth and toss again. Stuff the ingredients into the cavity of the turkey before roasting. Or, place into casserole dish; add an additional ¾ cup of chicken broth and bake at 350 degrees for 35 minutes. The recipe makes about 9 cups of stuffing (enough for a 10-12 pound turkey).
Note: Allow one slider for each pound of turkey, which will be the equivalent of ¾ cup of stuffing per pound.
Sliders for this recipe can be purchased at one of White Castle's many restaurant locations or retailers nationwide. For more unique recipe ideas, visit whitecastle.com/food/recipes.