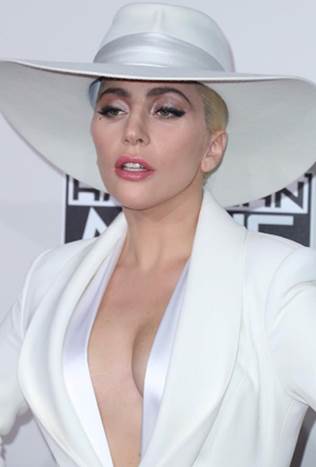 Makeup artist, Sarah Tanno shares the incredible look she created for Lady Gaga at the 2016 American Music Awards on Sunday Night ro match the elegant suit styled by Brandon Maxwell. Using Marc Jacobs Beauty products, Sarah said she wanted Gaga's "makeup to feel silky and effortless."
She added, "We created a sexy but soft rockstar look."
Check out the steps below:
For gaga's velvety smooth skin, tanno prepped and primed her skin with marc jacobs beauty under(cover) perfecting coconut face primer.
Next, she added two pumps of marc jacobs beauty genius gel super-charged oil-free foundation in 38 beige deep to the back of her hand and applied to the center of gaga's face and then blended down past the jawline to the neck.
Tanno then highlighted gaga's skin under the eyes and on the bridge of her nose using marc jacobs beauty remedy concealer pen in 2 wake-up call, the perfect mix of coverage and correction. she then set gaga's t-zone with marc jacobs beauty perfection powder – featherweight foundation in 300 beige to mattify but leave a velvety finish to the rest of her skin.
To warm up her forehead and cheeks, tanno applied marc jacobs beauty #instamarc light filtering contour powder in mirage filter 40 on her cheekbones followed by marc jacobs beauty air blush soft glow duo in 500 lush & libido on her cheeks for a pop of pink that stood out against her stunning white suit. she then added marc jacobs beauty glow stick glistening illuminator for extra highlight on the top of the cheekbones and over the décolletage.
For the eyes, tanno started with a wash of marc jacobs beauty twinkle pop stick eyeshadow in honey bunny 400, a ballet-pink shimmer shade, using more product on gaga's lids and blending up towards the brow, finishing off with a little extra shadow at the tear-duct to open up the eyes. next, she used marc jacobs beauty object of desire face and eye palette in the shade lights on, a beige shimmer, over the lids. tanno lined gaga's outer lashline with marc jacobs beauty collector's edition highliner gel eye crayon eyeliner in tabboo! 100, a black liner with silver shimmer, and then blended the product for a more subtle smoky eye.
She defined the eyes with marc jacobs beauty highliner gel eye crayon eyeliner in blacquer 42, a jet black liner, to add depth and finished with two coats of marc jacobs beauty velvet noir major volume mascara on the top and bottom lashes.
For a sexy kissable pout, tanno lined the lips with marc jacobs beauty poutliner longwear lip liner pencil in prim(rose) 304, a cocoa spice color. to complete the look, she filled in gaga's lips with marc jacobs beauty new nudes sheer gel lipstick in have we met? 108, a shimmering warm pink, and topped with marc jacobs beauty enamored hi-shine gloss lip lacquer lipgloss in 324 love buzz, a rose-gold shimmer, for sleek shine.
If you want the look, check out the products Sarah used:
marc jacobs beauty under(cover) perfecting coconut face primer ($44), marc jacobs beauty genius gel super-charged oil-free foundation in 38 beige deep ($48), marc jacobs beauty remedy concealer pen in 2 wake-up call ($39), marc jacobs beauty perfection powder – featherweight foundation in 300 beige ($46), marc jacobs beauty #instamarc light filtering contour powder in mirage filter 40 ($49), marc jacobs beauty air blush soft glow duo in 500 lush & libido ($42), marc jacobs beauty glow stick glistening illuminator ($42), marc jacobs beauty twinkle pop stick eyeshadow in honey bunny 400 ($28), marc jacobs beauty object of desire face and eye palette ($69), marc jacobs beauty collector's edition highliner gel eye crayon eyeliner in tabboo! 100 ($25), marc jacobs beauty highliner gel eye crayon eyeliner in blacquer 42 ($25), marc jacobs beauty velvet noir major volume mascara ($26), marc jacobs beauty poutliner longwear lip liner pencil in prim(rose) 304 ($24), marc jacobs beauty new nudes sheer gel lipstick in have we met? 108 ($30), marc jacobs beauty enamored hi-shine gloss lip lacquer lipgloss in 324 love buzz ($28)