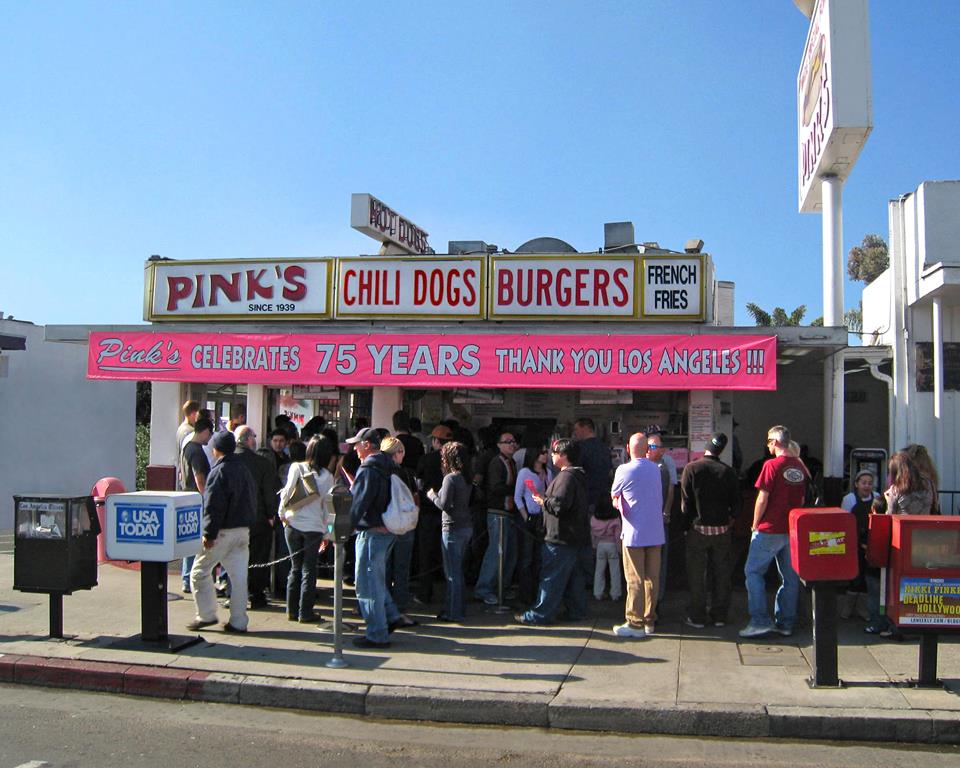 La Brea Ave location in Los Angeles
No one can deny it, Pink's Hot Dogs is an institution in the city of Angels. It doesn't matter the time of day, if they're open – there is a line around the corner and back. We've tasted them ourselves and we know what the craze is all about.
On Thursday, November 17th, Pink's is celebrating their 77th Anniversary with their #ChiliDogsForCharity event! It's better than a deal: You can purchase a Pink's Chili Dog for $0.77 for 77 minutes starting at 7pm Pacific Time. All proceeds will go to Bob Hope USO!
Pink's has been run by Richard Pink, his wife Gloria and his sister Beverly Pink Wolfe for over 20 years. They inherited the hot dog kingdom from their parents, Paul and Betty. I had the chance to chat with Richard on the eve of their anniversary and he told me all about the rich history of this 'Mom and Pop' success story.
"We are honored and gratified for being able to be a successful business for 77 years. My parents started Pink's hot dogs with a $50 dollar loan from my grandmother. They were out of work back in 1939 and found a hot dog cart in the employment section of a newspaper. They did not know anything about hot dogs or restaurants. My mother wheeled the push cart almost 3 miles from where it was located to La Brea and Melrose."
The push cart's first parking spot became Pink's very first location at 709 N. La Brea Ave. They have now expanded to over 11 locations, including Las Vegas, Miami and even Manila Philippines.
But it wasn't easy in the beginning for Richard's parents. "They had no electricity and had to buy a 100 yard extension chord to plug into a neighbors outlet. They fired up the hot dog cart for the first two years, selling dogs at 10 cents. Rent was 15 dollars a month. In 1941 the landlord raised the rent 67 percent and put them out of business. They wound up going to Bank of America and borrowng the money. Their collateral was enthusiasm and passion and here we are celebrating 77 years later," Richard said.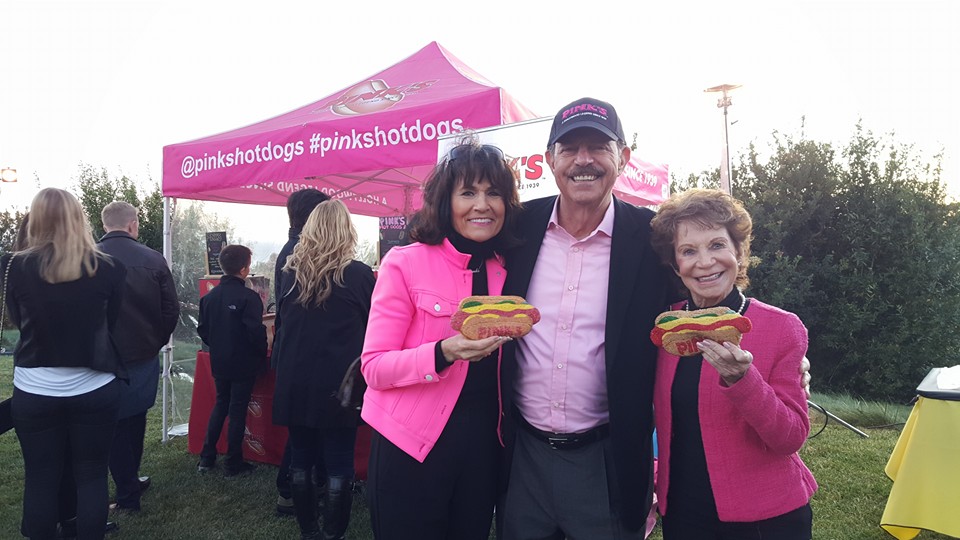 Pink's is truly a family-owned business run with an incredible amount of heart and passion. In this day and age, when businesses come and go, it's refreshing to know that Richard and his family still stand as an establishment that holds fast to their values of good customer service and delicious dogs!
So head on down to the La Brea location on Thursday and celebrate with Pink's Hot Dogs!
For locations visit: http://www.pinkshollywood.com