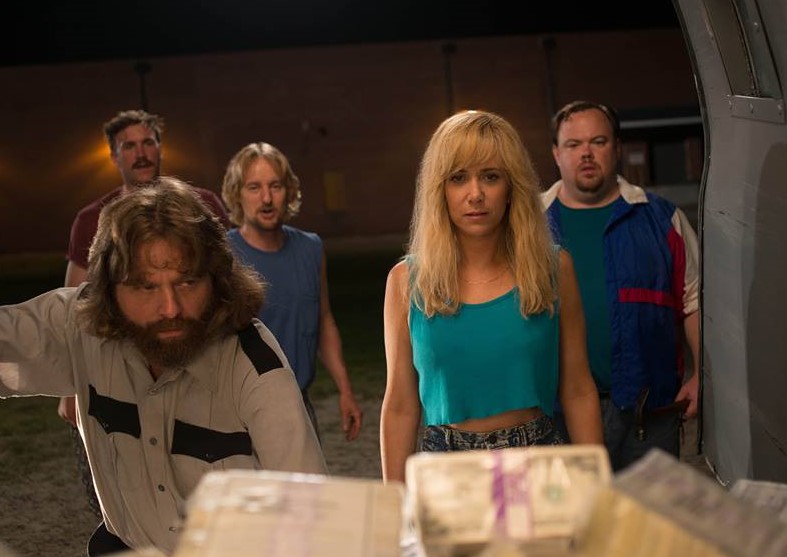 Zach Galifianakis plays a simple-minded armored truck driver who gets duped into committing one of the largest cash robberies this country has ever seen in "Masterminds," a lovably lowbrow comedy costarring Owen Wilson, Kristen Wiig, Jason Sudeikis and Kate McKinnon.
Based on the outrageously half-baked 1997 Loomis Fargo robbery, this latest laugh-fest from director Jared Hess ("Napoleon Dynamite," "Nacho Libre") hits the comic sweet spot largely by adhering to the facts of the bungled burglary and emphasizing the sheer bizarreness of the pea-brained plot. A Southern-set story with a lot of local flavor, the Utah-based Hess exposes the area as fertile territory for humor without being too mean-spirited in his mockery. Portraying an inherently good Southern boy whose heart leads him down a criminal path, Zach Galifianikis gives his most enjoyable performance of recent memory, although the supporting cast is equally responsible for making "Masterminds" one of the best comic conspiracies of 2016.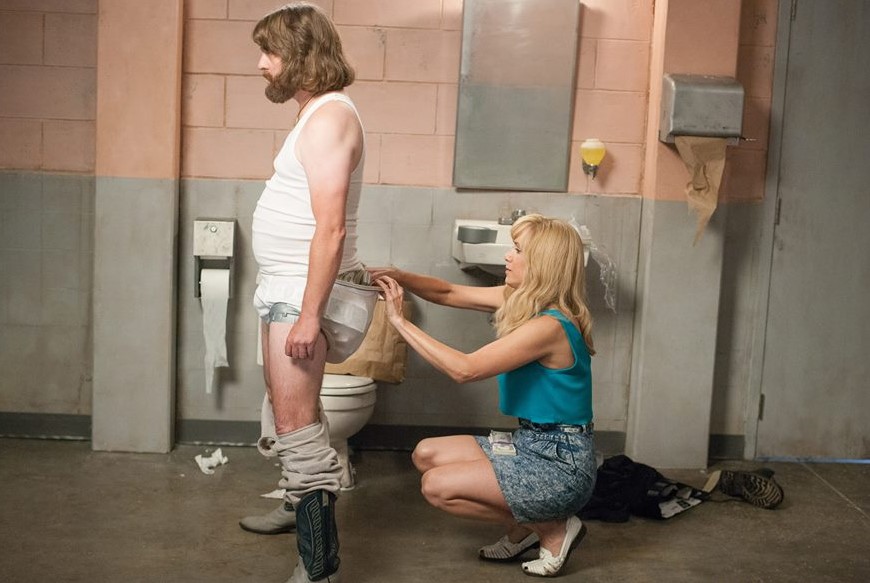 "Masterminds" centers on David Ghantt (Zach Galifianakis), an armored truck driver with a killer hairdo who works for the Charlotte branch of Loomis Fargo. A simple man with simple pleasures, on the surface, Ghantt has it all: steady job, sweet mobile home, fanatical fiancée (Kate McKinnon), you name it. However, it quickly becomes clear that Ghantt's heart belongs to someone else – specifically, his coworker Kelly (Kristen Wiig), a directionless local girl who soon quits her dead-end job.
Inspired by news reports of an eighteen million dollar armored truck robbery in Jacksonville, a group of dimwitted local crooks, led by Steve "Geppetto" Chambers (Owen Wilson), convince Kelly to sweet-talk David into pulling off a similar heist. Amazingly, David pulls it off, though not without leaving a breadcrumb trail of evidence in his wake. Forced to leave the cash with his co-conspirators and hightail it to Cozumel without his beloved Kelly, David soon realizes that Geppetto plans to cut him out of the score and leave him with the legal consequences.
As the FBI and Federales close in on the inept criminals thanks to their extravagant spending and general buffoonery, Kelly's guilty conscience leads her to Mexico to join David on the lam. Along the way, a double-dealing hitman (Jason Sudeikis) gets caught up in the foolhardy plot.
With his fifth feature, director Jared Hess continues down the criminally funny career path that began twelve years prior with "Napoleon Dynamite," a film that, like each one that followed, centers on charming oddball characters operating on the fringes of society. And while this marks Hess's first foray into adapting another writer's material – Chris Bowman, Hubbel Palmer and Emily Spivey's sidesplitting script nicely underscores the idiocy at hand – this stranger-than-fiction true story is right in the filmmaker's comic wheelhouse, serving as further confirmation that he has the market cornered on tales of harebrained heroes with a penchant for mischief.
As the gullible security guard with bangs to die for, Zach Galifianakis taps into his North Carolina roots to bring some homegrown legitimacy to his role. There's a cartoonish quality to the characters of "Masterminds" that not only makes their felonious exploits charming, but prevents the characterization from coming across as malicious, and nowhere is that more evident than in Galifianakis' klutzy sweetheart. Aiding and abetting Galifianakis in his incompetent endeavors is a ridiculous roster of comic actors, from Owen Wilson and Jason Sudeikis to SNL funny girls Kristen Wiig, Kate McKinnon and Leslie Jones. The entire cast is freakishly funny, but Kristen Wiig with her department store chicness and Owen Wilson as the self-styled criminal genius Geppetto broke me up the most.
An agreeable remedy for the influx of serious-minded fall dramas, "Masterminds" is a brilliantly stupid crime comedy.
Running Time: 94 minutes
Rated PG-13 for crude and sexual humor, some language and violence.
https://twitter.com/mastermindsfilm