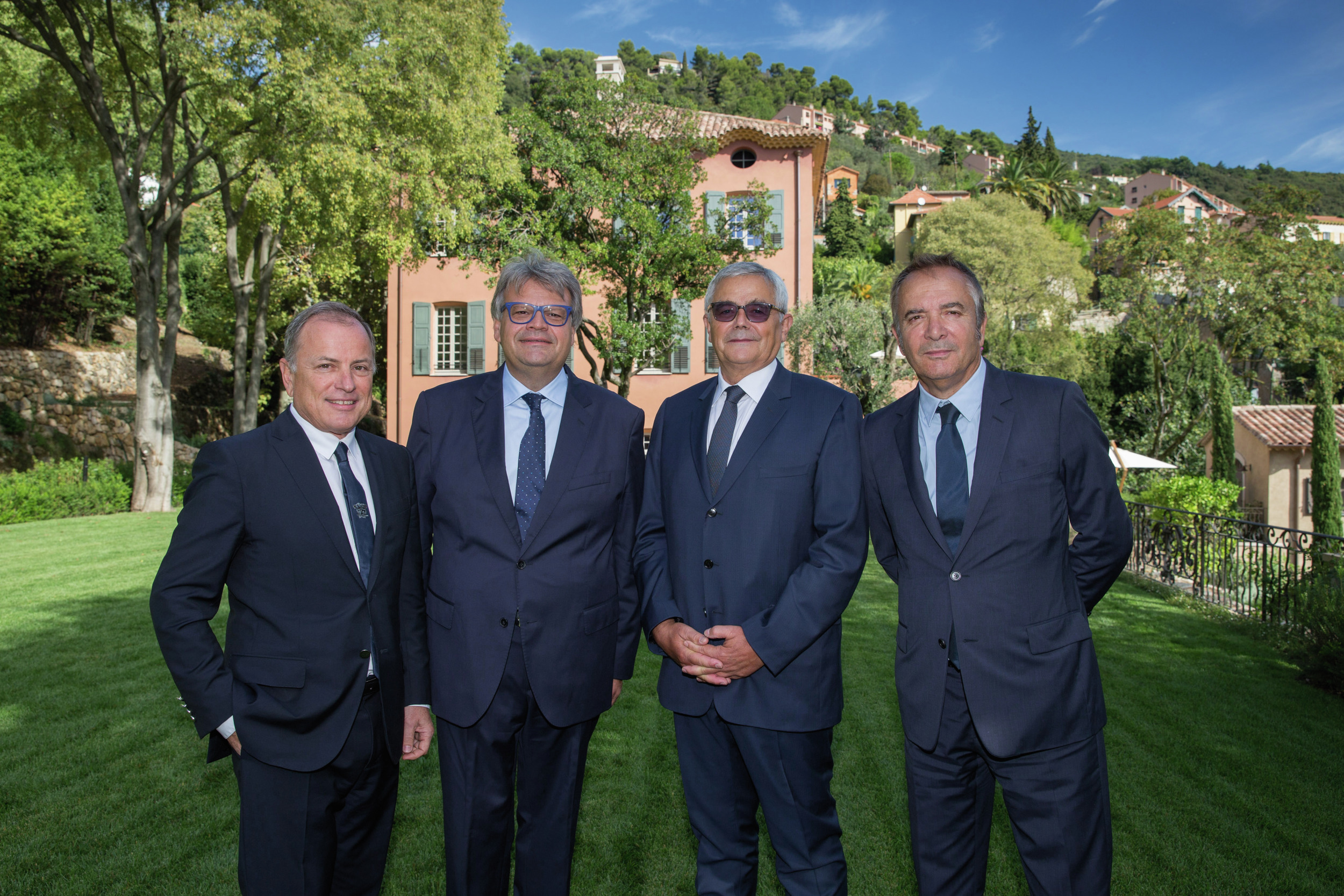 Michael Burke, Jacques Cavallier Belletrude, Francois Demachy, Claude Martinez
On the heels of Louis Vuitton announcing their latest fragrance line, Claude Martinez, Chairman and CEO of Parfums Christian Dior, and Michael Burke, Chairman and CEO of Louis Vuitton, have now inaugurated "Les Fontaines Parfumées", the creative workshops of Jacques Cavallier Belletrud and François Demachy, the Master Perfumers of the Maisons Louis Vuitton and Christian Dior, in the heart of the world's perfume capital, Grasse, situated on the French Riviera.
Les "Fontaines Parfumées", the site dedicated to the production of perfume, has been given a new lease of life. After four years of study and research into the legacy of the site, almost 200 artisans and journeymen, primarily from the region – as a mark of respect for the local craftsmanship – were entrusted with the restoration work of this centrepiece at the heart of the town. The challenge of the two Maisons has been to preserve the heritage while applying contemporary features to the ancient structure of the Bastide and its mill in order to establish a place that would give rise to creativity, exchange and education. The estate welcomes every year several hundred colleagues from the Maisons Christian Dior and Louis Vuitton, to share with them the exceptional characteristics of the raw materials from the Grasse region and the outstanding knowledge and expertise of the two creative Maisons.
Nature constitutes a special source of inspiration for the Master Perfumers. 350 essences have been rigorously selected by Jacques Cavallier Belletrud and François Demachy, both originally from Grasse, to create this sensual palette throughout the estate: exceptional roses, tuberoses, jasmin, citrus trees, lavender, mint…the list goes on.
Only 30 tons per 40 hectares of perfume flowers are produced in Grasse today. To support cultivation for the future, the Maison Christian Dior entered into exclusive partnerships ten year ago, firstly with the local estate "Domaine de Manon", then with the "Clos de Callian", from where Christian Dior has committed to purchasing its entire crop.