With the holidays just a hop, skip and a jump away, we will soon be thinking about holiday gifting! Here are some of our top DVD release dates for your early stocking stuffer ideas.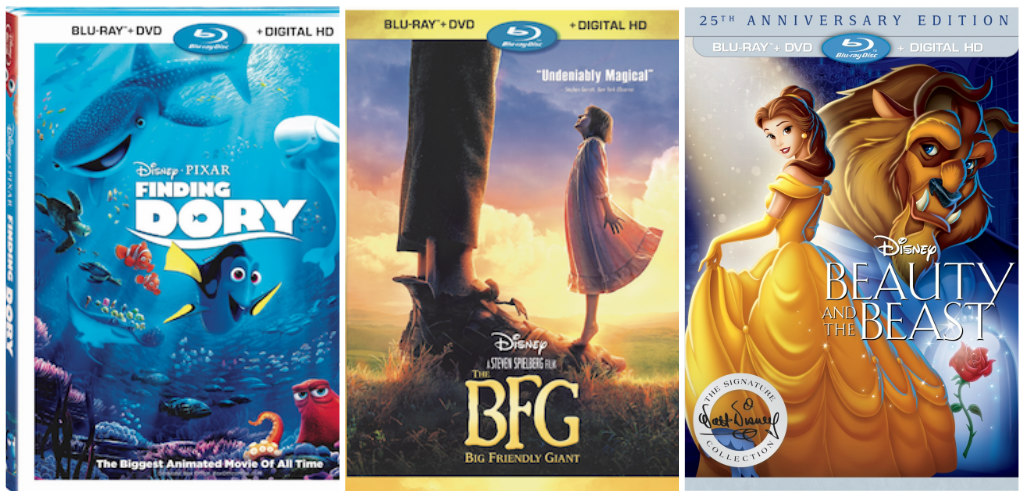 THE BFG
"The BFG," Disney's fantasy adventure film directed by Steven Spielberg, will release on Dec. 6 on Digital HD, Blu-ray™, Disney Movies Anywhere, DVD and On-Demand. Read our movie review HERE.
Families and fans will be swept away by this spectacular adventure and delight in extensive bonus features, including a behind-the-scenes look at the making of "The BFG" hosted by Ruby Barnhill and featuring Steven Spielberg; a charming, all-new short; a fun and whimsical tutorial on the Big Friendly Giant's unique language of Gobblefunk; a touching tribute to screenwriter Melissa Mathison ("E.T. the Extraterrestrial," "The Black Stallion"); and more.
FINDING DORY
The summer blockbuster hit, Disney•Pixar's "Finding Dory," swims home just in time for the holidays on Digital HD and Disney Movies Anywhere (DMA) on Oct. 25 and on Blu-ray 3D™, Blu-ray, DVD and On-Demand on Nov. 15. Viewers can watch Dory's hilarious and heartwarming quest to find her family and continue the underwater adventure with hours of immersive bonus features. Read our movie review HERE.
BEAUTY AND THE BEAST
Twenty-five years ago, Disney's "Beauty and the Beast" broke ground as the first animated feature film to receive an Academy Award® nomination for best picture, and now this tale as old as time joins the Walt Disney Signature Collection on Digital HD and Disney Movies Anywhere, and Blu-ray™ and DVD. Now available.
THE JUNGLE BOOK
Audiences were mesmerized by Disney's live-action epic adventure "The Jungle Book," which earned more than $949 million at the global box office to date. Critically acclaimed, Jon Favreau's stunning live-action reimagining of Walt Disney's animated classic is now available on Digital HD and Disney Movies Anywhere, and on Blu-ray Combo Pack, DVD and On-Demand.Venture behind the scenes with in-depth bonus features that reveal the innovative filmmaking technology used to create the richly immersive jungle world and characters; Follow the journey of the film's only on-screen actor, charismatic newcomer Neel Sethi (Mowgli); Delve into a candid and humorous scene-by-scene audio commentary with director Jon Favreau and meet the all-star voice cast who help bring the film's colorful characters to life, as well as the musicians who accent the adventure with a majestic music score. Read our movie review HERE.