The Smithsonian's National Museum of African American History and Culture (NMAAHC) opens today, Saturday, Sept. 24, following a dedication ceremony with President Barack Obama.
When the museum was established in 2003, it had not a single artifact, no site in Washington, D.C., no architect and a handful of staff. When it opens this month, the museum will have on display more than 3,000 artifacts ranging from pieces of a slave ship to Carl Lewis' Olympic medals, employ a staff of 200 and boast a fundraising program that has topped $315 million in private funds. The architecturally striking museum has a prime location on the National Mall at the corner of Constitution Avenue and 14th Street, across from the Washington Monument.
The museum's 12 inaugural exhibitions are grouped around three main themes: history, community and culture and include an exhibit about the museum's evolution called "A Century in the Making." The 400,000-square-foot museum also houses an education and technology center on the second floor, the Sweet Home Café, a museum store, the Oprah Winfrey Theater, a welcome center and orientation theater, and a contemplative court.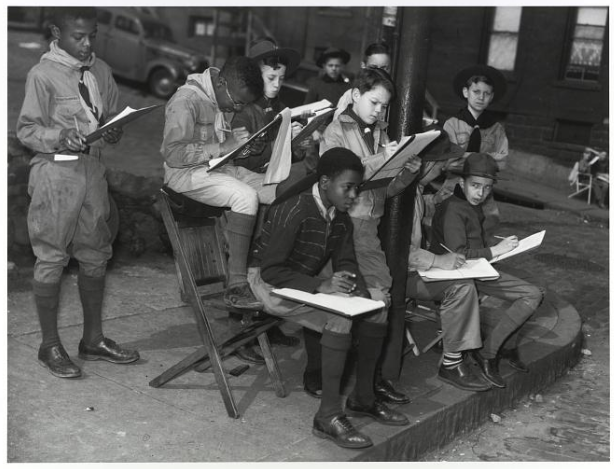 Unidentified Child or Children -Boy Scouts of America, American, founded 1910
A free, three-day festival commemorating the new museum begins at noon Friday, Sept. 23, on the Washington Monument grounds between 15th and 17th streets along Constitution Avenue. "Freedom Sounds: A Community Celebration" will feature music, performances, oral histories, storytelling and workshops. Evening concerts featuring well-known performers will be presented on two large, tented stages and include Living Colour, Public Enemy, The Roots, Experience Unlimited (EU), singer Meshell Ndegeocello and a special guest to be announced. Food concessions will be available.
Hours for the grand-opening weekend will be Saturday, 1–8 p.m., and Sunday, 7 a.m.–midnight. The museum is free, but timed passes will be required for the foreseeable future. The free, timed passes are available online at www.nmaahc.si.edu and through ETIX Customer Support Center, 919-653-0443 or 800-514-3849. Starting Monday, Sept. 26, the museum will begin distributing a limited number of same-day passes beginning at 9:15 a.m. All visitors will go through security screening and bag checks at the entrances.