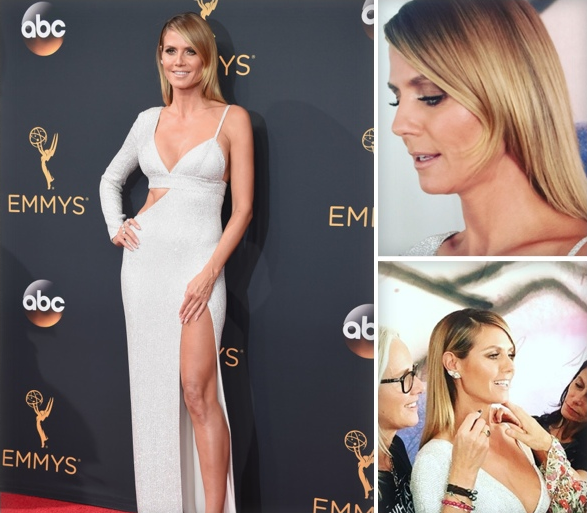 Our 2016 Hollywood Beauty Awards hairstyling winner, Wendy Iles always creates the sleekest looks for superstar Heidi Klum. For her 68th Emmy Awards look, Wendy shows us how to get Heidi's unique look step-by-step!
Step 1: Wendy trimmed Heidi's hair yesterday to buffer the ends to perfection and add some shape around her face line to accomodate the straight sleek look they were going for.
Step 2: Before blow drying liberally smear Iles Formula finishing serum all over mid-length and ends to protect the hair against heat and deliver that signature spun silk texture that her serum is known for.
Step 3: Blow dry with large round brush starting at nape of neck and moving upwards. Wendy then created a low side part. After drying, she added more finishing serum to Heidi's ends – then flat ironed all the hair to perfection.
Step 4: For the heavy side of the hair part, Wendy created a soft movement around Heidi's eyes by looping this section behind Heidi's ear while the makeup was being done. Place a small cardboard clipping on this section so the makeup brush does not disturb it. The cardboard also prevents a clip mark and keeps the hair warm so that the dent really forms perfectly.
Step 5: The tight side of Heidi's hair was attached tightly with a hidden elastic. Separate a one inch section under the part line. Pull back the front side section tightly to the center of the back of the head. Place a small elastic, anchoring the tail to a section of hair near the nape of the neck – this makes sure that the tail lies vary flat on the scalp. Drop the top section over and voila… a secured tight side with a hidden elastic.
For more info on Wendy and her brilliant hair product visit: www.ilesformula.com