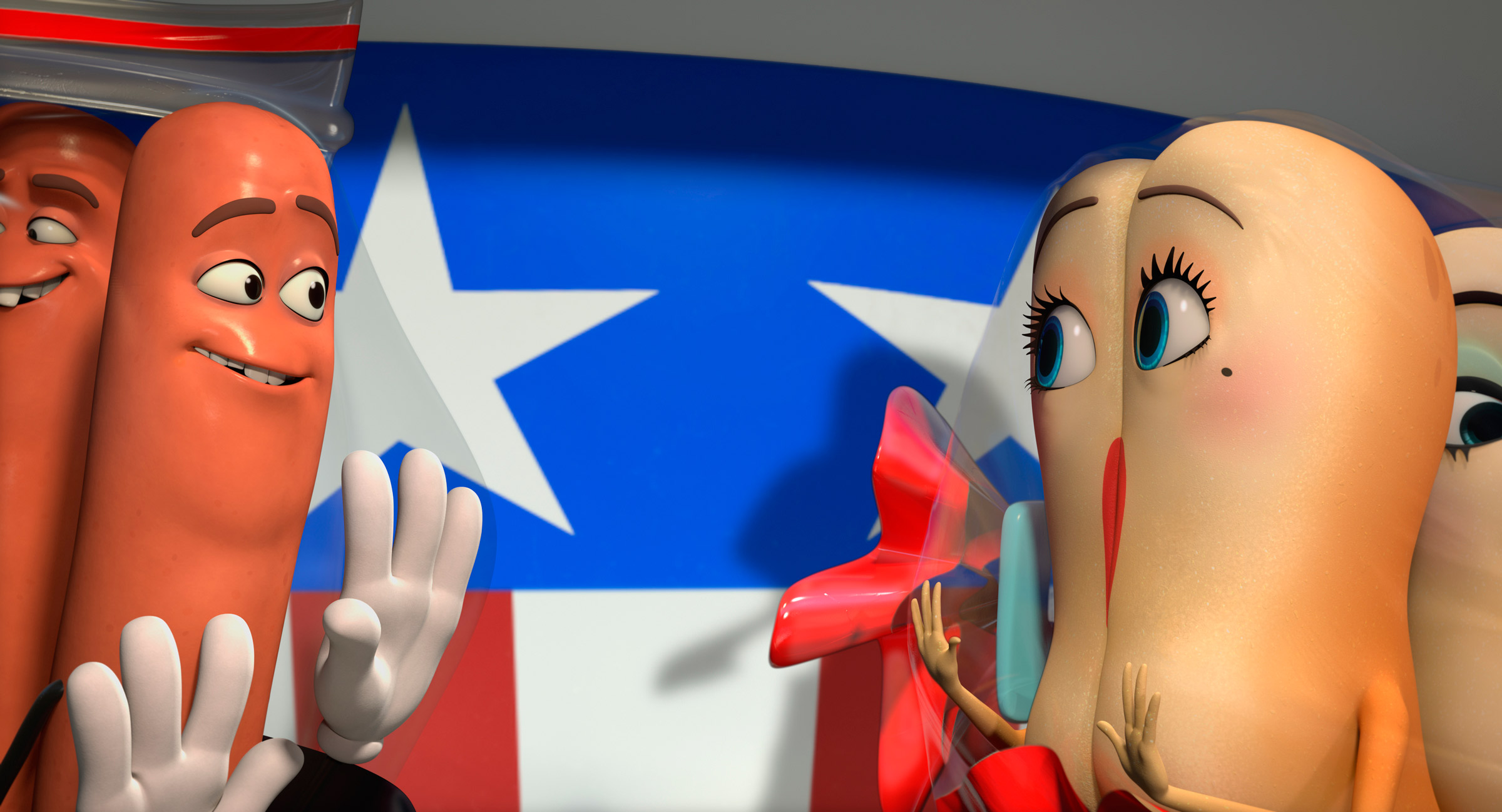 Not satisfied with having the market cornered on live action comedy, Seth Rogen brings his writing and voice talents to the first R-rated CG animated movie in 'Sausage Party,' a fantastically funny adventure comedy featuring a treasure trove of today's top funny people.
Co-directed by animation vets Conrad Vernon ('Monsters Vs. Aliens') and Greg Tiernan ('Thomas and Friends') from a script by the writing team of Rogen, Evan Goldberg ('This is the End'), Kyle Hunter ('The Night Before') and Ariel Shaffir ('The Night Before'), this deliciously vulgar plunge into the world of talking food follows the tried-and-true structure of your typical animated movie but adds that signature blend of heart and raunchy humor that's synonymous with Rogen's brand of comedy. With the kind of well-crafted CG animation that helps legitimize the enterprise, a hilarious and surprisingly smart script that finds a smorgasboard of inspiration from the grocery story of all places, and a wealth of tasty voice performances from the likes of Jonah Hill, Michael Cera, Bill Hader, Edward Norton and Kristen Wiig among others, this is one party that audiences won't want to miss.
At Shopwell's, the hope of every food item is to one day be whisked away to The Great Beyond, a heavenly place where shoppers take the chosen ones. For hot dogs like Frank (Seth Rogen), Carl (Jonah Hill) and the deformed Barry (Michael Cera), what The Great Beyond promises above all else is to be united with the bun of their dreams. In Frank's case, that bun is Brenda (Kristen Wiig), a sweet and shapely roll with the curves of any weenie's wishes.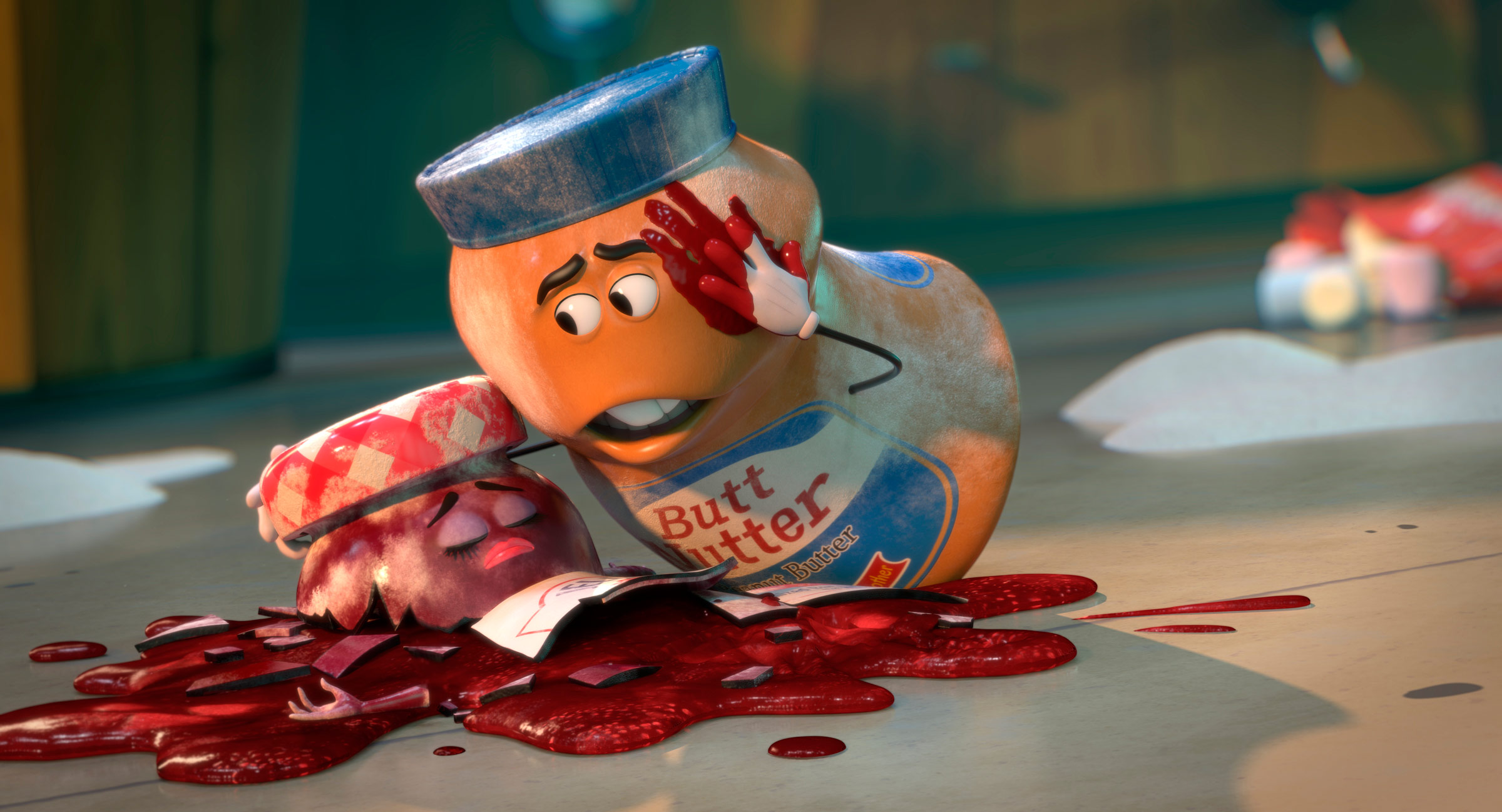 When a shopper selects Frank's sausages and Brenda's buns, their dreams of consummation seem inevitable – that is, until a traumatized jar of returned honey mustard (Danny McBride) scares the calories out of the other groceries with tales of the hellish realities of The Great Beyond. Scarred from his experiences in the outside world, when the honey mustard is chosen by the same shopper as Frank and Brenda, he opts for foodicide over returning to that hellhole. In a futile attempt to save the distraught condiment, Frank and Brenda squirm out of their packages and get separated from their pals in the process.
Shaken by the honey mustard's disturbing report from the frontline, Frank and Brenda set out on a mission to the booze aisle to find the all-knowing Firewater (Bill Hader) and uncover the truth about The Great Beyond. Along for the journey are Lavash (David Krumholtz) and Sammy Bagel, Jr. (Edward Norton), two bread products who endlessly squabble over their cultural differences, and Teresa the Taco (Salma Hayek), who opens the groceries' eyes to the harsh realities of the Mexican food aisle. As if their dashed dreams of The Great Beyond weren't bad enough, the grocery gang also has to contend with a vengeful Douche (Nick Kroll) mad at Frank for accidentally depriving him of being chosen. Meanwhile, as the groceries continue their search for the truth before Douche retaliates, Barry and the other chosen ones witness the gruesome Great Beyond firsthand.
As Pixar has proven with films about inanimate objects like 'Cars' and 'Toy Story,' great storytelling and superior animation can elevate any seemingly banal subject into a work of art, so it was only a matter of time before someone got around to tackling the wonderful world of food. And while I had my reservations based on what seemed like the sheer idiocy of the idea, not to mention the title, I'm glad to say that Seth Rogen knocks it out of the park with 'Sausage Party.' With a script that wonderfully sends up the Pixar movie structure, hysterical dialogue that turns profanity into high art, including a lifetime supply of food puns, and a storyline that humorously comments on timely political issues like illegal immigration and LGBT rights, 'Sausage Party' is undoubtedly the first movie ever to feature both a discussion about the Israeli-Palestinian conflict as well as a literal food orgy. If that's not a selling point, I don't know what is. Rogen and co-directors Conrad Vernon and Greg Tiernan also chose wisely by tapping Oscar-winning composer Alan Menken ('The Little Mermaid,' 'Aladdin') and Christopher Lennertz ('Hop') to craft a classical animated score that earns a few laughs of its own.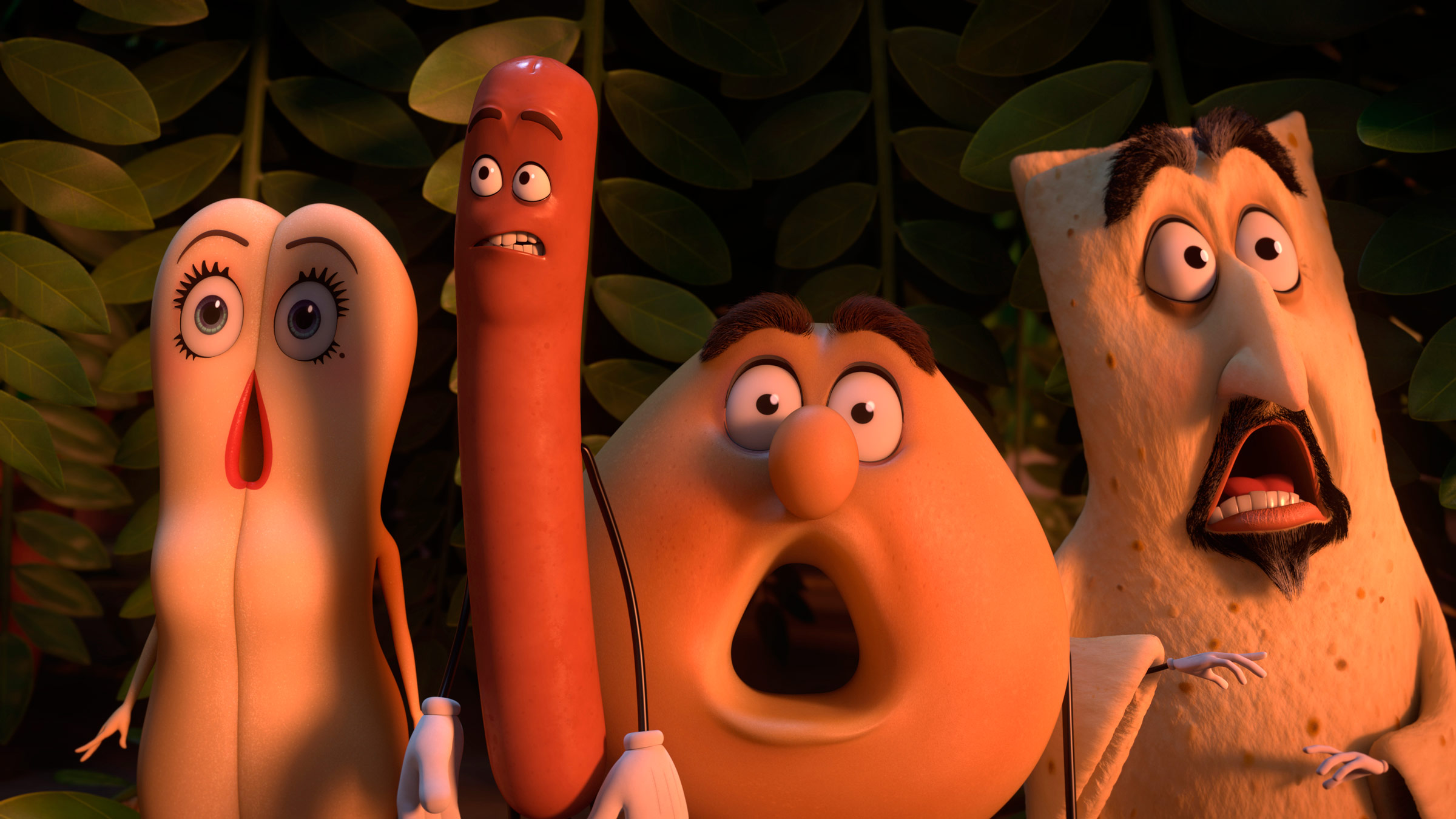 Having filmed the voice recording sessions, the actors are outfitted with animated eyes similar to their own, which not only helps audiences differentiate, say, one wiener from another, but also adds expressiveness to their performances. Seth Rogen and Kristen Wiig are both superb as the tip-touching romantic leads, and Edward Norton and David Krumholtz are full of bickering brilliance as Sammy Bagel, Jr. and Lavash, but Salma Hayek and Bill Hader probably take top honors as Teresa the lady-loving Taco and Firewater the wisdom-dropping, pipe-smoking booze bottle. That being said, every voice actor delivers their 'A' game, with Danny McBride as the battle-scarred honey mustard, Michael Cera as the cutely deformed Barry, and Nick Kroll as the sleazy Douche all deserving a special mention. James Franco also draws some big laughs as Druggie, a bath salt injecting nutjob, as does Paul Rudd in the role of a curmudgeonly grocer. Like most food porn, 'Sausage Party' is a guilty pleasure indeed.
Rated R for strong crude sexual content, pervasive language, and drug use.
Running Time: 89 minutes