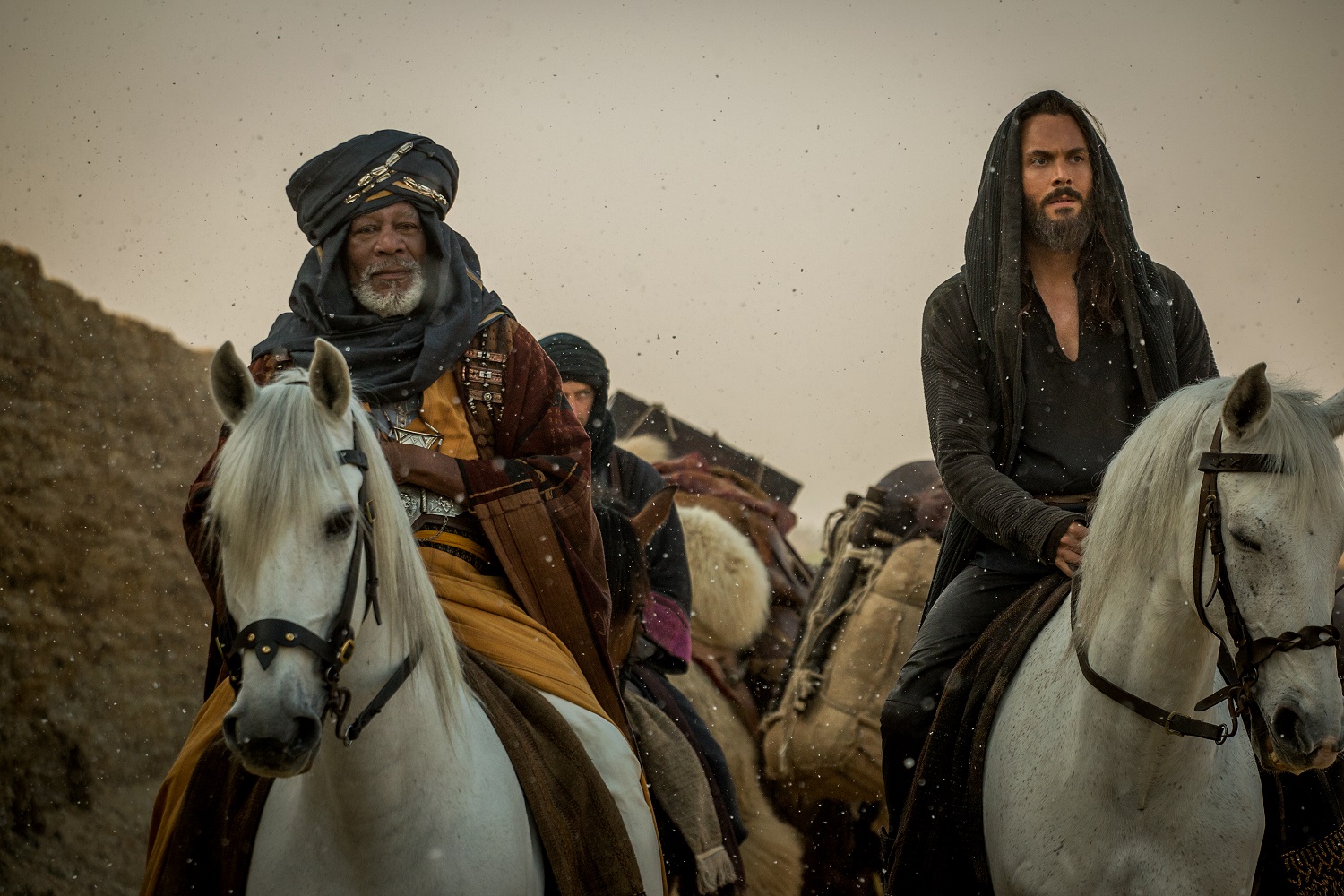 In the latest example of studios digging into their archives in search of properties worthy of a reboot, this Friday, Paramount and MGM release their 3D-enhanced remake of the 1959 swords-and-sandals epic, "Ben-Hur," a thrilling historical drama starring Jack Huston ("Boardwalk Empire,"), Toby Kebbell ("Warcraft") and Morgan Freeman.
Directed by the Kazakh action filmmaker Timur Bekmambetov ("Wanted") from an adaptation by "12 Years a Slave" screenwriter John Ridley and Keith Clarke ("The Way Back"), this sometimes sappy but well-executed update may be deemed unnecessary by those loyal to the original, but still succeeds in modernizing the classic in a way that makes it more palatable for a contemporary audience. Despite the occasionally stilted line of dialogue and some performances resonating more than others, "Ben-Hur" delivers some truly exciting action sequences, the most prominent being the infamous chariot race, and an easily relatable fraternal rivalry that grounds the equestrian escapades.
Keeping the original story mostly intact but trimmed down from 212 minutes to a more manageable 123, the remake revolves around Judah Ben-Hur (Jack Huston), a Jewish prince who, along with his mother (Ayelet Zurer), sister (Sofia Black D'Elia) and adopted brother Messala (Toby Kebbell), live in the Hur palace in Roman-occupied Jerusalem. After leaving home to fight with the Romans and returning five years later as a pompous officer, Messala soon butts heads with his once inseparable brother. What begins as mere disagreements and conflicting ideologies soon escalates into an assassination attempt, resulting in Ben-Hur's years-long imprisonment as a galley slave on the high seas.
While his mother and sister are unjustly imprisoned, Ben-Hur slaves away below deck, praying for an opportunity to escape and exact revenge on Messala. When that escape opportunity arises during a bloody battle sequence, Ben-Hur comes under the wing of Ilderim (Morgan Freeman), a Nubian sheik with a winning quartet of chariot horses. Ilderim then trains Ben-Hur to become a charioteer in order to help the former slave carry out his desired retaliation against Messala, a skilled horseman in his own right. Along the way, Ben-Hur encounters Jesus Christ (Rodrigo Santoro), which in turn transforms his mission of revenge to one of redemption.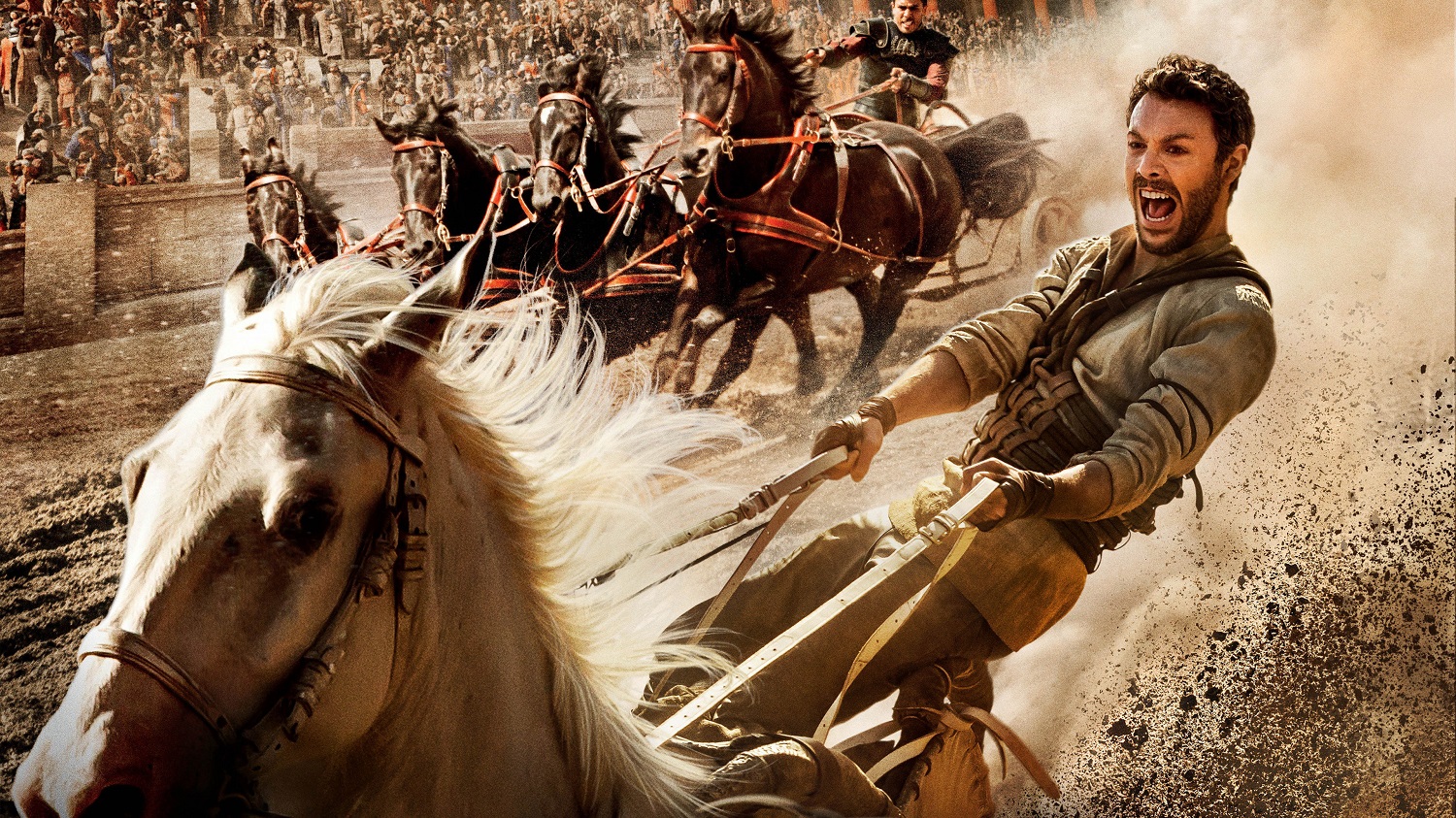 Although the cinematic landscape is dramatically different from when William Wyler's version premiered in 1959, Bekmambetov makes sure to satisfy the adrenaline junkies by injecting his frenetic directorial style into the proceedings wherever possible. And with its redemptive message and the prominent role of Jesus Christ, solidly portrayed here by Rodrigo Santoro, the film also caters to the religious crowd, though not so much as to alienate the nonbelievers. Oliver Wood's enterprising cinematography doesn't necessarily top Robert L. Surtees' Oscar-winning, widescreen work on the original, but still adds immensely to the story's epic scope. Similarly, while it's not quite as memorable as Miklós Rózsa's influential 1959 score, Marco Beltrami's sweeping score also succeeds in adding the necessary grandeur to the historical tale at hand.
Although some roles are more prominent than others, each actor in the remake had some big shoes to fill, but none more so than Jack Huston in the titular role previously played by Charlton Heston. Perhaps best known for "Boardwalk Empire" and the coming-of-age drama "Not Fade Away," "Ben-Hur" is Huston's biggest role to date, and he makes the most of it, exhibiting natural charisma and seemingly effortless range. Less effective is Toby Kebbell as Huston's power-drunk, adopted brother, Messala. Perhaps it's a result of the script, but the character's quick transformation from loving brother to heartless Roman officer struck me as farfetched, and while he does seem to relish playing the antagonist, his best moments take place when he and Ben-Hur are on good terms. And while the entire international cast does their part to steer this chariot to victory, the other performances that merit mention belong to Morgan Freeman as the shrewd Sheik Ilderim and Nazanin Boniadi ("Homeland") as Ben-Hur's strong-willed love interest.
A turbulent but touching tale of brotherly bonding and spiritual redemption, thanks to the top-notch action sequences and committed acting, "Ben-Hur" is a chariot race worth revisiting.
Running Time: 123 minutes
Rated PG-13 for sequences of violence and disturbing images.