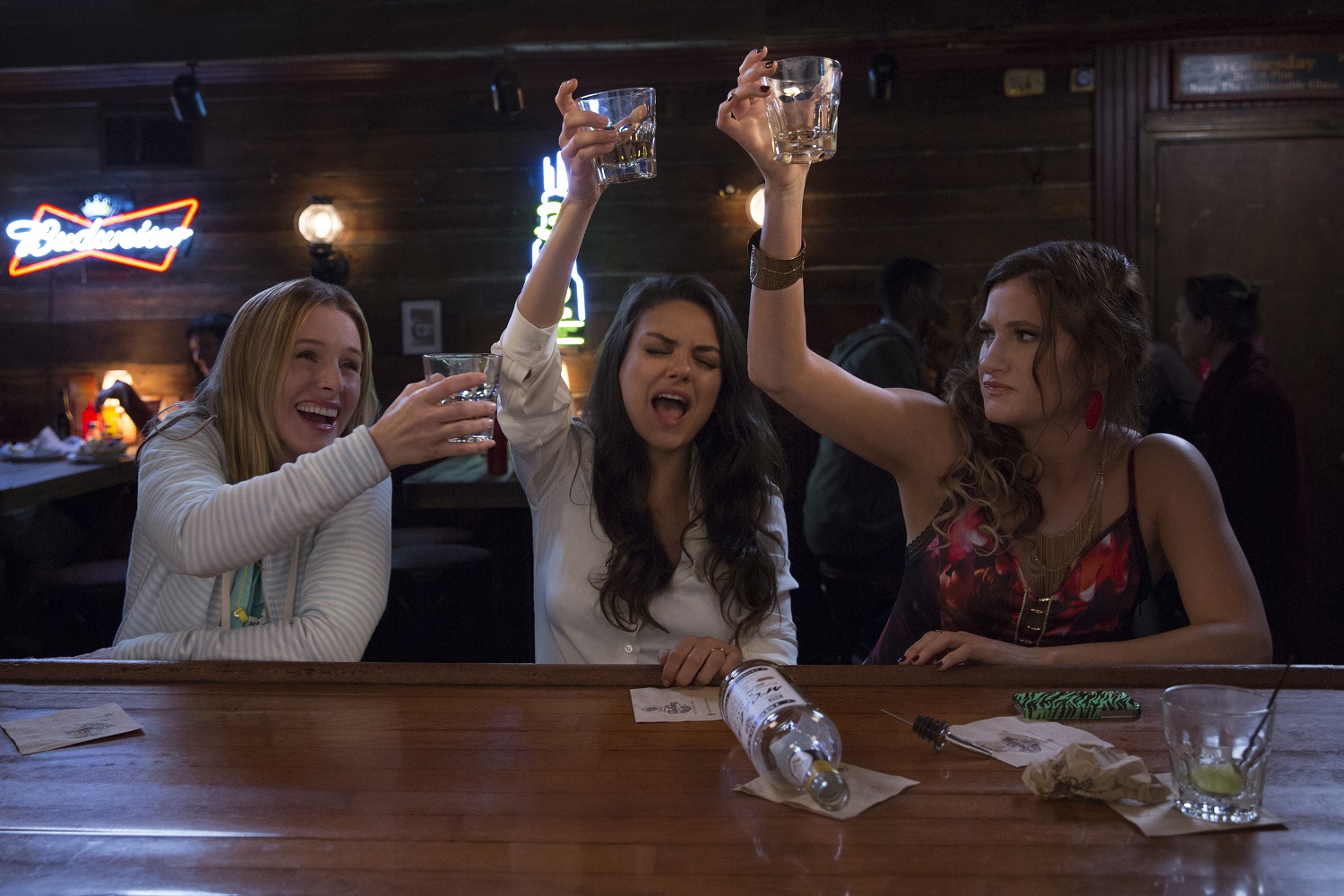 Mila Kunis has her work cut out for her as an overstressed breadwinner who teams up with a pair of equally exhausted moms to combat the perfectionism perpetrated by a ruthless PTA president in "Bad Moms," a hysterical buddy comedy costarring Kristen Bell, Kathryn Hahn and Christina Applegate.
The writing-directing team of Jon Lucas and Scott Moore ("21 & Over") take an easily relatable premise and hit the ground running, not only offering audiences a wickedly funny female-centric feature but imbuing it with some genuine heartfelt sentiments about the ups and downs of motherhood. Is it formulaic at times? Sure. Does it lean too heavily on crudeness? No question. Does it matter? Not at all. For the bulk of the film, audiences will be so busy trying to suppress their laughter that any perceived narrative shortcomings will be discarded as irrelevant. Not since "Bridesmaids" has a female ensemble hit the funny bone quite so hard – the result of a hilarious screenplay and the undeniable chemistry between the trifecta of comediennes at the story's center. Add to the mix a savage Christina Applegate as an upper crust parent who runs the PTA like a dictatorship and you've got the makings for one hell of a summer comedy.
In "Bad Moms," Kunis plays Amy Mitchell, a hardworking mother of two in the Chicago suburbs. Although on the surface Amy has a seemingly perfect life – nice house, well-mannered children (Oona Laurence, Emjay Anthony), handsome husband (David Walton), good job at a hip coffee company – in reality, her husband's a slacker, her kids are entitled, her boss (Clark Duke) is a nightmare, and her workload is driving her to the brink of sanity. Adding to the madness of her daily life is overbearing PTA president Gwendolyn (Christina Applegate), who, along with her perfect mom clique (Jada Pinkett Smith, Annie Mumolo), constantly badger Amy and the other school parents to follow in their flawless footsteps.
After a day from hell that begins with her husband caught in a compromising FaceTime session and ends with her lashing out at Gwendolyn at a PTA meeting, Amy decides it's high time to engage in some long overdue "bad mom" behavior. Contributing to Amy's delinquency are the tightly wound Kiki (Kristen Bell) and the hypersexual Carla (Kathryn Hahn), two similarly stressed moms who admire Amy's stance against Gwendolyn's tyranny. The new momfriends turn an evening of revelry into a lifestyle, leading to drunken supermarket sprees, movie dates, and man prowling. But when Gwendolyn punishes the newly liberated mom for her defiant ways, Amy decides to run against her for PTA president in hopes of lowering the community's parenting standards to a more manageable degree.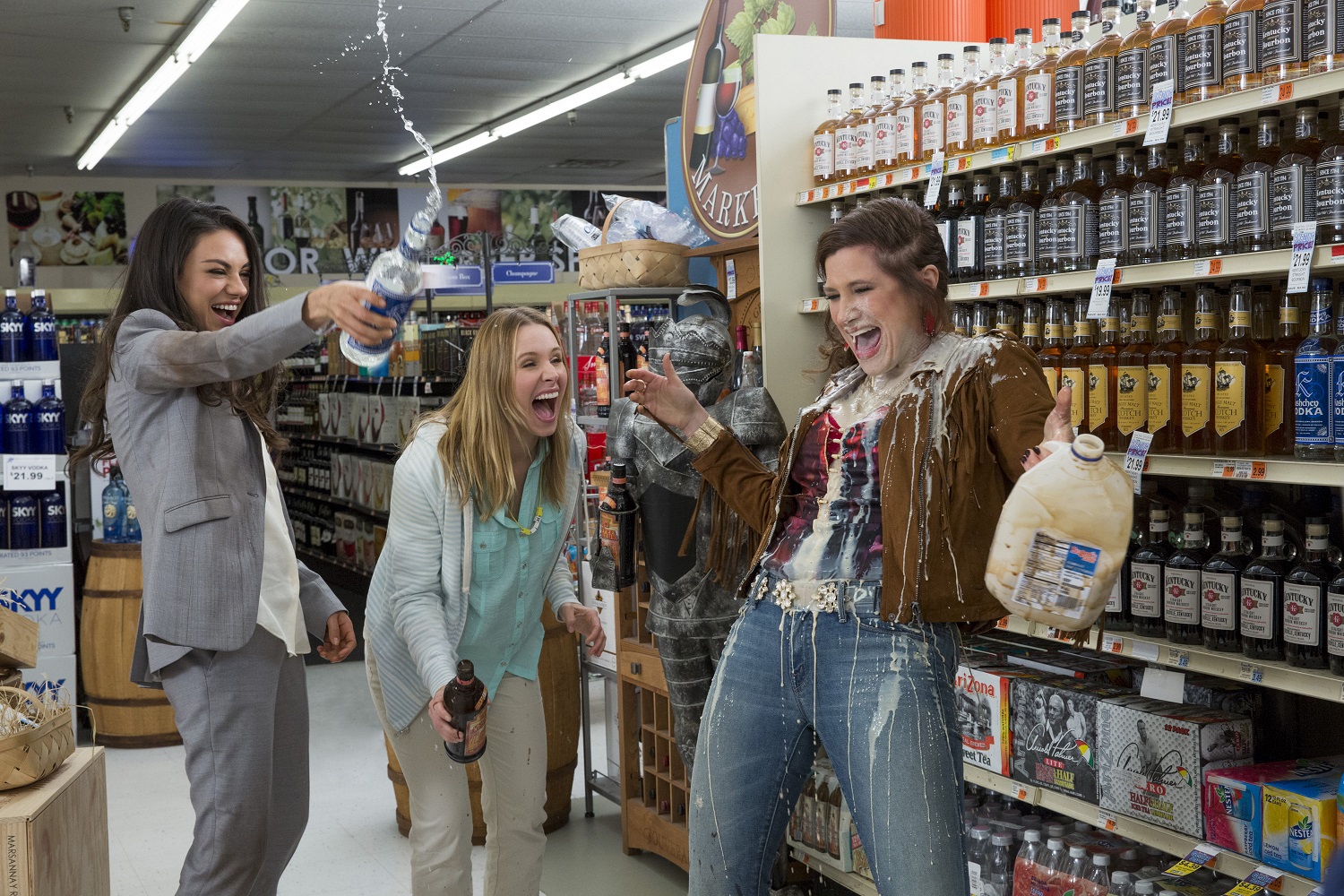 Despite being best known for their bromantic collaborations ("The Hangover"), filmmakers Jon Lucas and Scott Moore prove with "Bad Moms" that they're also adept at crafting relatable female characters and capturing the struggles of the everyday suburban mother. Even if the setup doesn't allow much room for character depth, ambitious narrative structures or really anything other than crude but cute comedy, they still tap into the mommy milieu accurately, albeit with a sensational spin. And for those seeking wish fulfillment from the scenes of unmatronly debauchery, audiences will not be disappointed, as Moore and Lucas stage these moments with an overdose of mayhem. From the drunken supermarket excursion to what is surely the most insane PTA election party ever captured on celluloid, the filmmakers easily elicit the inherent fun of the premise.
As if it wasn't already evident from films like "Ted" and "Forgetting Sarah Marshall" Mila Kunis is a multi-faceted actress who can play a love interest role with her eyes closed. What wasn't nearly as apparent prior to "Bad Moms" was just how fall-down-funny she can be and also how easily she can carry a film on her shoulders. And while Kunis is saddled with relating the more emotional elements of the story, she gets a crucial assist from Kristen Bell and Kathryn Hahn, both of whom are as funny here as ever before. Jay Hernandez scores a few laughs of his own as a dreamy widower, and David Walton ("Break Point") crushes it as Kunis' dopey husband, but Christina Applegate and her bitchy hangers-on played by Annie Mumolo and Jada Pinkett Smith really give the PTA rivalry the malicious edge that the concept requires.
Despite obviously being geared toward women, any fan of R-rated comedy will have no trouble finding the humor in this laugh-fest.
Running Time: 101 minutes
Rated R for sexual material, full frontal nudity, language throughout, and drug and alcohol content.