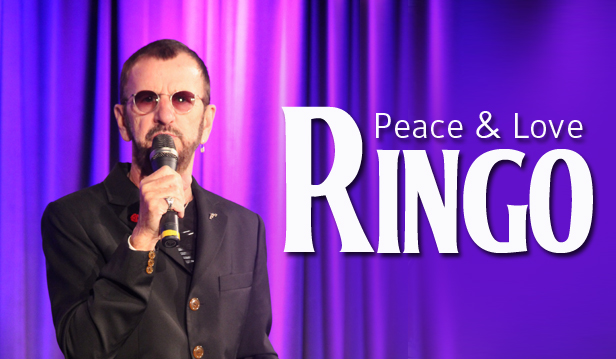 Ringo Starr will once again celebrate his birthday Thursday, July 7, 2016, with the now annual #PeaceandLove event in Los Angeles. Ringo and his wife Barbara will join family, friends and fans in front of the Capitol Records Tower in Hollywood and share a "Peace & Love" salute at Noon. The Peace & Love celebration is open to the public and Ringo invites everyone everywhere to think or say Peace & Love or share #PeaceandLove, at Noon their local time, on Instagram, Facebook and Twitter. It will also be streamed live on Ringo's Facebook page.
Throughout his career and life Ringo has always been promoting Peace & Love. In 2008 Ringo was asked what he wanted for his birthday and he replied "More Peace and Love, that is something you can't have too much of." On July 7, 2008 Ringo held the first Peace and Love event in Chicago. Since then he has also held Peace & Love events in New York City's Times Square; Hamburg, Germany; Nashville, Tennessee and Los Angeles, California – where it has been the last 3 years. The dream is that a wave of Peace & Love traverses the planet starting at Noon in New Zealand to Noon in Hawaii and everywhere in between.
Special guests performing are; Dave Stewart with Jon Stevens, Alberta Cross and Vandaveer, who will each give acoustic performances of Ringo's songs.