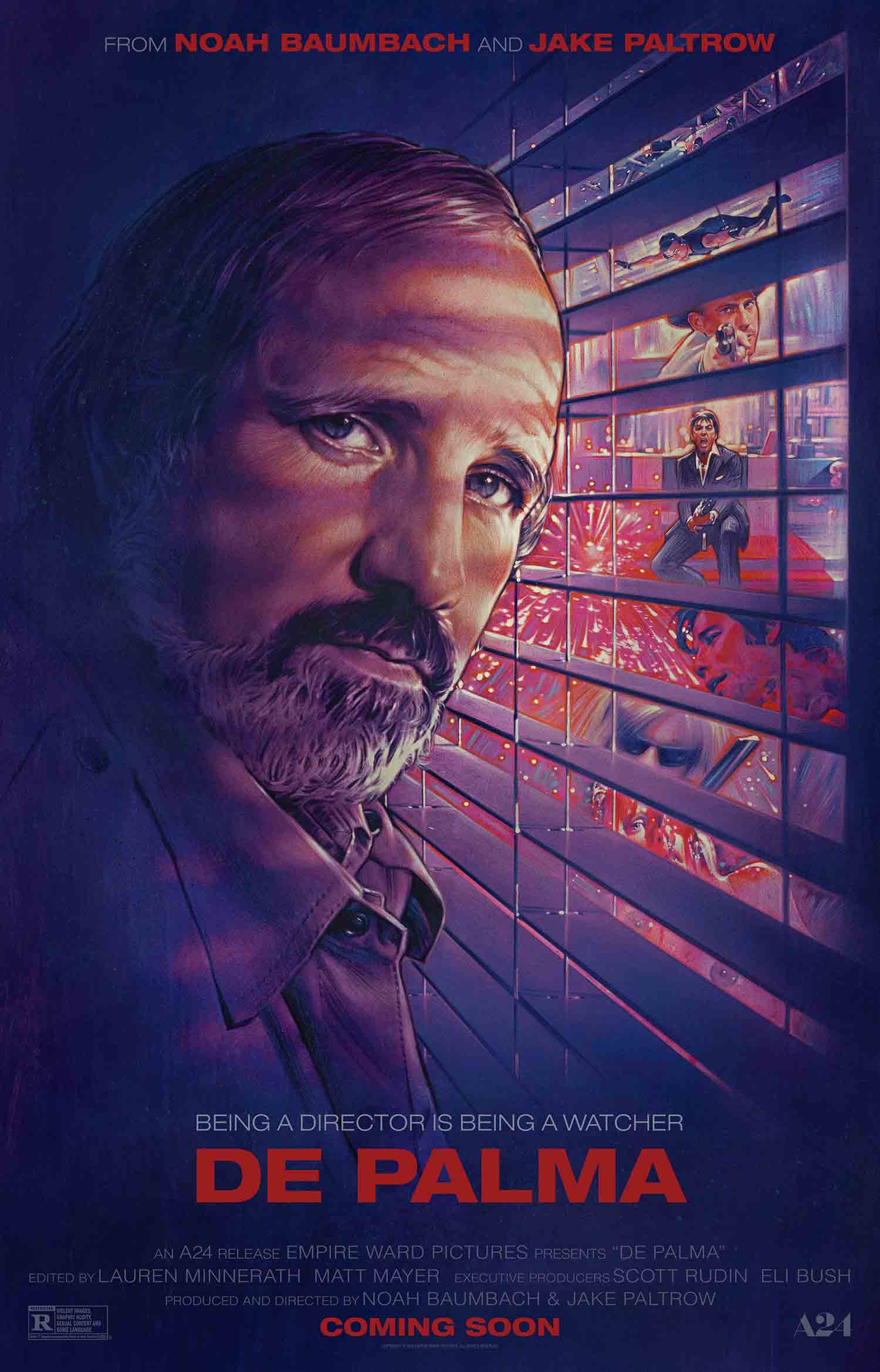 Brian De Palma, one of the most influential filmmakers to emerge from the New Hollywood movement, finally gets the appreciation he deserves in "De Palma," a comprehensive documentary co-directed by Noah Baumbach ("Mistress America") and Jake Paltrow ("Young Ones").
Staged as an intimate discussion with the veteran filmmaker as he takes viewers film by film through his towering five-decade career, this in-depth doc is a veritable two-hour film school that will not only leave audiences craving for a Brian De Palma movie marathon but also wondering why — with his incomparable talents and extensive filmography — he never received the accolades of contemporaries like Martin Scorsese, Steven Spielberg and George Lucas. Filled with fascinating anecdotes about his films, family life, and the rough-and-tumble world of Hollywood, "De Palma" is a captivating documentary befitting the ingenious interviewee at its center.
With Baumbach and Paltrow removed entirely from the proceedings, De Palma addresses the camera directly as he invites viewers through his compelling life and career, beginning with his early years in Jersey and Pennsylvania as a science geek and the son of an academic-orthopedic surgeon. A Quaker school attendee whose passion for cinema began upon joining a film club, De Palma quickly made a name for himself with his short films and, soon thereafter, won a spot in a training program at Universal Pictures.
Having earned a reputation as a visionary director in the early 70s with singular works like "Greetings," "Get to Know Your Rabbit" and "Sisters" (and discovering a young actor named Robert De Niro in the process), De Palma's career skyrocketed with the release of the horror classic "Carrie," followed by such monumental 80s films as "Dressed to Kill," "Blow Out" and "Scarface." And while these movies cemented his auteur status, garnering critical acclaim from Pauline Kael and Roger Ebert among others, it wasn't until "The Untouchables" and "Mission: Impossible" were released that Hollywood began to offer paychecks equaling his talents. But as the documentary makes clear, in Hollywood, you're only as good as your last picture, regardless of the circumstances behind its failings, which explains why in his later career De Palma has been forced back to his experimental genre roots.
Interwoven with clips from De Palma's films as well as those of his cinematic influences – chiefly Alfred Hitchcock and French New Wave directors Jean-Luc Godard and Francois Truffaut – "De Palma" delves deep into his unique style with its emphasis on "reflections and refractions" and innovative use of split screens, long steadicam shots and split diopter lenses.
If you're more drawn to the scandalous side of the film business, there are plenty of onset war stories, from Cliff Robertson trying to sabotage "Obsession" and Oliver Stone having to be removed from the "Scarface" set, to the porn star origins of "Body Double" and Sean Penn's antagonistic relationship with Michael J. Fox while filming "Casualties of War." Between De Palma's encyclopedic film knowledge, his tumultuous personal life (three divorces as well as his father's extramarital affairs), and his wealth of information about the machinations of the studio system, there's more than enough at hand to please both film buffs and those simply fascinated by true Hollywood stories.
Insightful, entertaining, and exhaustive but never exhausting, "De Palma" is a documentary as admirable as its subject.
Rated R for violent images, graphic nudity, sexual content and some language.
Running Time: 107 minutes
http://a24films.com/films/de-palma/