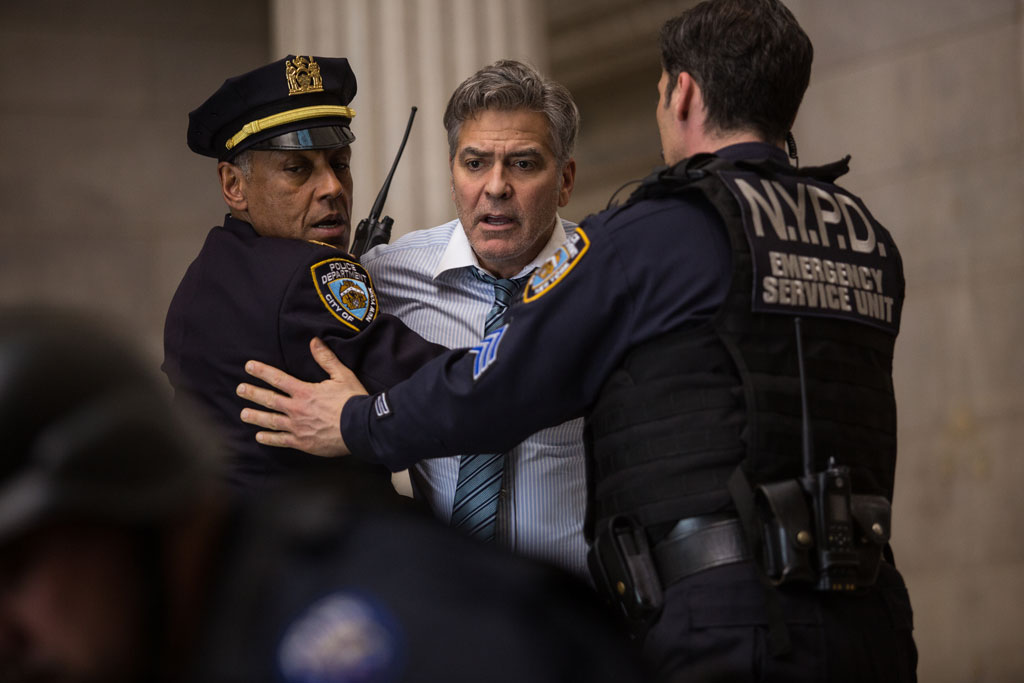 The arrogant host of a financial TV show is taken hostage on-air after dishing out disastrous investment advice in "Money Monster," a lackluster thriller starring George Clooney, Julia Roberts and Jack O'Connell ("Unbroken").
The fourth film directed by Jodie Foster ("The Beaver"), this fast-paced, behind-the-scenes look at a "Mad Money" style financial program under duress struggles to overcome its tonal inconsistencies, awkwardly alternating between semi-satire and nerve-racking thrills. And while "Money Monster" does earn some legitimate laughs and intermittently suspenseful moments, the high-concept premise eventually wears thin, leaving it difficult to stay invested in the contrived storyline or the characters that populate it. Still, given the timeliness of the subject matter, not to mention the star wattage on hand, "Money Monster" may attract enough audience interest to cause Sony's stock to rise.
In the film, Clooney plays Lee Gates, the host of a financial show called "Money Monster," an over-the-top affair brimming with ridiculous theatrics and generally unreliable advice. An arrogant bachelor who can't stand the thought of eating a meal alone, Lee's freewheeling nature on and off the set has finally pushed his long-suffering producer-director Patty (Julia Roberts) to the brink. But before Patty jumps ship to another show that tapes across the street, the two co-workers will endure a crisis that tests their longstanding relationship.
When the stock price of an investment firm Clooney touted as a top pick plummets, resulting in an $800 million loss that the company alleges was due to an algorithm glitch, an enraged shareholder named Kyle Budwell (Jack O'Connell) storms the studio in search of answers. Initially, the staff thinks this is merely one of Lee's many ratings stunts; but when Kyle lets off some warning shots and straps Lee into a suicide vest, it becomes clear that this is no laughing matter.
As Lee's life-or-death predicament unfolds across the world on live television, some harsh truths about the business dealings of the investment firm's CEO (Dominic West) are unearthed.
For a time, the screenplay by Jamie Linden ("10 Years"), Alan DiFiore ("Grimm") and Jim Kouf ("Rush Hour," "National Treasure") coasts by on the built-in tension of its premise along with Jodie Foster's exemplary staging as the action unfolds across several planes. However, because the writers thrust the audience so quickly into this hostage crisis, the characters never come across as anything more than nondescript figures caught up in a fabricated scenario. And while the filmmakers find some novel ways of subverting audience expectations and incorporating scathing commentary on American corporate greed, it doesn't come close to having the satirical bite of last year's "The Big Short" or 2012's "God Bless America."
As far as Clooney's performances go, this one rates somewhere in the middle, highlighted more by his comic contributions than anything else. He gets a lot of mileage out of his character's pompous personality and his "Money Monster" hip hop dance routines are a definite highlight, but it also undermines his dramatic moments in the process. Re-teaming once again with her "Ocean's Eleven" costar, Julia Roberts and Clooney share an easy onscreen chemistry, and as his voice of reason as well as a TV director at the helm of a hostage crisis, she capably conveys her character's grace under fire and acerbic wit. Unfortunately, Jack O'Connell, who showed so much promise in the prison drama "Starred Up" as well as the Louis Zamperini biopic "Unbroken," is limited to a dimensionless role, though he still manages to earn some sympathy for his combustible character.
Don't be fooled by the catchy concept: "Money Monster" falls flat in the long run.
Running Time: 98 Minutes
Rated R for language throughout, some sexuality and brief violence