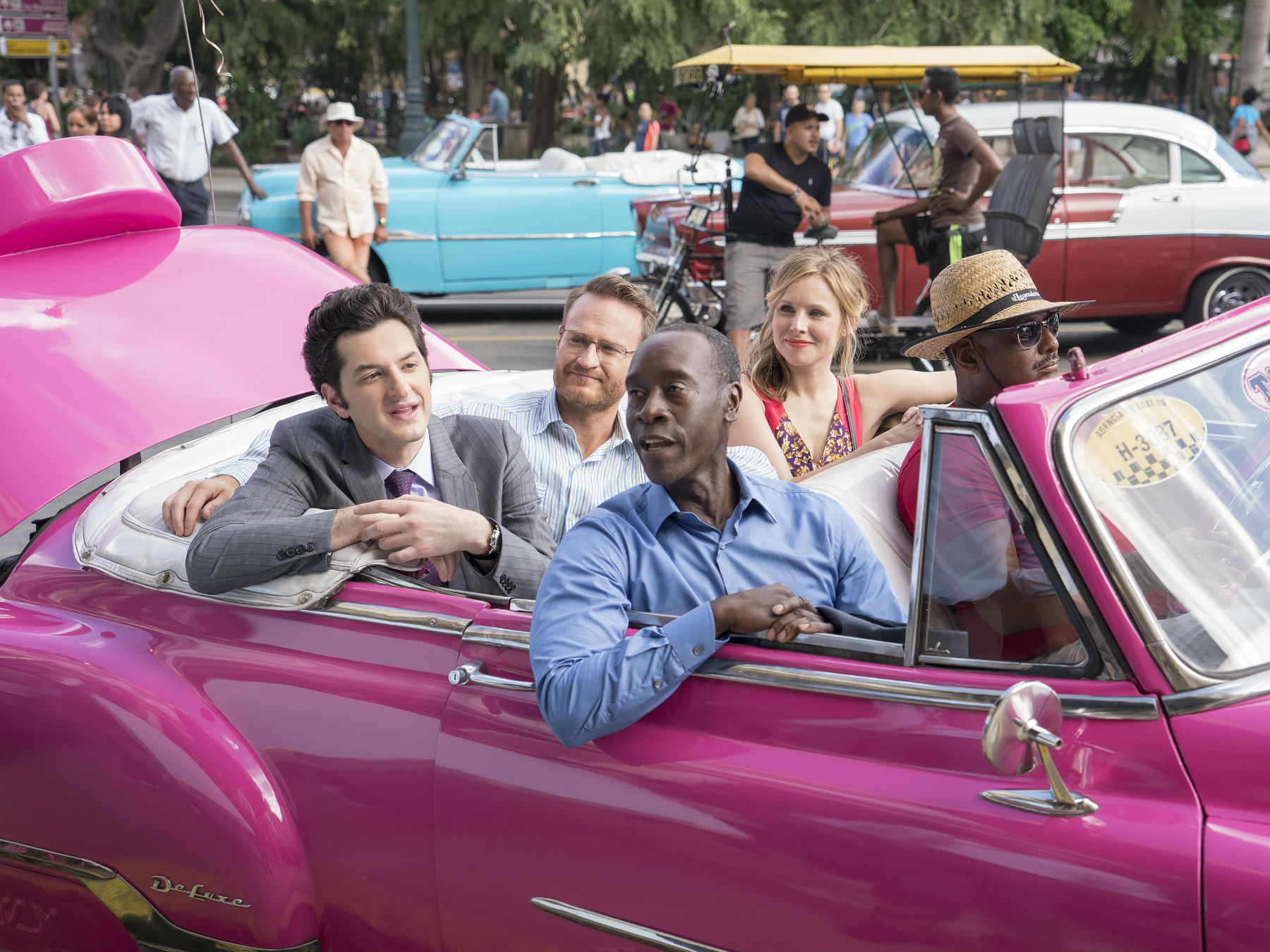 On Sunday, June 13th at 9 p.m. ET/PT, your favorite corporate sharks will board their last flight, in grand, historic style, to Havana for the conclusion of the SHOWTIME comedy series HOUSE OF LIES.
Shot entirely on location and directed by series creator and executive producer Matthew Carnahan, this final episode, "No Es Fácil," marks the first time an American scripted series was shot in Cuba since the restoration of diplomatic relations. Don Cheadle (Miles Ahead) headlines the stellar cast, which includes Kristen Bell (Veronica Mars), Emmy® winner Ben Schwartz (Parks & Recreation), Josh Lawson (Anchorman 2: The Legend Continues), Donis Leonard Jr. (Criminal Minds), and Emmy winner Glynn Turman (In Treatment).
For his brilliant work as Marty Kaan, series star Don Cheadle won a Golden Globe award, was nominated four times for an Emmy Award, and three consecutive times for a Golden Globe Award. He also took home two NAACP Image Awards (the series earned 13 nominations) and two NAMIC Vision Awards. And, Kristen Bell earned two People's Choice Award nominations and one win.
For five seasons, fans traveled with Marty, Jeannie (Bell), Clyde (Schwartz) and Doug (Lawson) as they criss-crossed the globe manipulating hard-earned (well, usually inherited, sometimes stolen) bucks from powerful CEOs. Under Marty's leadership, the Pod, as they became affectionately known, went from fleecing millionaire moguls to skewering billionaires with an unwavering eye on their end-state vision (or, ultimate goal for non-management rookies): global domination. Along the way, Marty and Jeannie went from business associates to lovers to adversaries and back again, ultimately landing on amicable co-worker/co-parents to their baby girl.
All the while, wisecracking Clyde and insufferable yet sweet Harvard MBA Doug fought and squabbled over the number three spot (and, ultimately, for partnership) at Kaan & Associates. They frequently banded together against Marty's ex-wife and business foe Monica (Dawn Olivieri) as she lurched between wanting to bed him, kill him and steal all his clients. On the home front, sage advice from live-in psychologist dad Jeremiah (Turman) helped Marty lead son Roscoe (Leonard Jr.) through the discovery and celebration of his gender fluidity and maturation into a self-assured, fashion-forward teenager. As we conclude the series, the Pod is assessing their personal portfolios: in their constant quest for the almighty dollar, how much is enough? How much money buys happiness and at what cost?