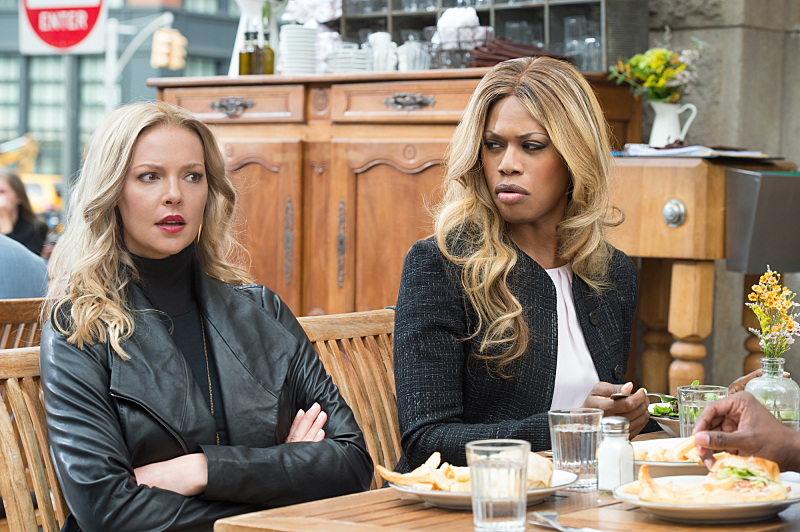 Here come more new shows… CBS unveiled its 2016-2017 primetime lineup, featuring three new comedies, five new dramas and 21 returning series.
The Network's new series will feature stars in comedy and drama such as Kevin James, Matt LeBlanc, Joel McHale, Michael Weatherly, Katherine Heigl, Dermot Mulroney, Laverne Cox, Dulé Hill and Bill Paxton.
The new fall comedies are: KEVIN CAN WAIT, starring Kevin James as a newly retired police officer who faces tougher challenges at home with his wife and three kids than he ever did on the streets; MAN WITH A PLAN, starring Golden Globe Award winner Matt LeBlanc as a contractor who starts spending more time with his kids when his wife goes back to work and discovers the truth every parent eventually realizes: his little angels are maniacs; and THE GREAT INDOORS, starring Joel McHale as a renowned adventure reporter for an outdoor magazine who becomes the desk-bound boss to a group of eager millennials in the publication's digital edition.
The new fall dramas are: BULL, starring Michael Weatherly as a brilliant and charming trial consultant; the action-adventure drama MACGYVER, an origin story of the classic series starring Lucas Till and George Eads; and PURE GENIUS, starring Dermot Mulroney and Augustus Prew in a medical drama about a Silicon Valley billionaire superstar who enlists the world's best medical minds to work in his state-of-the-art hospital.
Two new series also set to premiere in 2016-2017 are: TRAINING DAY, a crime drama that begins 15 years after the events of the successful feature film, starring Bill Paxton as a hardened, morally ambiguous detective for the LAPD, and Justin Cornwell as a young, idealistic officer tapped to go undercover as his trainee to spy on him; and the legal drama DOUBT, starring Katherine Heigl, Steven Pasquale, Dulé Hill and Laverne Cox, about an attorney who begins to fall for her charismatic client accused of murdering his girlfriend.
As far as the dramas go…
BULL stars Michael Weatherly as Dr. Jason Bull in a drama inspired by the early career of Dr. Phil McGraw, the founder of one of the most prolific trial consulting firms of all time. Brilliant, brash and charming, Dr. Bull is the ultimate puppet master as he combines psychology, human intuition and high tech data to learn what makes jurors, attorneys, witnesses and the accused tick. Bull employs an enviable team of experts at Trial Analysis Corporation to shape successful narratives down to the very last detail. They include his quick-witted brother-in-law, Benny Colón (Freddy Rodriguez), who plays a defense attorney in mock trials; Marissa Morgan (Geneva Carr), a cutting-edge neurolinguistics expert from the Department of Homeland Security; former NYPD detective Danny James (Jaime Lee Kirchner), the firm's tough but relatable investigator; haughty millennial hacker Cable McCrory (Annabelle Attanasio), who is responsible for gathering cyber intelligence; and Chunk Palmer (Chris Jackson), a fashion-conscious stylist and former All-American lineman who fine tunes clients' appearances for trial. In high-stakes trials, Bull's combination of remarkable insight into human nature, three Ph.D.'s and a top-notch staff creates winning strategies that tip the scales of justice in his clients' favor. Paul Attanasio, Dr. Phillip C. McGraw, Steven Spielberg, Justin Falvey, Darryl Frank, Jay McGraw, Mark Goffman and Rodrigo Garcia are executive producers for CBS Television Studios. Garcia directed the pilot.
MACGYVER, a reimagining of the classic series, is an action-adventure drama about 20-something Angus "Mac" MacGyver (Lucas Till) who creates a clandestine organization within the U.S. government where he uses his extraordinary talent for unconventional problem solving and vast scientific knowledge to save lives. Joining his team on high-risk missions around the globe is maverick former CIA agent Lincoln (George Eads). Under the aegis of the Department of External Affairs, MacGyver takes on the responsibility of saving the world, armed to the teeth with resourcefulness and little more than bubble gum and a paper clip. Peter Lenkov, Golden Globe Award winner Henry Winkler, Lee Zlotoff, James Wan and Michael Clear are executive producers for CBS Television Studios in association with Lionsgate.
PURE GENIUS is a cutting-edge medical drama about a young Silicon Valley tech titan who enlists an exceptional veteran surgeon with a controversial past to run a state-of-the-art hospital with an ultramodern approach to medicine. Billionaire genius James Bell (Augustus Prew) built Bunker Hill Hospital determined to revolutionize healthcare and treat the rarest and most challenging medical mysteries, at no charge. Bell persuades maverick surgeon Dr. Walter Wallace (Dermot Mulroney) to be his Chief of Staff, who believed medicine is a human endeavor, not technological, until a "eureka" moment at the hospital convinced him otherwise. Bell's team of trailblazers includes Dr. Zoe Brockett (Odette Annable), an exceptional, fearlessly frank physician; Dr. Talaikha Channarayapatra (Reshma Shetty), an idealistic, maddeningly literal neurosurgeon who believes the hospital is a beacon for change; Dr. Malik Verlaine (Aaron Jennings), a former gangbanger now spearheading efforts to provide 24/7 health monitoring in poor neighborhoods via computer; Dr. Scott Strauss (Ward Horton), an intense neurologist with an Ivy league pedigree; and Angie Cheng (Brenda Song), an enthusiastic 3-D printer programming whiz. At Bunker Hill, Bell pairs the most brilliant minds in medicine with the most forward thinkers in technology, and cuts bureaucracy out of the equation, all in the interest of saving lives, including his own. Jason Katims, Michelle Lee and David Semel are executive producers for Universal Television in association with CBS Television Studios. Semel directed the pilot.
Coming later in the year…
TRAINING DAY is a crime thriller that begins 15 years after the events of the feature film, about a young, idealistic police officer who is tapped to go undercover in an elite squad of the LAPD where he partners with a veteran, morally ambiguous detective. Detective Frank Rourke (Bill Paxton) is the maverick head of the Special Investigation Section (S.I.S.) that hunts the city's most dangerous criminals, and is one of the finest investigators the department has ever produced. However, when the LAPD brass notices Rourke's penchant for operating in a gray area to fight the war on crime, they assign Kyle Craig (Justin Cornwell), a heroic, untarnished cop, to pose as Frank's trainee to spy on him and report on his off-book methods. The members of Frank's loyal team include Rebecca Lee (Katrina Law), a formidable officer with killer aim and a dark past, and Tommy Campbell (Drew Van Acker), a former pro surfer who follows Frank's orders without hesitation. Providing Frank with intel is his girlfriend, Holly Butler (Julie Benz), a well-connected, unapologetic Hollywood madam. While LAPD Deputy Chief Joy Lockhart (Marianne Jean-Baptiste) coolly puts Kyle in danger in her mission to take down Frank, Kyle's schoolteacher wife, Alyse (Lex Scott Davis), worries her husband's resolve to avenge the murder of his father, a cop, may be his undoing. As Frank starts teaching his principled trainee the way of the streets, where the ends often justify the means, they form an uneasy alliance that will irrevocably change the course of both their lives. Based on the feature film from Warner Bros. Pictures and Village Roadshow Pictures. Jerry Bruckheimer, Antoine Fuqua, Will Beall, Barry Schindel, Jonathan Littman and Danny Cannon are executive producers for Jerry Bruckheimer Television and Fuqua Films in association with Warner Bros. Television. Cannon directed the pilot.
DOUBT stars Katherine Heigl as Sadie Ellis, a brilliant attorney at a boutique firm who starts to fall for her charismatic client, Billy Brennan (Steven Pasquale), an altruistic pediatric surgeon recently accused of murdering his girlfriend 24 years ago. Sadie is hiding her growing feelings from everyone, including her close friend and colleague, Albert Cobb (Dulé Hill), who thinks he knows everything about her. Working on other cases at the practice is Cameron Wirth (Laverne Cox), a transgender Ivy League graduate who fights passionately for her clients since she's experienced injustice first hand; Tiffany Simon (Dreama Walker), a second-year associate who is quickly learning the ropes from Wirth; and Nick (Kobi Libii), a former felon who earned his degree while serving time. They all consider it a privilege to work for Isaiah Roth (Elliott Gould), a revered legal lion and "lefty" legend, whose approval is their holy grail. Sadie's decision to become involved with her client could put her career, as well as her happiness, at risk if Billy is found guilty, which means she needs to work all the harder to prove reasonable doubt, even if she has some herself. Tony Phelan & Joan Rater, Emmy Award winner Adam Bernstein, Carl Beverly and Sarah Timberman are executive producers for CBS Television Studios. Bernstein directed the pilot.