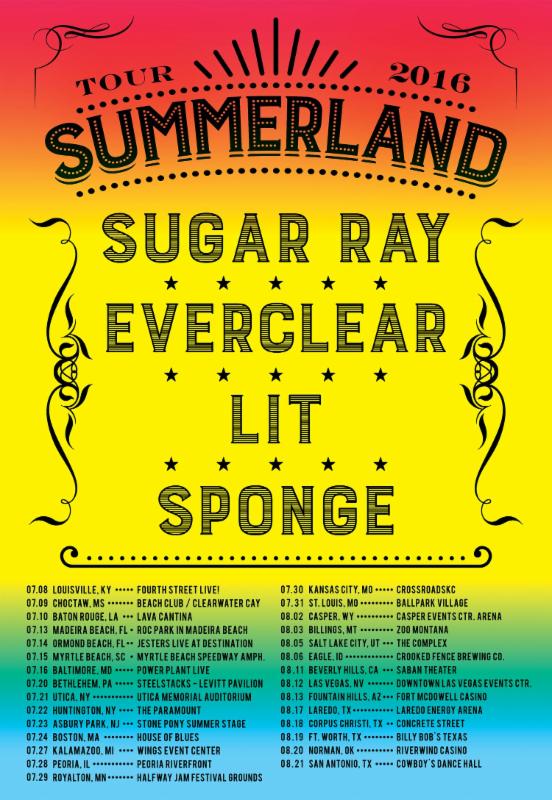 The 5th annual Summerland Tour has announced that Sugar Ray, Everclear, Lit and Sponge will perform at each date of this year's acclaimed '90s alternative music tour.
The Summerland Tour, previously heralded by Rolling Stone as one of the "10 Hottest Summer Package Tours", kicks off on July 8th in Louisville, KY, and will include more than 25 dates throughout the US before wrapping on August 21st in San Antonio, TX.
For more information, please visit: http://summerlandtour.net/.
Formed in 2012 by Art Alexakis, lead guitarist and vocalist of Everclear, the Summerland Tour has featured notable nostalgic alternative rock bands such as Soul Asylum, Eve 6, Space Hog, Gin Blossoms, Marcy Playground, Live, Fuel, American HiFi, The Toadies and Filter. Tickets for Summerland Tour 2016 are set to go on sale Friday, April 15th.
With tremendous excitement towards this year's Summerland Tour, Alexakis said, "This is the kind of line up I've dreamed of when I started the Summerland Tour. We kicked it off with Sugar Ray for the first year, so it feels great to have band join us for the 5th Anniversary. We love Lit & Sponge and cannot wait to share the stage with them. This lineup is stacked and this summer is going to be an adventure."
July 8 – Fourth Street Live! – Louisville, KY
July 9 – Pearl River Resort – Choctaw, MS
July 10 – Lava Cantina – Baton Rouge, LA
July 13 – ROC Park – Madeira Beach, FL
July 14 – Jesters Live – Ormond Beach, FL
July 15 – Myrtle Beach Speedway Amphitheater – Myrtle Beach, SC
July 16 – Power Plant Live – Baltimore, MD
July 20 – SteelStacks – Levitt Pavilion – Bethlehem, MD
July 21 – Utica Memorial Auditorium – Utica, NY
July 22 – The Paramount – Huntington, NY
July 23 – Stone Pony Summer Stage – Asbury Park, NJ
July 24 – House of Blues – Boston, MA
July 27 – Wings Event Center – Kalamazoo, MI
July 28 – Peoria Riverfront – Peoria, IL
July 29 – Halfway Jam Festival Grounds – Royalton, MN
July 30 – Crossroads, KC – Kansas City, MO
July 31 – Ballpark Village – St. Louis, MO
August 2 – Casper Events Center – Casper, WY
August 3 – Zoo Montana – Billings, MT
August 5 – The Complex – Salt Lake City, UT
August 6 – Crooked Fence Brewing Co – Eagle, ID
August 11 – Saban Theater – Beverly Hills, CA
August 12 – Downtown Las Vegas Events Center – Las Vegas, NV
August 13 – Fort McDowell Casino – Fountain Hills, AZ
August 17 – Laredo Energy Arena – Laredo, TX
August 18 – Concrete Street – Corpus Christi, TX
August 19 – Billy Bob's Texas – Ft. Worth, TX
August 20 – Riverwind Casino – Norman, OK
August 21 – Cowboy's Dance Hall – San Antonio, TX