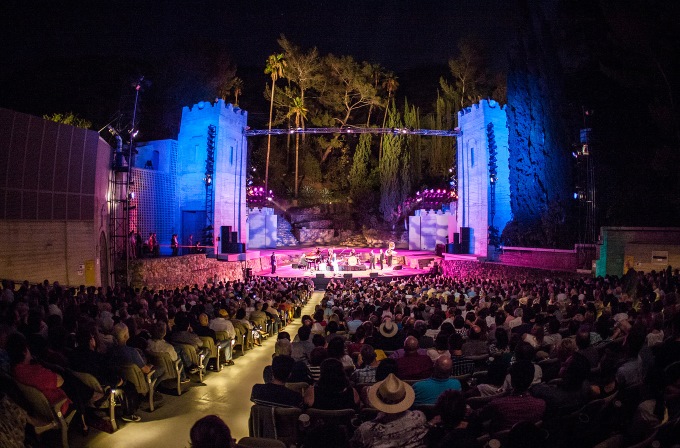 Summertime in Los Angeles is hot time for outdoor concerts…
The Los Angeles County Arts Commission announced the return of culturally diverse outdoor entertainment at the Ford Theatres, following nearly two years of renovations of the historic John Anson Ford Amphitheatre and its public amenities and landscape.
The 2016 Summer Season, performed under the stars in the Hollywood Hills, opens on July 8 and runs through October 15. A full schedule is attached. Tickets can be purchased at FordTheatres.org or by calling (323) 461-3673.
The celebratory 2016 Summer Season will bring back perennial audience favorites such as TAIKOPROJECT (featuring taiko drumming in collaboration with Chicano rock band Quetzal), Fountain Theatre (in an explosion of flamenco music and dance), PAE Live (with "Concert King of the Philippines" Martin Nievera), a series of Outfest film screenings, the 14th Annual Fiesta Mexicana, the Los Angeles Jewish Symphony (this year featuring a tribute to video game composer Garry Schyman) and the genre-defying Angel City Jazz Festival.
Also returning will be the Ford Signature Series, which pairs internationally renowned performers with Los Angeles County artists. This season features singer-songwriter Aloe Blacc in his first appearance at the Ford Theatres, Grammy winner Lila Downs with Grandeza Mexicana Folk Ballet Company and the inimitable Urban Bush Women with CONTRA-TIEMPO.
In keeping with the spirit of renewal, the season will also highlight a dozen new participants in the Ford Theatres Partnership Program. Making their Ford Theatres debuts will be Cary Sullivan and Afro Funke'; the paintings, sculptures, altars and musical performances of the women artists and activists of ARTIVISTA; Libros Schmibros with a special screening of Tiempo de Morir written by Gabriel García Márquez; Mark de Clive-Lowe and Jungle Fire paying tribute to living legends of islands music and dance, presented by Mama Earth; a marriage of North Indian and South Indian musical traditions by Music Circle; Musicians at Play present Michael Giacchino conducting his music from the iconic TV series Lost; a contemporary opera, The ICELAND Concert, presented by Overtone Industries and its director O-Lan Jones; a Star Trek reimagining of Mozart's Abduction from the Seraglio by Pacific Opera Project; an evening of Afro Latino music and spoken-art performances by 52BLEND; Invertigo Dance Theatre in a new contemporary dance work dramatizing the aftermath of a natural disaster; a completely unscripted full-length play, in the noir spirit of Raymond Chandler and James M.
Cain, made up on the spot by the actors of Impro Theatre; and the legendary Chester Whitmore presiding over an evening of '40s and '50s big-band swing.Owned by the County of Los Angeles and operated jointly by the Los Angeles County Arts Commission, the
\Audiences attending the 2016 Summer Season will enjoy improved lighting and sound, an array of new on-stage production capabilities, a new visitor entrance and other amenities. Construction of a new picnic terrace and concession stand will be completed in August, when the County and the Ford Theatre Foundation will conduct a civic dedication ceremony.
WHERE: 2580 Cahuenga Blvd. East, Hollywood, CA 90068
Just off the 101 Hollywood Freeway between Hollywood and Universal Studios in the Cahuenga Pass
PARKING: Onsite, stacked. $5-$10 per vehicle for evening shows; $1 per vehicle for morning family shows. FREE shuttle to the Ford (excluding Big World Fun and JAM Sessions) at Universal City/Studio City Metro Station lot at Lankershim Blvd. and Campo de Cahuenga. The Ford shuttle stops in the "kiss and ride" area and cycles every 20 minutes.
TICKETS:
Online: FordTheatres.org
Phone: (323) 461-3673
April 20 – July 8 Box Office Hours: Tuesdays – Fridays, 12:30 p.m. – 5:00 p.m. for phone sales only
July 8 – October 15 Box Office Hours: Tuesdays – Saturdays, noon – 5:00 p.m. for phone and window sales. On show days, including Sundays, the box office opens two hours before the start of the show. Visit the website for more info.