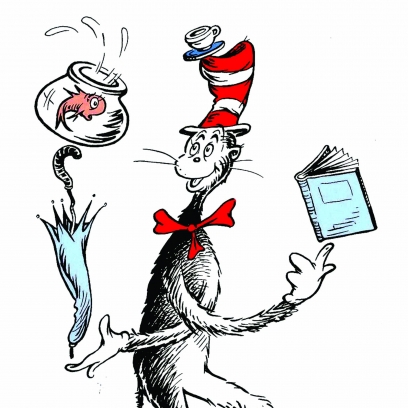 It's been fifty-nine years, but it feels like a day, since The Cat in the Hat came to our house to play. Clearly the book has stood the test of time, as our feline friend and his "Things" are U.S. adults' top unprompted choice when asked to name their favorite book from childhood. Runner up for the win is another beloved Dr. Seuss classic, good old Green Eggs and Ham.
These are some of the results of The Harris Poll® of 2,193 U.S. adults surveyed online between January 13 and 18, 2016. Full results of this study, including data tables, can be found here.
Oh the places you'll go…
Coming in third is a somewhat scary story, Maurice Sendak's Where the Wild Things Are.
So what's number four? Well, we'll give you a clue – the mysteries solved by sleuth Nancy Drew (created by Edward Stratemeyer). Next up is the Good Book itself, as The Bible/"Bible stories" rounds out the top five.
Sixth place goes to the story of a spider who saves a swine, E. B. White's Charlotte's Web. Meanwhile, Goodnight Moon (by Margaret Wise Brown, with illustrations by Clement Hurd) and Curious George (from the husband and wife team of Hans Augusto Rey and Margret Rey) tie for seventh.
Closing out the top ten, Louisa May Alcott's Little Women ties Shel Silverstein's The Giving Tree for ninth place.
I would not like them here or there. I would not like them anywhere.
While Americans as a whole may have one favorite, not everyone agrees.
Take the generations, for example:
The Cat in the Hat won over Millennials, Gen Xers, and Baby Boomers, but Matures are more likely to look back on Lewis Carroll's Alice's Adventures in Wonderland as their favorite book from childhood.
Even when it comes to second place, Millennials and Gen Xers agree on Green Eggs and Ham, but Baby Boomers prefer Nancy Drew and Matures reach for The Bobbsey Twins (published under the pseudonym Laura Lee Hope).
But generations aren't the only demographic with differences:
Region also plays a role in preferences. Adults from the East and Midwest agree that Green Eggs and Ham is number one, but disagree on what comes in second (with Easterners voting for Goodnight Moon while Midwesterners put their weight behind The Cat in the Hat).
Southerners put The Cat in the Hat in first place, while Green Eggs and Ham ties with Nancy Drew for second place.
And now we know Where the Wild Things Are, because that's the top pick among those in west, followed by Charlotte's Web.
Looking for another dividing factor? Search no further than education:
Among adults who have completed high school or less, Dr. Seuss takes the cake: Green Eggs and Ham comes in first, followed by The Cat in the Hat.
Meanwhile, college grads say reading Herman Melville's Moby Dick was their childhood literary highlight, followed by Where the Wild Things Are.
Those with post graduate degrees found their first love in Nancy Drew, with a second place tie between Grimms' Fairy Tales and The Bible/"Bible stories."
At least the genders agree… sort of:
Men have clear cut first and second place preferences, with The Cat in the Hat in the lead and Green Eggs and Ham coming in second.
Women are a bit more torn, with the Cat, the Eggs, and teen sleuth Nancy Drew in a three-way tie for first place.
To see other recent Harris Polls, visit us at TheHarrisPoll.com.