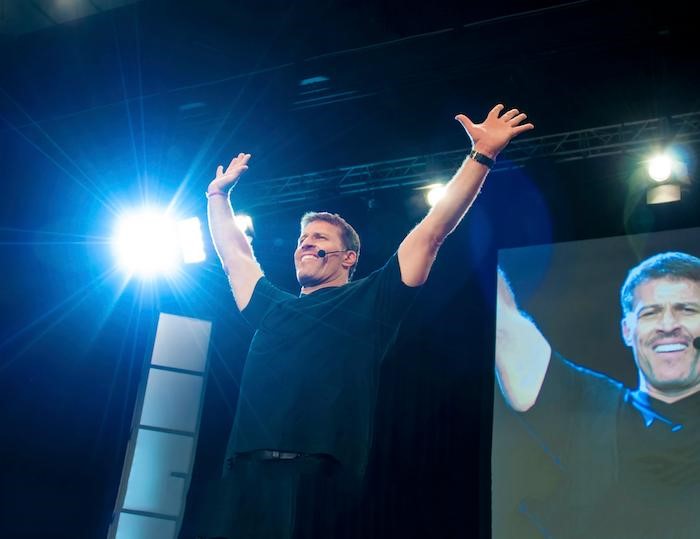 Netflix will premiere New Joe Berlinger Documentary Tony Robbins: I Am Not Your Guru on July 15 at SXSW. From acclaimed filmmaker Joe Berlinger (Metallica: Some Kind of Monster, the Paradise Lost Trilogy, Brother's Keeper), the Netflix original documentary captures world-renowned life coach, business strategist and best-selling author, Tony Robbins, in a revelatory cinéma vérité film that goes behind the scenes of his mega annual seminar, Date With Destiny. Granted unprecedented access, this film is an emotional tour de force, pulling back the curtain on this life-altering and controversial event, the zealous participants and the man himself.
Annually more than 200,000 people attend one of Robbins' programs, but once a year, an ambitious 2,500 people from around the globe make the journey to Florida to attend his most intimate and intensive instruction. Over six days and nights, he pushes his conference participants past their limits into an examination of their true identity, core emotions, intimate relationships, and the driving force behind all their actions. For the first time, Robbins allows a film crew to document not just the event itself, but also the intricate production of Robbins' seminar, revealing an uncompromising daily regimen, his demanding standards of event production, and the inner workings of his creative team and a portrait of the innermost personal experiences of the attendees. In his twelfth feature documentary, Berlinger turns an unflinching eye on the larger-than-life Robbins, treating audiences to an immersive experience filled with emotional self-examination, human psychology and heartbreaking public confessions.
"My goal in making this film was to share a profound experience that I myself underwent," said Berlinger. "While the event itself may not be for everyone, I hope my approach will help audiences think about the nature of their own lives as they witness the transformations of the characters in the film." The filmmaker continued: "While seemingly a departure from the themes found in my other work, this film is actually very much a look at social issues but from a personal point of view. I believe there would be significantly less trouble in the world if people were self-actualized and connected to who they really are."
Tony Robbins: I Am Not Your Guru will have its official World Premiere at the South by Southwest Film Festival on March 14, 2016.