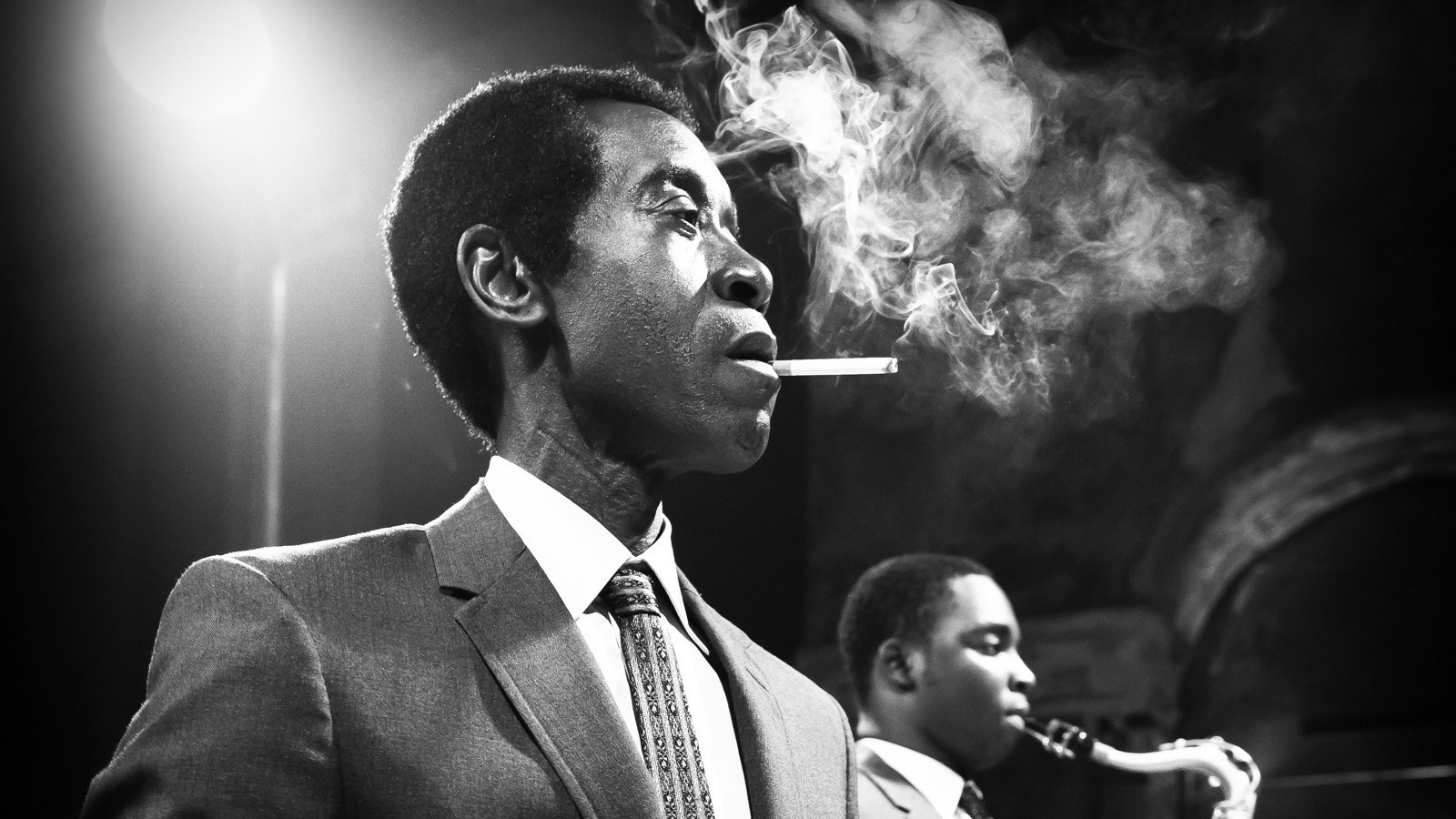 Jazz legend Miles Davis, one of the most progressive artists of the past century, receives a suitably unconventional big screen salute with "Miles Ahead," starring Don Cheadle and Ewan McGregor.
Making his directorial debut, Cheadle, who also co-wrote the script with Steven Baigelman ("Get on Up"), puts a refreshing spin on the music biopic, taking a slice-of-life approach that focuses on an unproductive period in the musician's expansive career. Far from a run-of-the-mill look at the artist's life, Cheadle folds Davis' late-career exploits into a crime caper plot about the recovery of a recording session, all while using flashbacks to shed light on the troubled trumpeter's personal and professional life. At turns funny and tragic, thrilling and soulful, "Miles Ahead" is an agreeable entertainment whose pleasures aren't limited to jazz aficionados. Freewheeling, yet controlled like the subject's musical style, this impressive first feature is highlighted by Cheadle's electrifying portrayal that's as jazzy and cool as it is unpredictable.
It's the late 1970's, and despite his popularity, Miles Davis (Don Cheadle) hasn't recorded music in over five years. A living legend who for thirty years was at the forefront of the jazz genre's evolution, Davis now spends his days holed up in his New York City brownstone, stuck in a creative rut and hindered by a hip condition and a weakness for booze and blow.
Already upset with Columbia Records for withholding his royalties, Davis nearly blows a gasket when Rolling Stone journalist Dave Braden (Ewan McGregor) shows up on his doorstep claiming that the label hired him to write a comeback story. After a heated introduction, Davis drags Braden to Columbia, where it's revealed the journalist is nothing more than a scheming freelancer. But when Braden learns that Miles is sitting on a potentially lucrative session tape, a tape Columbia desperately wants to exploit, he uses his shyster skills – and a helpful cocaine connection – to weasel his way into the musician's reclusive world.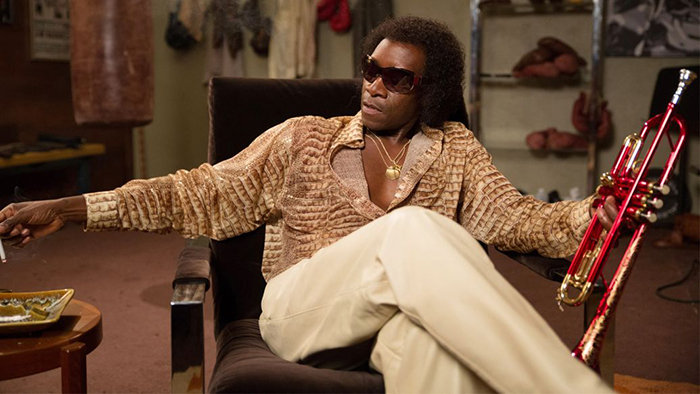 Unfortunately, the tape soon falls into the hands of a shady record producer (Michael Stuhlbarg) and a young jazz prodigy (Keith Stanfield), setting in motion a madcap plot to recover the treasured recording. Along the way, fragmented flashbacks help illuminate Davis' musical maturation and lingering regrets from his first marriage to dancer Frances Taylor (Emayatzy Corinealdi).
For an artist who underwent so many transformations throughout his diverse career, it's virtually impossible for a filmmaker to hit every high and low note in the span of two hours. But thanks to Cheadle and Baigelman's imaginative screenplay, not to mention John Axelrad and Kayla M. Emter's expert editing, the audience gets a taste of each stage of Davis' musical development, from his early bebop years to the jazz fusion sound of his later life. Those in search of a more traditional biopic may be put off by the crime caper plot, as it arguably detracts from the central focus, but really it's just a clever narrative device that enables the filmmakers to weave their way through all the separate stages of his career.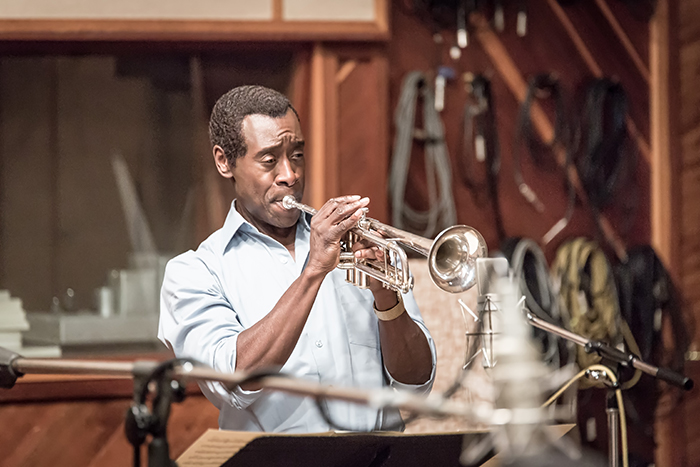 Although the filmmaking is first-rate across the board – from Roberto Schaefer's stylish cinematography to the period perfect production design – "Miles Ahead" truly stands out thanks to Cheadle's temperamental turn as the jazz genius. The raspy voice and labored strut are both perfectly played, but the way Cheadle externalizes the musician's relentlessly creative mind is what puts his performance on another level. And while this is largely a solo act for Cheadle, his side players lend some solid support as well, most notably Ewan McGregor as the sneaky scribe who barrels his way into Davis' world, and Keith Stanfield (Snoop Dogg in "Straight Outta Compton") as the jazz prodigy who bears more than a passing resemblance to the icon in his youth. Emayatzy Corinealdi ("Middle of Nowhere") also proves a graceful presence as Davis long-suffering first wife.
Much like the musician at its center, "Miles Ahead" is a bold biopic that jams to its own unique beat.
Running Time: 100 Minutes
Rated R for strong language throughout, drug use, some sexuality/nudity and brief violence.