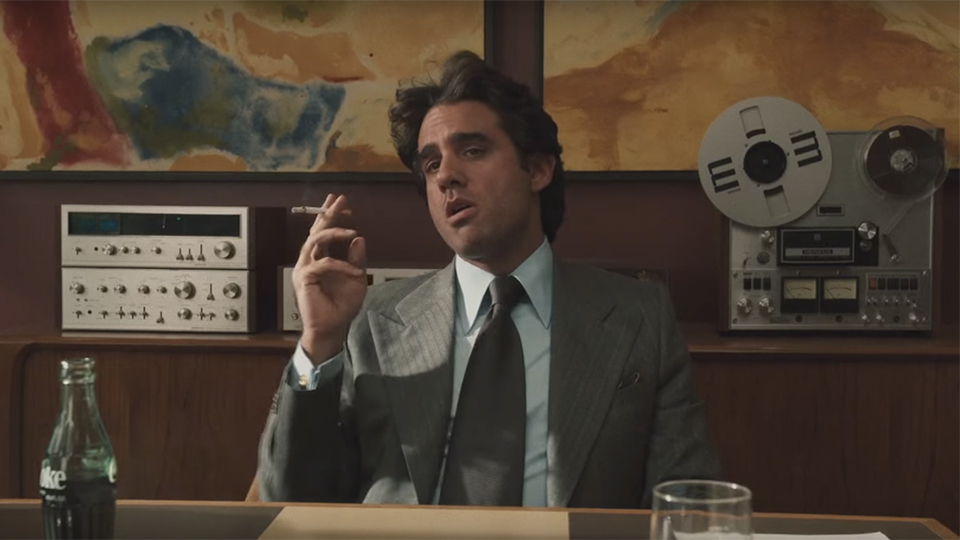 Although HBO's reign as television's preeminent network has been challenged in recent years by Showtime, FX, AMC, and more recently, Netflix and Amazon, their latest drama series, "Vinyl," premiering this Sunday, February 14th, further secures their position as the gold standard for top-tier entertainment.
Initially conceived as an epic film about New York's turbulent 1970's music scene but retooled as an hour-long drama to accommodate its lofty ambitions, the new series from Mick Jagger and "Boardwalk Empire" creator Terence Winter is a smashing success on many fronts: as an illuminating inside look at the music biz in its drug-fueled heyday; as a historical overview of a city and society undergoing radical change; and as a sonically satisfying survey of the influential genres that emerged from that era (punk, hip hop and disco). Expertly written and directed – Martin Scorsese helmed the riveting, frenetic two-hour pilot – and featuring an electric cast highlighted by a mesmerizing lead performance from longtime character actor Bobby Cannavale, "Vinyl" epitomizes what the television format has to offer, and never hits a dull moment or false note along the way.
"Vinyl" spins its sweeping tale around Richie Finestra (Bobby Cannavale), the founder and president of the once illustrious American Century Records. A former addict with a knack for discovering promising artists, Richie is now married with two kids to a former model and Andy Warhol muse (Olivia Wilde), but somewhere along his journey to sobriety, lost his musical passion – a fact reflected in his company's dwindling returns. This is why, after much deliberation with his American Century executives (Ray Romano, Max Casella, P.J. Byrne and J.C. MacKenzie), Richie has decided to sell the company to German Polygram, provided that he can reach an agreement on a Led Zeppelin distribution deal.
When a dispute with Zeppelin's manager jeopardizes the buyout, everyone at American Century from the top on down is sent into a tailspin over the company's uncertain future. However, after a life-changing event reinvigorates Richie's passion for peddling tunes but also brings out his inner demons, a glimmer of hope for the floundering company remains intact.
As if the company infighting wasn't enough to satisfy "Vinyl's" juicy premise, there's also complications involving Richie's mob-affiliated mentor (Paul Ben-Victor), an influential DJ (Andrew Dice Clay) threatening to boycott his label, a rival mogul (Ken Marino) trying to poach his most lucrative act, and a former blues client (Ato Essandoh) seeking reparations, to name just a few. Needless to say, with all the exciting plotlines introduced in the first couple of episodes, there's enough meat on these bones to supply many seasons to come.
Impeccably casted by frequent Scorsese collaborator Ellen Lewis, "Vinyl" features many noteworthy performances – Juno Temple ("Black Mass") as an ambitious secretary and office drug supplier, Ray Romano as the morose head of promotions, Olivia Wilde as Richie's long-suffering wife, James Jagger (Mick's son) as the brash singer of a punk band – but none more inspired than Bobby Cannavale's as the self-imploding Richie Finestra. For an actor who's put in consistently great work in secondary roles for years ("The Station Agent," "Boardwalk Empire," "Blue Jasmine"), it's gratifying to see such an obvious talent get the showcase he deserves.
From the potent writing and sizzling soundtrack to the flawless direction and seamless blending of the fictional and factual (Jimmy Page, Alice Cooper and DJ Kool Herc are just a few of the artists that crop up as characters here), "Vinyl" is sure to rock its way into viewers' hearts.
Premiere: Sunday, February 14th at 9pm on HBO
Created and Executive Produced by: Mick Jagger, Martin Scorsese, Terence Winter and Rich Cohen
Starring: Bobby Cannavale, Olivia Wilde Ray Romano, Ato Essandoh, Max Casella, P.J. Byrne, J.C. MacKenzie, Juno Temple, Jack Quaid, James Jagger, Paul Ben-Victor, Andrew Dice Clay and Birgitte Hjort Sørensen.

http://www.hbo.com/vinyl