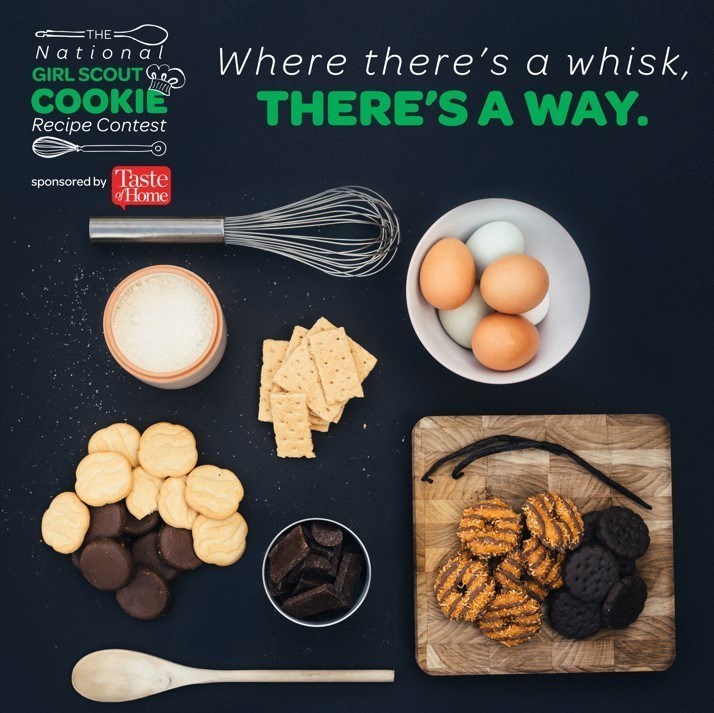 Girl Scouts of the USA are bringing back the National Girl Scout Cookie Recipe Contest, sponsored by Taste of Home.
From February 26 through March 25, Girl Scout cookie enthusiasts can create and submit their favorite dessert recipes using the iconic cookies as ingredients, for the chance to win prizes ranging from $250 to $500, plus a spotlight feature in Taste of Home magazine.
This year's recipe contest kicks off during National Girl Scout Cookie Weekend (February 26–28), which has become a national holiday for Girl Scout Cookie fans. The weekend honors girls nationwide who positively impact their communities using their cookie earnings, funding "Take Action" projects and educational experiences such as raising awareness about Tourette's syndrome and building a new storage shed for a school's drama department. In short, selling cookies enables girls to make a difference that consumers support through their Girl Scout Cookie purchases. National Girl Scout Cookie Weekend also celebrates the essential "5 Skills" each #cookieboss learns through the Girl Scout Cookie Program—goal setting, decision making, money management, people skills, and business ethics—which are invaluable to a girl's future.
The National Girl Scout Cookie Recipe Contest invites chefs of all levels, from home cooks to established professionals, to submit Girl Scout Cookie-inspired entries in one of four categories: (1) cakes, pies, cupcakes, (2) cookies, brownies, bars, (3) pudding, ice cream, gelatin desserts, and (4) candies. The culinary experts with the Taste of Home Test Kitchen, headquartered in Milwaukee, Wisconsin, will review and test each recipe, selecting the top 16—four from each category—based on taste, visual appeal, creativity, and crowd appeal.
From April 25 to May 1, members of the public will have a chance to vote for their favorite finalist recipes at girlscouts.org/recipecontest. The recipes with the most votes in each category will win and be announced in May. Last year's grand prize winner, 15-year-old Girl Scout Stephanie Salmento, created a recipe for Delightful Caramel Bars, a three-step, multilayered treat consisting of both Shortbreads/Trefoils and Caramel deLites/Samoas. The full recipes from all of last year's 16 finalists—including delectable treats like Thin Mints Popcorn and Touch of Coconut Baklava—are available at girlscouts.org/recipes.