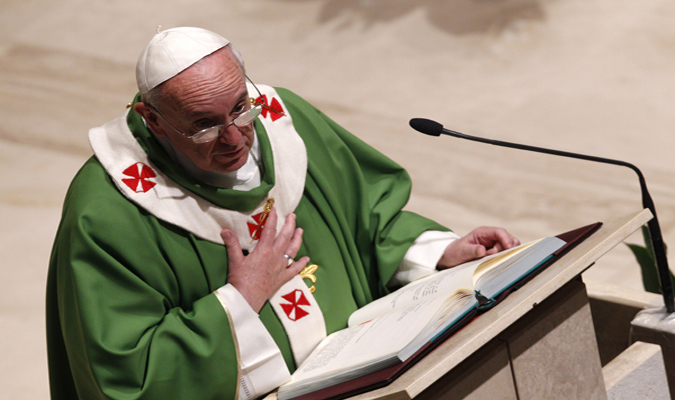 The Vatican has announced that Pope Francis will be visiting Mexico City from February 12 – 18, marking his inaugural trip to the country. The pontiff is expected to draw millions of attendees to official events during his six-day trip, in which he will spend the majority of his time in the capital. This should help the city's tourism.
Recently named the number one destination on The New York Times "52 Places to Go in 2016" list, Mexico City is a culturally-rich metropolis with a wide range of offerings that appeal to travelers of varying interests. With more than 150 museums, 100 contemporary local art galleries and 30 distinct architectural and historic sites, the city is a mecca of fine art and treasures that speak to its vast history. During his time in Mexico City, Pope Francis will be visiting a number of notable historic sites that future travelers can also view, including:
National Palace – located in the historic center of Mexico City, Plaza de la Constitución (also known as the Zócalo), the National Palace is home to the federal executive branch of Mexico. Within the historic center, visitors can view many examples of authentic colonial art and architecture, charming cafes and restaurants, boutiques and handicraft shops, museums and churches.
Mexico City Metropolitan Cathedral – known to be the largest and oldest Catholic Church in Latin America, the Metropolitan Cathedral is also located in the bustling Zócalo square. Construction on the Cathedral officially started in 1573 and was built in sections until it was completed in 1813. Inspired by Gothic cathedrals in Spain, the Metropolitan Cathedral is one of the most famous architectural staples of Mexico City.
Basilica of Our Lady of Guadalupe – one of the most visited churches in the world; the Basilica of Our Lady of Guadalupe is a shrine in Mexico City and an important Catholic pilgrimage site. It houses the original tilma (religious cloth) of Juan Diego with the famous image of Our Lady of Guadalupe. Built between 1974 and 1976, the "new basilica" was constructed on the site of a 16th Century church, the "old basilica" because of structural damages. The immense plaza in front of the basilica has room for 50,000 worshipers. Annually on December 12th, tens of thousands gather there for the feast day of the Virgin of Guadalupe (Día de la Virgen de Guadalupe).
For more information, news and updates on travel to Mexico City, visit http://mxcity.mx/en/.